Every year, there are a couple of 5Ks held on a quiet-ish, hilly road right by my house. And I've never been able to participate in one… which kind of kills me, ha ha.
So when I knew Gina would be in town this weekend, and that her training plan* called for a practice 5K the day before her 20-22 miler, I looked around for 5Ks and lo and behold, one of the super close ones was going on, and on the day we needed to do a 5K! YAY!!!!
It was the Big Hollow PTO, held to raise funds to support the PTO for the local grade and middle school. Even though I don't have kids, I thought it was awesome the race went toward something that was going right back in to the community! And they had other fundraiser events going on for the race too – different raffles and games (sadly, we did not win the basket full of Lego sets we both wanted, darn).
I was hoping for amazing fall weather for Gina's visit… like… cool temps. We've had BEAUTIFUL sunny days, and not crazy humidity, but it was a bit sunny and warm this morning for the race – 65°F and 90% humidity. Probably still better than what Gina is used to running in Texas! But during our warmup run from my house (so cool we could run to the race) I was feeling too hot and already had sweat dripping down my arms!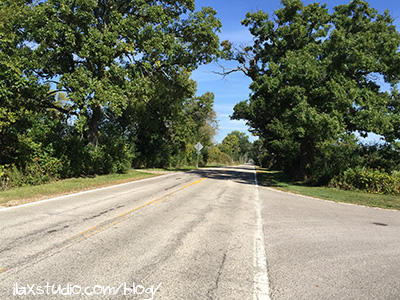 A little sunny on the course… some shade, too, though!
I was confident Gina could run a PR. She's been putting in lots of miles to get ready for the NYC marathon, and for me, that has translated over to faster 5Ks (even without speedwork). I was hoping it would for her, too. I told her I thought she could run a 23:30 (her PR was 24:14). I also told her if she ran with me, she would have way positive splits <— truth. She said as long as she hit her time goal for races, she doesn't care if she positive splits. She said she would try to chase me. I was hoping to run 7:30 average pace, which would be just under 23:30.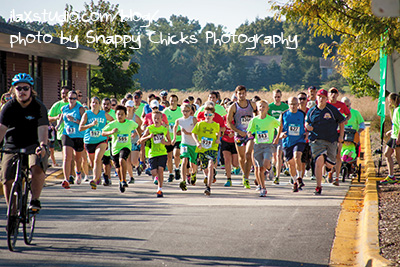 Yeah. You guys know me. I took off way too fast. Like I said I would – first mile in 7:06! Oops! The course had two out and backs, which aren't my favorite, but it was nice I could see Gina that way, and see she was right behind me.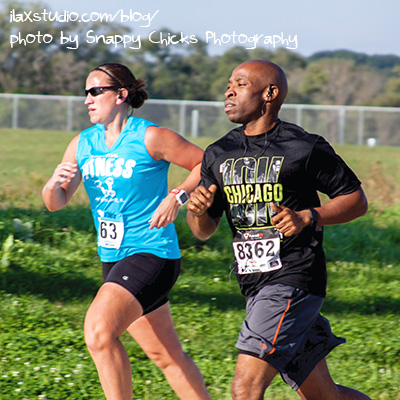 So, those hills I mentioned? Yeah. They're small little rollers that are a bit challenging on a 5K. I wasn't sure how deep in to them we'd get – I was struggling to read the course map, and kept hoping it stopped before the hills. Nope! We got to run most of them! I tried to stay strong and keep the overall female in my sights. My second mile was 7:42. Eek!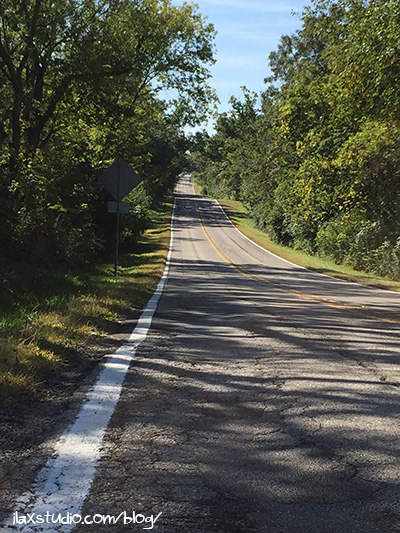 Hills, hills, hills
During the second mile, we ran past a mark on the road that said "5K turn around" but kept going and for awhile I worried the course was long. Luckily, it was not, and my watch hit 2 miles right around their 2 mile sign. That spray paint must be from an old race! Phew!
I tried to keep booking it in the third mile. I saw race photographers and tried to have good form and not look like crapola and that helped me pick up the pace at the moment, but my third mile was still 7:54. Buah ha ha. And I had that coppery/blood taste in my mouth for most of the last two miles, too. Yuck.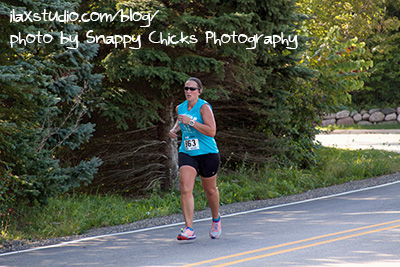 I finished the last tenth in 00:23 (not accurate – my Garmin stats were a bit short) and was so happy to finish (in 23:02) then see Gina come in behind me in 23:35! A 39 second PR for her!!!! I'm so proud of her! I ran her first 5K with her (the NYCM Dash) in November 2011 and it's been so fun to watch her running journey! I think she is a natural runner and has a lot of speed in her!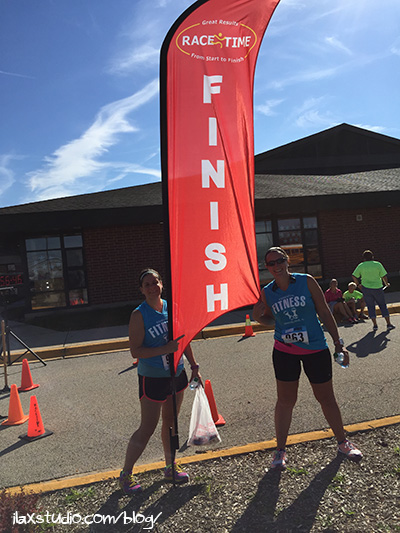 We ended up placing 2nd and 3rd overall, and 1st in our age groups! Fun! We love medals! Ha.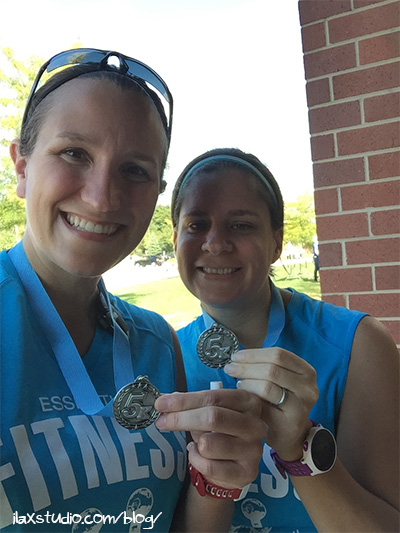 I saw a lot of people I knew at this race, which was fun. I saw a neighbor, who is on the PTO, running club friends, Chris and Sarah, and I saw Heather! We both didn't know the other would be there, and it was so fun to see her and wish her good luck before she runs the Milwaukee Marathon next week!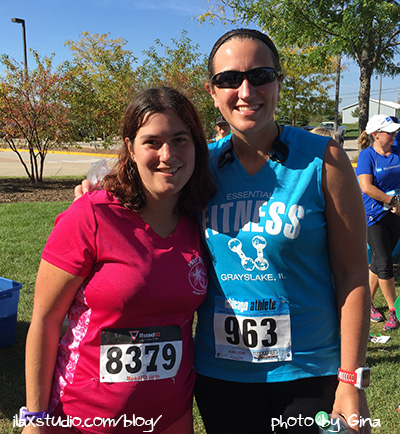 This was definitely a small race, but well run. They didn't have chip timing, so we started at the front. There were two water stops, the course was accurate, and we had a bike leading our way. The police were at the out and backs, which was great, and the course was closed. There was a weird thing with a car at the first out and back being on course, but I ran around it.
There was also a kid's quarter mile and half mile race. And I think everyone got participation ribbons! They had ample food, water, and different vendors and kids games. They did a great job with it, and I'd like to do it again, if I get the opportunity!
Now, to see how that long run goes tomorrow…
*I helped her come up with this plan. She is signed up for the Dash and the NYC Marathon, which are on Saturday and Sunday, and the idea was to see how she feels running long after doing a 5K the day before.
By
9 Responses to "Big Hollow PTO 5K Race Report"