Dallas may be the marathon for me – I've run it two years in a row, and set a new personal record (PR) each time!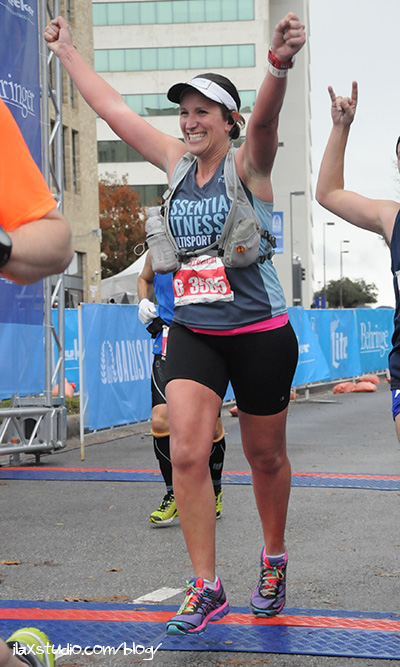 Last year, I ran it with Gina as her first full, and we finished in 4:20:36! This year, I ran part of it with Steve and the rest solo, and finished in 3:55:34 – a 25 minute PR!
Me running the Dallas Marathon seems spontaneous, but I had been training with it in mind since we booked tickets to go to Dallas marathon weekend in late July. My plan was to train like I was running Dallas, then decide a couple of weeks before whether I wanted to run it, depending on how my training was going (and how the weather was looking, somewhat).
Then things got complicated with selling our townhome and I wasn't sure if we'd get to go to Dallas at all (our close date is this Friday, the 18th, and making the Dallas trip meant moving to the rental a weekend early). But I kept training like I was running Dallas. Why not? Ha ha.
When we secured a rental and committed to moving in to it and being able to travel to Dallas, I signed up for the race 13 days out. Then spent a week packing and moving – nice taper!
But I felt ready and confident for the race. My pace had dropped on easy runs. I'd recently PR'd the 5K and 10K. I was able to do fast finish long runs. I hit "dream" marathon race pace on midweek long runs (sometimes faster). I was excited to see if I could PR. I wanted to do something for myself, despite how hectic our lives had been with moving.
I felt weird telling people I was hoping to run a 4:00 marathon when they asked me my goal, though. It sounded so fast! I knew I'd be happy with a PR (really, the marathon is the only distance I run with a PR in mind – I will run any other distance for fun, but the marathon is so long, I want to be for a time goal, for now), but was really dreaming of going sub 4:00.
So… long intro, per usual. On to the race.
Gina's husband, Steve, was running the half marathon, and hoping to go sub 2:00, so it made sense for us to run together until the half split. And we mostly did.
It rained during the night before the race and sprinkled a bit race morning. When we said goodbye to Steven, Gina and Luca to walk to our corral, I was still wearing arm sleeves, gloves and a garbage bag. Then I got in to my corral and thought "WTF am I doing?" and took it all off. Ha. It was 53°F with 89% humidity and 5 mph winds when we started.
Steve and I were in corral B, which was slated to start at 8:20, but we actually crossed the start line at 8:09.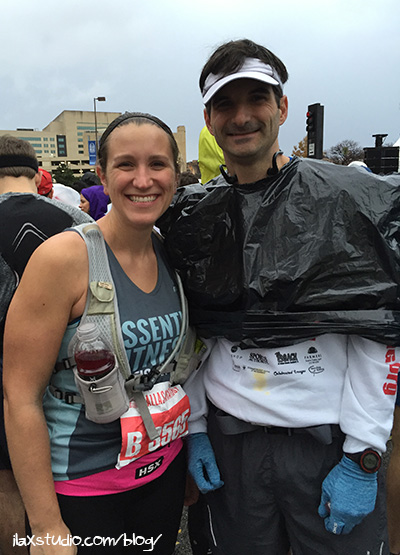 Ha ha – everyone started running well before the official start line and I told Steve and his running club friend Jasson that I wasn't starting to run until I absolutely had to. Then, us walking was captured on the broadcast of the race. Ha!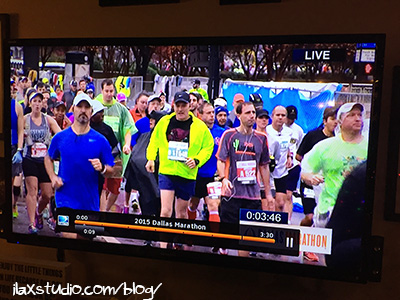 My loose plan was to have two slower miles (hopefully around 9:20), then dial it in to 9:05s and see if I could hold on and maybe have a fast finish and come in under 4:00? Maybe…?
Steve and I ran our first mile in 9:09. Oops. Jasson ran with us for a bit. Second mile was 9:12. That's better! In the second mile we were already off by a tenth of a mile on our Garmins, so I was really hoping I'd bank time later. I'd hate to not hit 4:00 because I can't run tangents!
This race is a bit crowded until the half split around mile 9. Steve and I did a bit of weaving, but tried not to do much. Interestingly… we also had to duck under a DART train gate that was down. I was impressed that I did that so smoothly.
I felt hot at the start, because of my backpack, but never again after that. Sigh. The backpack. In preparation for the race, I thought WAY too much about whether or not I'd use it. I couldn't get over how much extra weight it adds, even after reminding myself that I PR'd with it on last year, and that I am lighter (in weight) now. There is actually no way I could carry everything I need for a marathon without it, so I don't know why I even considered running without it – probably because I thought being lighter would give me an advantage. But not when I am dehydrated – the water bladder was completely empty when I finished.
Back to the race. It was the same course as last year – starts downtown, goes through swank neighborhoods, commercial areas, neighborhoods, around White Rock Lake, on a paved trail, then back through neighborhoods and downtown.
Steve and I were trucking along. Mile 3 at 9:00, the next three miles began with a pace with an 8 (an 8! at a marathon!) then mile 7 was at 9:00 again.
We saw Steven, Gina and Luca between mile 6 and 7.
Always have to share a janky foot pic!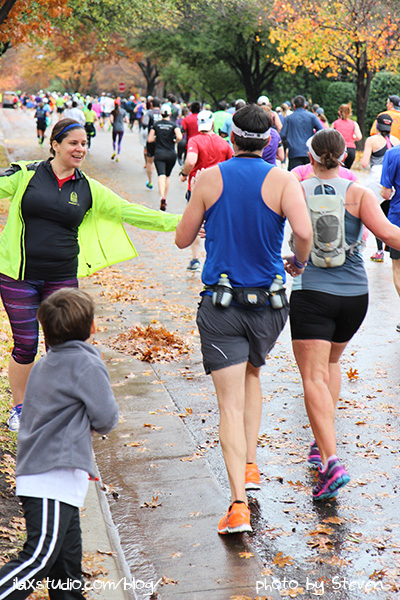 This is actually the only time we'd both see them until the finish. I was doing my annoying pacer/coach thing to Steve – "Remember to smile when you see them! Look like you're having fun!" "Shoulders back!" "Pump those arms." "Don't be a b*tch!" Ha!
But saying that stuff to Steve was a nice distraction for me the first 8+ miles. I really wanted him to hit his sub 2:00 goal. And he was on pace!
Ugh. Then you know what happened. He needed a potty break. I felt like I needed one too. And we didn't see porta potties ANYWHERE. Which made me feel bad, because before the race I told a lady they had them every 2-3 miles on the race. I remembered SO wrong. They are few and far between!
Steve stopped to go at mile 8.4 and I told him to text me when he finished his half. Then I continued on the full course on my own.
A little after we split, I got texts from Bobbi and Rachel who were both tracking me, telling me I was doing awesome and to keep it up. That pumped me up!
Then I saw the MOST HILARIOUS THING EVER on course that made me chuckle for awhile. A guy dropped his tape. As in, he was running WITH A TAPE PLAYER and went to flip sides and dropped it. Yes. I saw this. Ha.
After the half split, around mile 10/11 you run toward a neighborhood that has a gradual incline, and I remembered from the year before that we come back down that road… 11 miles later. Yikes, here we go!
I felt the inclines a lot more this year. Dallas isn't very hilly, but I definitely had to push it to keep an even pace on the uphills.

So, on that incline, I was thinking "Gah, it will be so nice to run down this in 11 miles!" and "Why is the 4:00 hour pace group taking up the whole road?!" I passed them and never saw them again, despite finally stopping to use a porta pottie at mile 13 (9:08, one of my slower miles… and oops, forgot to lock the porta pottie door… can you guess what happened?!).
I knew we were coming up on White Rock Lake, which is an out and back portion, and where I rudely told Gina last year that I felt bored. Ha ha. But, oddly, I was feeling great. Most of my miles were around 8:47. I had turned on my music at mile 11 to pump me up, and it was working. I spent the out and back looking for people from Gina's running club, and saw someone and cheered hello!
At White Rock Lake, I texted Gina for a Steve finish update. She let me know he finished at 2:01:30ish (a PR!!!) but that the bathroom break set him back. Darnit! From running with him, I know he has a sub 2:00 in his near future. Gina also text me to tell me I was doing awesome and she was proud of me. That made me feel great!
Then, it was time for the out and back turn. I knew we were supposed to be getting a wind from the SW, which is basically the direction the rest of the race is in after you turn. My weather app recorded a 10 mph wind at the finish, but man, it must have been gusting near the lake. I looked forward to getting on the tree lined paved trail – I hoped it would offer some protection from the wind.
It did! And I kept that sub 9:00 pace until mile 20! I had a 4:00 pace band on and couldn't believe I had a few minutes banked. I was shocked. I told myself not to get cocky and to stay consistent (in my mind I was doing math like "You could run 10:00s for the last 6 and still come in sub 4:00." No, Kim. No.). But damn miles 20 (9:10), 21 (9:28) and 22 (9:05)… I tried to eat my second honey stinger waffle and it became mush in my mouth that I couldn't swallow. I walked through a water stop and tried to drink it down. Nope. Ditched it.
But I knew I needed to keep eating – not eating in the end of marathons has been detrimental to me in the past. I figured out last year I have to eat every 30 minutes AND drink vitamin water every other 30. Yeah, I eat and drink a lot. It works for me. I didn't bonk my two marathons last year, and I didn't bonk this one.
So in mile 21, we pass a CLIF booth and I get another gel. Cause you know, I dropped two on course between miles 11-13 and didn't notice it. Then I drop another two after I got one at the booth, and stopped to pick them up. THEN DROPPED THEM AGAIN! Grr, I was getting so mad. I only went back to pick up one that time.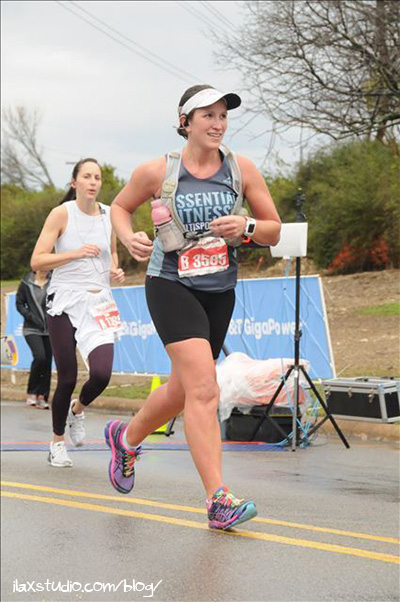 Trying to smile for the on-race photographers – figured I might buy some of the photos since Steven wasn't on course that much (I did)!
Mentally, I was struggling for the last 6. But I was getting pissed seeing those three splits in the 9:00s. When we got back to that slight downhill, I tried to pick it up. Mile 23 was 8:56. Mile 24 in 8:55. Mile 25 9:08, grr (stopped to walk and drink Vitamin water). At one point in the last mile, someone told me they could see the final mile marker coming up, and I was like "NO! I DON'T BELIEVE YOU! WHERE?!" Ha ha. She pointed it out, and that gave me a boost (she also asked if I was going for sub 4:00 and when I said yes, she said "we totally have this!"). I knew Steven, Gina, Steve and Luca were waiting for me right at the finish, and I wanted to finish strong.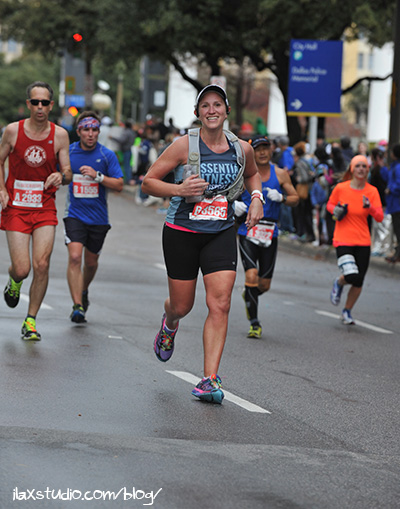 I should note, that in the last few miles, I was really digging deep mentally. I was getting super encouraging texts from Bobbi (they show up on my watch) and that helped SO MUCH. Kelly told me to run for her sanity (she is injured) and I thought of her. I thought to myself, "I can't believe I might come in sub 4:00!" and almost started crying, but kept it together and told myself to finish strong for myself and the people rooting for me.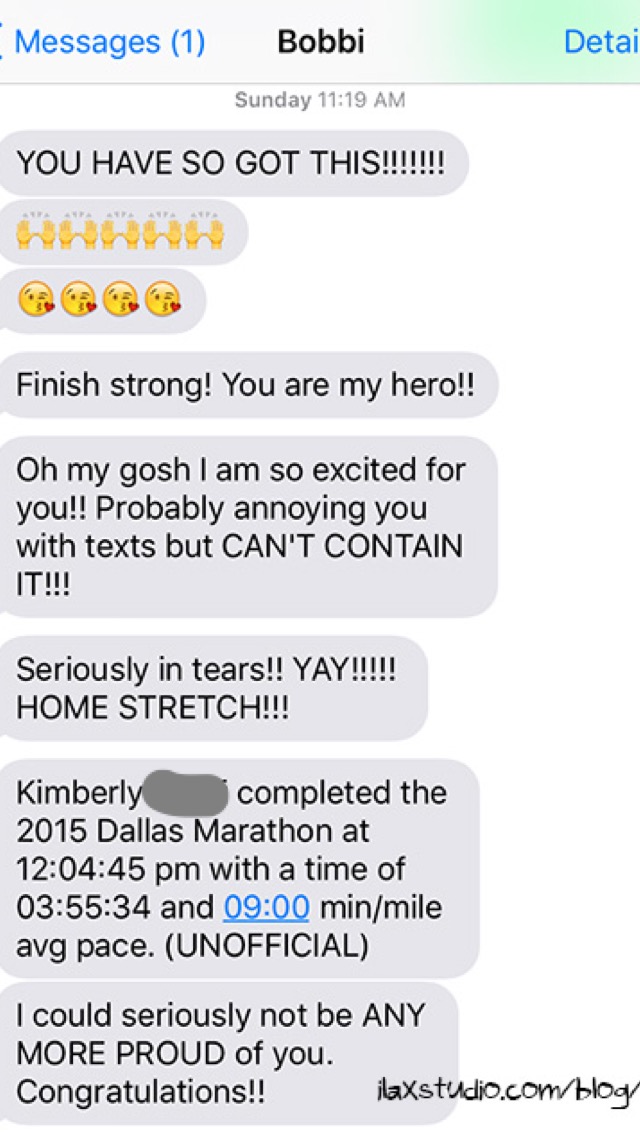 Mile 26 8:40 pace, and the last .4 miles (oops, bad tangent-ing) 7:50 pace. Ha!
I was SO freaking pumped up when I saw my family and when I got to the finish.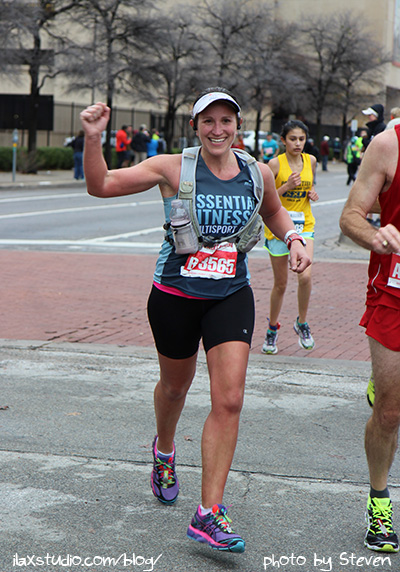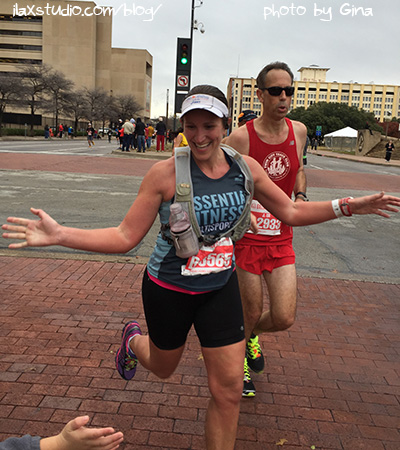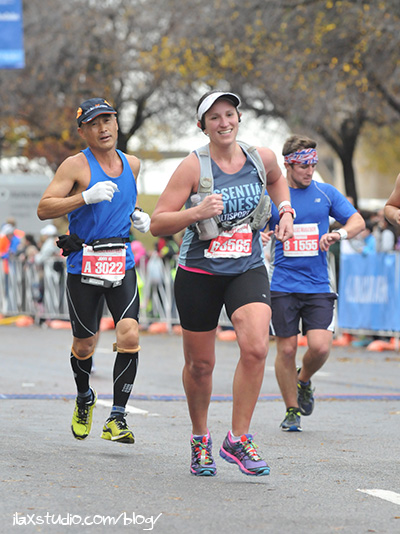 I love how me and this dude are in sync. Ha!
I definitely yelled "F*CK YEAH!!!!" and "YES!" and did lots of fist pumps and so on after I crossed the finish line. I got lots of high fives, ha ha!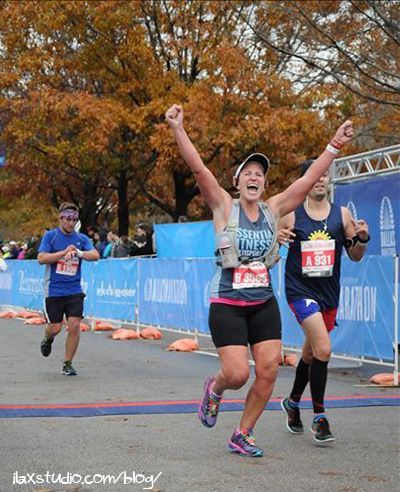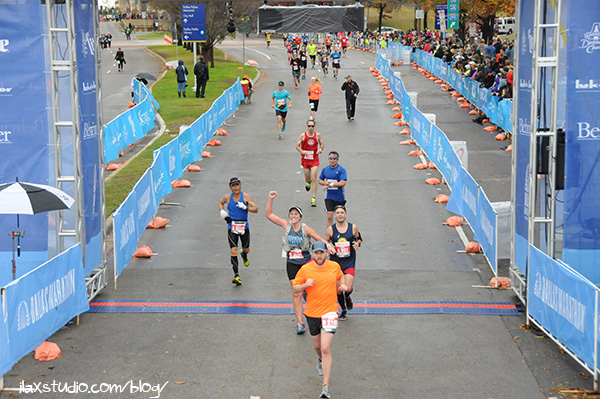 Then Bobbi text me my unofficial time – 3:55:34. Holy cow! WAY under goal! I was so stoked!!! I couldn't believe I came that far under goal!
Right away, my glutes were sore. I shuffled my way to bag check. Then shuffled my way to the changing tent and changed and made lots of scary noises while doing so. Then shuffled my way through a line trying to get out of there to get to Steven. A volunteer said to me "That's the worst limp I've seen today!" (jokingly). I told him it was a 25 minute PR. "Holy cow, that's awesome!" Damn right. Ha ha.
I got to Steven and we hung out a bit until Gina, Steve and Luca joined us (after watching a friend finish after me). Family photo time!!!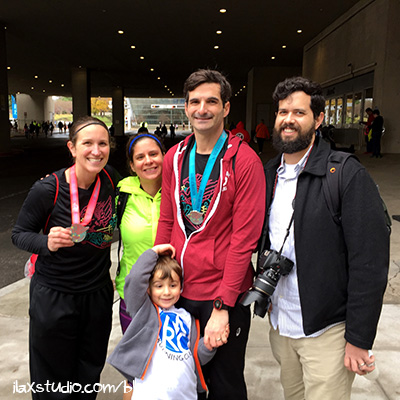 Gosh, I was so happy (and still am) and so out of it (not anymore, ha ha)! Steven and I made the sloooooooooooow walk back to the car, and Gina, Steve and Luca joined us shortly after a quick stop to see friends/use the loo.
Then Red Robin to celebrate! Obviously! And Gina gave me the most amazing marathon gift (I am pretty sure I'll be wearing it every day, forever, ha ha):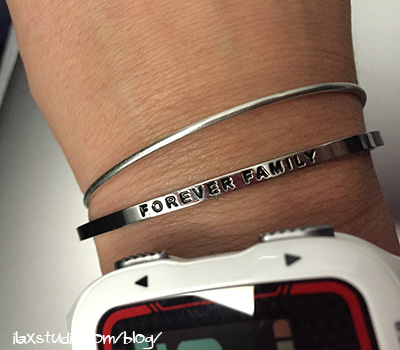 The day after, my quads were a bit sore (probably from the downhills). A shakeout run helped. And meeting Meb really inspired me to want to do something BIG again!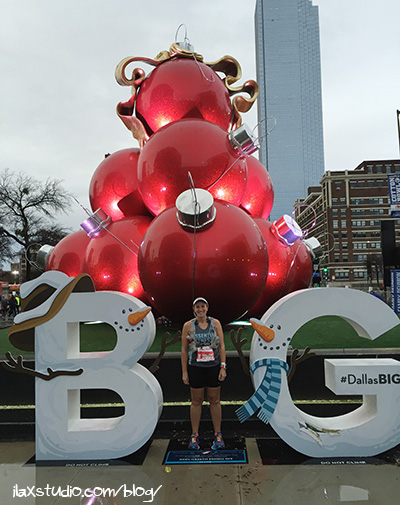 I have to give a huge thanks to Steve for letting me crash on his half marathon PR attempt. And to Gina for dealing with me while I was up in the air about the race, then not knowing if we'd even be able to come. Best bestie ever. Errr.
And a huge thanks to them for spectating, especially with a crummy, rainy start to the morning! Steven had more of a whirlwind Dallas trip than I did – we weren't sure both of us could go – he ended up going back Sunday night, and I appreciate that he got up early Sunday to cheer me on. It really meant a lot to me that he was there, and obviously, my bestie and otra familia, too.
Hmm, Dallas 2016? HA!
A few other notes, since this isn't long enough:
I did take water on course, despite having my pack. The water was in plastic cups. Um, wth, Dallas Marathon?! You can't pinch those! Annoying! Ha! A stellar event otherwise (except needing more porta potties).
We thought the expo seemed a bit smaller this year. That's okay though.
When the official race app came out and there was a cool Pegasus logo I told Gina I wanted to get a shirt like that at the expo. I didn't have to – the race shirt had it. Yay!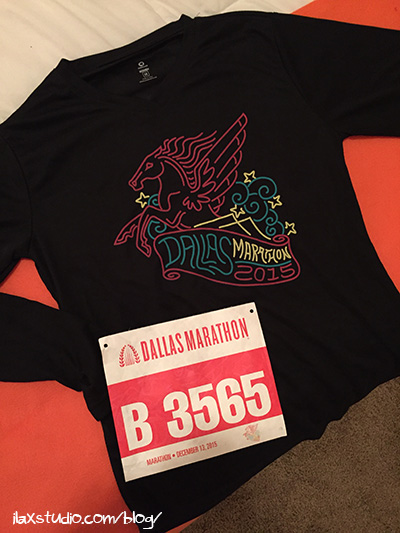 I think I might actually get my medal engraved with my finish time!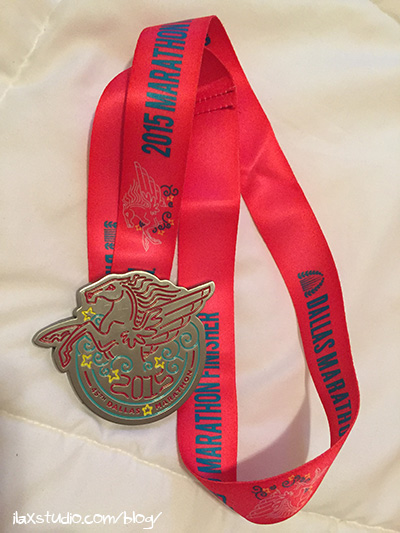 I love that they give you a feedbag at the finish with everything you need – it's so nice to not have to try to carry food and drink in your hands after.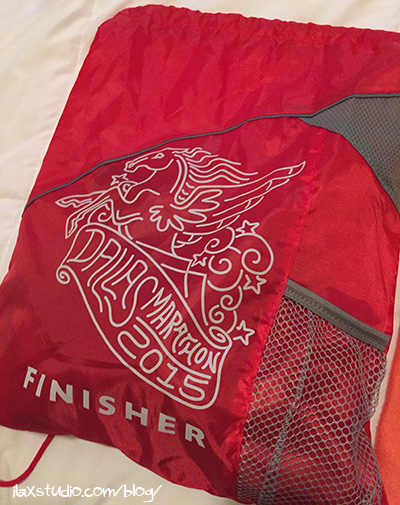 My splits were hella even, for me! Woot! Gina and Steven said the Dallas Marathon app (where I got this screenshot) did a great job of tracking people and predicting their finish.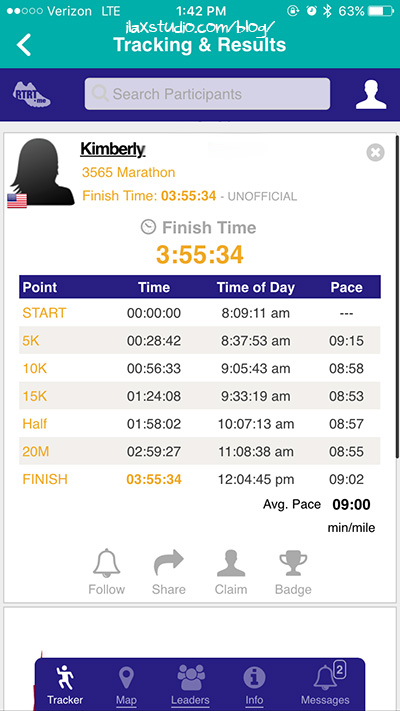 Ha ha, people were trying to dodge all the puddles and I would run (stomp) right through them. This made Steve laugh. I did that for the entire race.
I talked to a few people on course after Steve and I parted ways but wasn't as chatty as in other races since I had my tunes.
Seeing other people struggle made me feel bad mentally (and feel bad for them). This is horrible but after seeing if they were okay, I'd look away. SO HORRIBLE!
My fingers got swollen toward the end. And I took an electrolyte tab each time I ate! My face was super salty after.
I accidentally stopped my watch for 15 seconds at the first water stop! Thankfully I noticed it and started it again!
The roads weren't as slick this year.
I was so happy it was raining for part of the race. I love running in the rain. I will take that over sun ANY DAY. I am happy it wasn't a downpour though. That would have slowed me down.
I had the most awesome Saturday of carbloading EVER!!!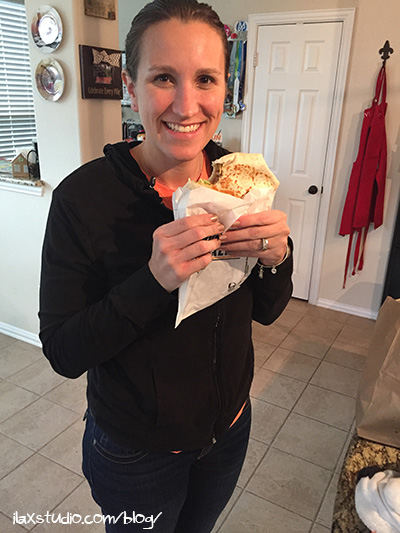 Crunchwrap!
We wrote on the Dallas Marathon sign again. It worked, again! I saw it on course around mile 20(?).
When I was feeling like I was slowing down at the end, I reminded myself that I AM FAST (for me). I PR'd in the 5K and 10K, that I could do this. It helped.
I hardly chafed, except in one spot, which was my own fault.
My shoulders feel tight after the race. I've scheduled a post race massage for next Monday!
Someone asked me on Facebook what training plan I followed for this race. None, really. I write out my long runs, get in speed once a week, ride my bike once a week, and strength train. The big thing is that I lost 25 pounds since mid September. When I weigh less, I run faster.
By
66 Responses to "Dallas Marathon 2015 Race Report"