Yay! After a few crummy years, I finally had a good race at the Wisconsin Half Marathon!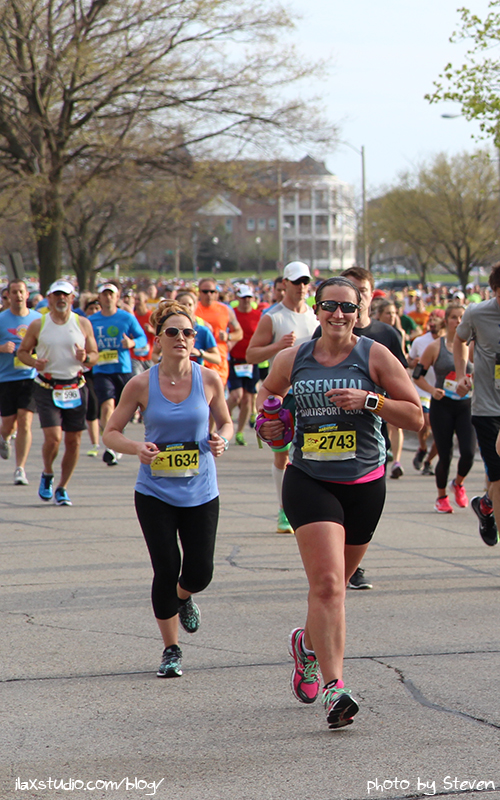 Although, if you look at my splits, you wouldn't think that…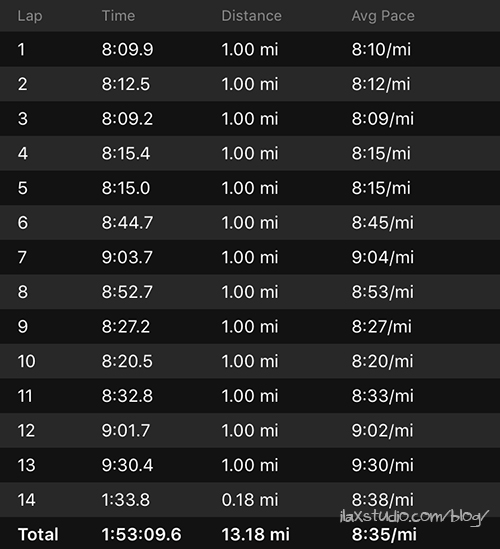 Um, what the heck is going on there?
Ha. Well… we had some wind on the course. Which, truthfully, was better for me than sun and heat, which had been forecasted earlier in the week. I may have finished with the same time in the sun and heat, but would have been miserable. Surprisingly, I wasn't miserable with the 17 mph constant winds from the north and (felt like constant) 33 mph gusts. I thought it was funny. And I just laughed. Laughed, laughed, laughed.
I laughed in the first mile, when I tried to start out slow. My plan was to run an 8:30 mile and see if I wanted to speed up or slow down from there. I kept trying to slow down but the wind was pushing me forward. Okay then. Guess we'll go with it (8:10 first mile?!?!) and have some ugly splits. There was so much wind at my back and none in my face, that I started to get too hot – my sunglasses fogged over from touching my face. Yuck! It was still warm when we started – 67°. It dropped to 52° by the time I finished, though – yay!
This course starts by going south for 2.5 miles, then turns north for the five middle miles (in to the wind) to a turn around, back south for 4.5 miles, then north for the last mile or so. I thought as soon as we turned north, I'd feel the wind that was pushing me forward in my face. Not entirely! The downtown residences and buildings blocked some of that. Cool! (What did not block any of it? People. I was trying to get in a pack for some protection, but always seemed to be running with no one right in front of me. Oops. But I suppose this is the only time I'd want that!)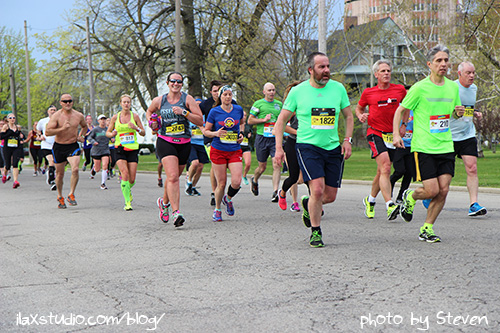 Where'd we have to go to really feel the wind? To the lake. Oh my gosh, it was nuts there. Sand was blowing off the beach and all over everyone (ha ha, I took a hot bath when I got home and there was sand all over in the tub when I was done!). There were times I didn't feel like I wasn't moving. But, it made me barely notice the inclines on the course this year! Score!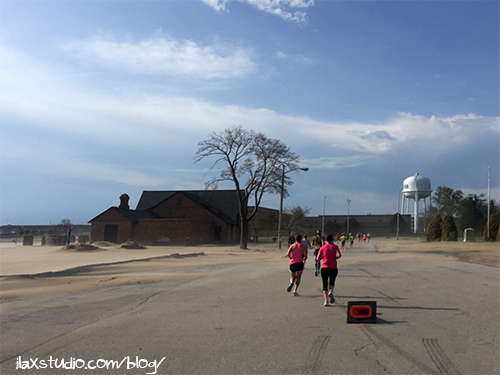 Here's a photo I tried to take of the sand blowing all over – you can see the wind created some dunes that aren't usually there! I also tried to take a photo of the caps on the wave, but my photo is crap, ha ha. Note the blown over course marker cone – A LOT of the mile markers were blown over. Craziness. 
So you can probably guess which miles were going north in the screenshot above – 6, 7, 8 and 13. I felt like I was keeping the same effort in to the wind as I was with it at my back, but I decided NOT to push it more than that, just to keep the same pace, and feel like death for the last miles of the race – it was a huge goal of mine NOT to finish with a death march.
When people got to the turnaround to go back south, with the wind at their backs, they smiled. I did too. I thought, "Finally!" But I didn't feel it at first. What the heck? Did the wind stop all of a sudden?! Oh no it didn't! There it is, pushing me up this hill! Wheeeeee!!!!
I ran three decent miles (9-11), and was happy that the out and back portion didn't get to me as much as the past years. I was pleasantly surprised to see two friends from Efit around mile 11 and that pumped me up!
Then in the the last mile and a half my body was like, "meh." I stopped at mile 12 to fill up my water bottle (hence that slower mile). And then we headed north for the last mile and my body was like, "SUPA meh." Ha! So I ran another slow, not feeling like I was moving mile. And I definitely dropped the effort on that one.
I tried to have a decent finish though, and not look like death when I crossed the finish like. Success?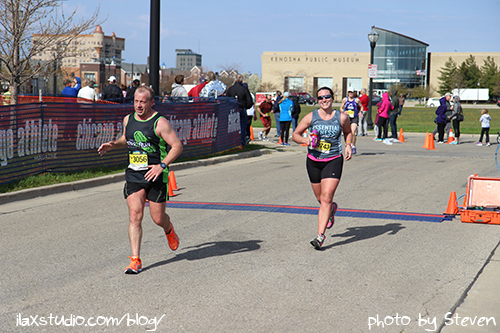 Note: Steven got a lot of pics of me making concentrative running faces. Of course, I am only sharing the smiley (read: flattering) ones.
I finished in 1:53:07, which is a second fastest half marathon time for me. Cool!
And even though my splits were HELLA crazy, I am proud of this race. I kept a steady effort until those last one and a half miles. I enjoyed the race despite the nutso wind, and the race itself went by really fast! I saw a lot of people running, and saw a lot of people I knew spectating. And had a good time.
But… I am happy it's over! This is not the race for me to try to PR, which I write every year, yet, I still think I will train and PR it, when spring is a really hard time of year for me (with the weather shift to warmer and more daylight, I get a bit depressed and put on weight). So. Let's see if I say I am going to try to PR it again next year. SOMEONE TELL ME NO!
Next up running-wise – I want to train for a 5K in October. That's it for now! I'll keep my mileage going and see what I can do with any fitness gained from 5K training.
Other tidbits:
Rachel got her PR! I am so proud of her. She ran a fantastic, even race on this stupid windy day. YAY!!! (This was especially important to me (WAY more important to me than my race), because I wrote her training plan and was highly invested in it – we've been chatting most days about her runs since January.)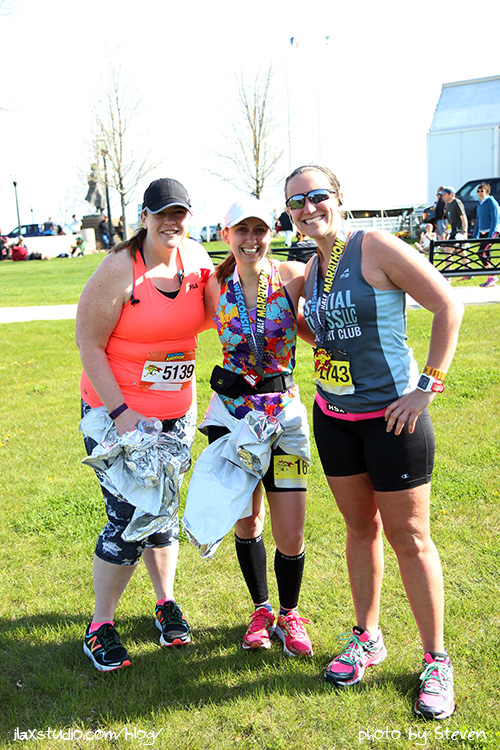 Anne, Rachel and me! Anne ran the 5K!
Brian's (my boss at Efit) son, Sam, completed his first half marathon, in a push chair! A team of people (including his mom, brother, a few relatives, an Efit trainer and Efit classmate) all took turns pushing him on the course! How cool! I was so stoked to see them during their race and kept wondering when I would! I love this picture of Sam smiling!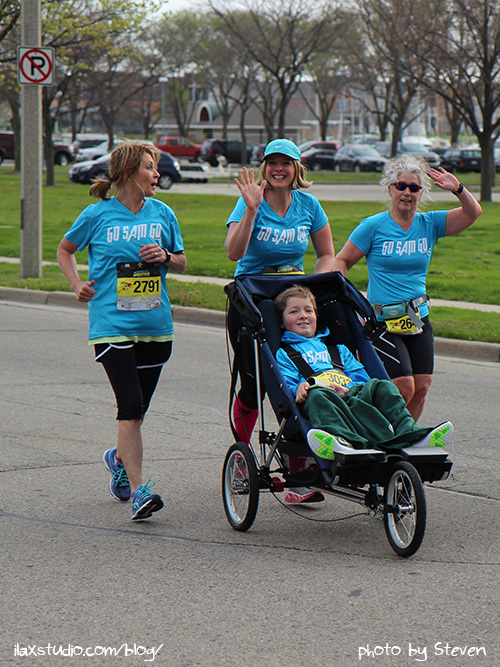 I am so grateful Steven comes and takes pics at my races! I am sad I forgot to get a picture of us together though. Wah.
Steven was getting set up at his first photo spot (mile 1) when he heard the race start. He said as soon as he heard the horn blow to start, the wind picked up. What wonderful timing. At about that time, I said to Rachel as we were standing waiting to start, "they were right about one thing – the wind!" She actually saw lightening before we started! Eek! But nothing happened. No rain. Just some nice clouds covering the sun for some of the race!
Major props to the volunteers this year. Dealing with that wind must have been a nightmare. I saw someone trying to pick up cups as they were blowing every which way! Eek!
I can't imagine doing the full marathon in that wind, either – I think their last eight or so miles would have been in to it. Props to them, too.
This is my eighth year running this race! I've run every year since the inaugural. So I feel like I have to keep doing it, even though I am finding out I am kind of… not so interested in it anymore. Maybe I will stop at ten years. Ha.
I had a KILLER headache on Friday – most likely from the huge weather shift we had. Highs in the 50s Thursday, then 80s Friday. Then back to the 60s, Saturday. Ha ha. No wonder it was so windy. I'm happy the headache went away cause it was baaaaad.
I love how the race medal has a cape!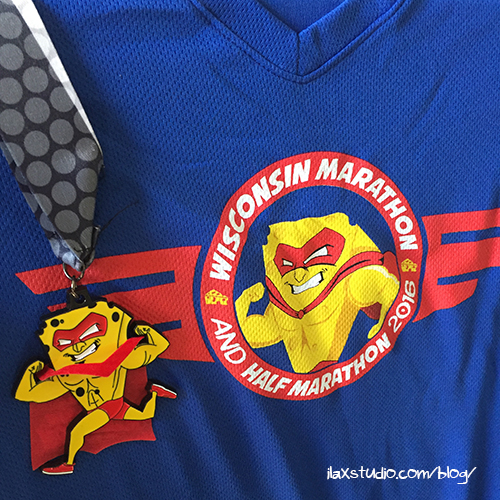 I carried my own water, but took some of theirs on course, too. I did stop twice to drink their cups, and at mile 12 (MILE 12 HA HA!) to fill up my water bottle (I was soooo thirsty). I took a gel at 4, 8 and mile 11.5 (was hoping it would help – not so much… just made me soooo thirsty).
I ended up with 13.18 miles, which is pretty good. I tried really hard to run the tangents!
Edited to add: my knee didn't bug me during the race, yay!
Edited to add, II: the wind made it a big problematic for spitters like me. Eek.
By
60 Responses to "Wisconsin Half Marathon Race Report 2016"