We have a tarp draped over the side of Khali and Snow's temporary housing, and we place their food under the tarp when we feed them, so that they have a dry place to eat.
Apparently this tarp is very inviting. (Just kidding, I know it's the food that's inviting.)
Last month, when I went out to give them their nightly meal, both Khali and Snow were outside of the tarp, but when I stuck my hand under it, there were glowing eyes in there. Um, wth, is there a third cat now?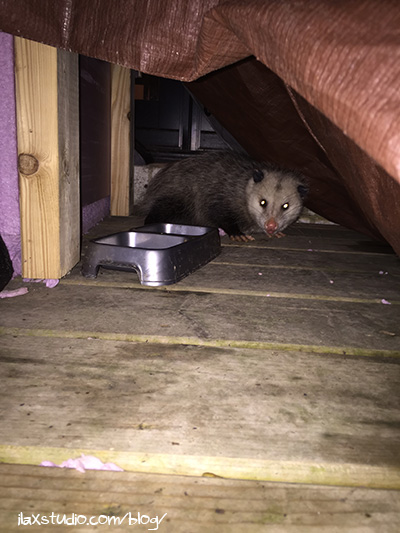 Um, no.
I quickly learned to always check before I put food back there. And sure enough, he returned.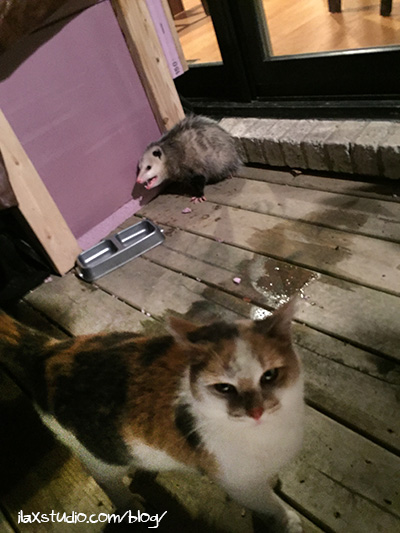 Usually picking the tarp up is enough to make him go, but he wouldn't budge this time. We gently tapped him with a (plastic) shovel and he still wouldn't move. Scraping the shovel against the deck got him to go.
Just to have this guy show up.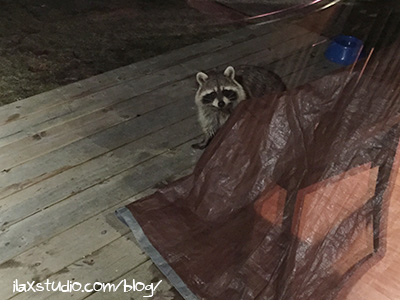 It's interesting to me that the cats give zero f*cks about these visitors. Who knows, maybe they invited them.*
*I know we did, by putting food out. Ha.
By
18 Responses to "So inviting"