Bloggers get all sorts of email requests to promote products and events, share links and infographics, and allow guest posts. I say no, 99.9% of the time, and here's why:
You pretend to read my blog, as if linking to a current post and providing a generic comment proves you do
You provide a link to a current post as to why I should promote something of yours… that is completely unrelated to that post
Or better yet, you find a super old post and ask me to post again on that topic, including your links (sure, makes sense for me to post about weddings…)
Or worse, ask me to edit that old post to include your link
You pretend to flatter me
You ask me to promote things that aren't close to my home… "we'll provide a discount code for your readers!"
You ask me to promote a product that I clearly wouldn't use, which is odd you don't know, since you say you've been reading my blog…
You ask me to promote a product without offering me one to try
You offer me NOTHING (no, I don't want you to share my content on another platform)
You're rude
Your email is full of grammatical errors and/or your email address and links seem super spammy
You argue with me that I should do whatever you're asking me to, because I have before
Most of these things irk me because they point out how insincere the person is. I realize you don't read my blog. I know you were just doing a google search and found me. That's fine. I'd rather have you say that, concisely:
I was searching for bloggers that talk about xyz and found your blog! Would you be interested in doing xyz for me? Thanks!
But I am probably still going to say no, because, most importantly:
This blog is my voice, not yours
I am not desperate for money
I am not desperate for content
I am not looking to have my content posted elsewhere
All of that being said, I have had some nice opportunities come along because I am a blogger, and have worked with some great people! Not everyone is like this!
And I am still waiting for Asics to sponsor me. HA!!!!!
Also, this does not apply to friends and family asking me to share links and information – I am referring to "companies" (really, random people) contacting me.
Here's an infographic for ya!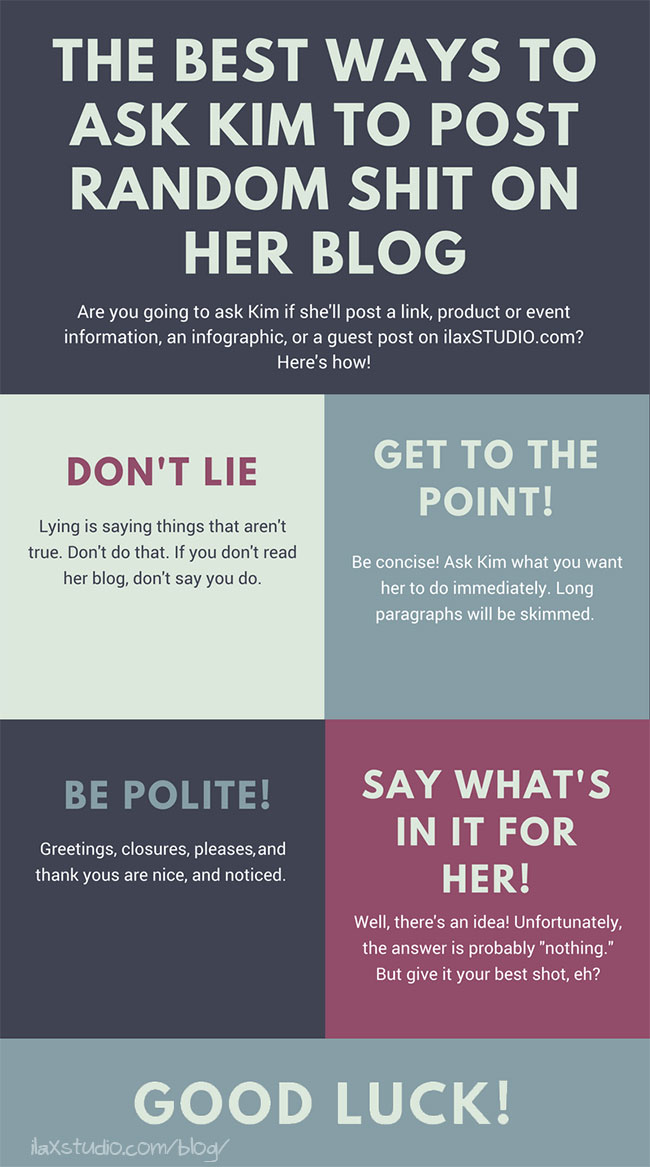 Alright, bloggers, what did I miss?
By
28 Responses to "Why I say no when you ask me to shill your product"