My mom loves to wrap gifts. I don't, and am horrible at it, so when I was in my hometown last weekend, I brought my baby shower gift for her to wrap! Darn – looking back at it, I should have brought all those April birthday gifts for her to wrap, too!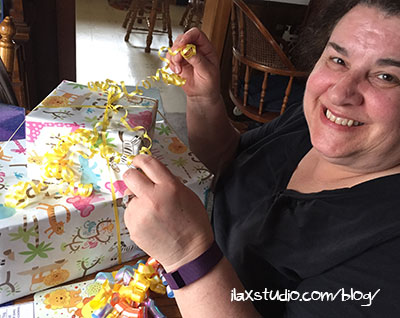 I forgot to mention two things in my 5K race report. One, I forgot my headphones. Gah! I was so mad when I realized it, forty miles away from home. Then I remembered how fast Pete runs without them, and told myself to suck it up. Two, when I was telling my mom I forgot my headphones, I said "at least I didn't forget my racing flats!" Then, once she realized I was racing on shoes with less support, she worried about it that night and until after the race when she asked me if my feet hurt from using them. Ha ha. No.
Woo hoo! I saw this sign at the nearby Van Patten Woods Forest Preserve last week. The Forest Preserve is making a wider shoulder to get to Van Patten Woods, and extending a trail from it to another preserve – Pine Dunes Forest Preserve. This all equals safer running for me! This small expansion is part of the Millennium Trail. Once that entire trail is completed, I'll be able to run all the way to my old townhome (about twenty miles away) and even further beyond that!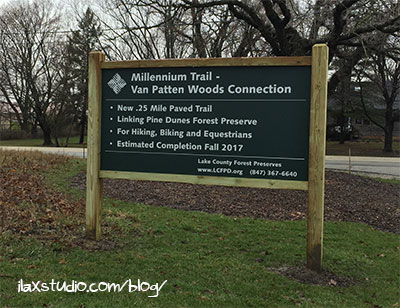 Steven and I enjoyed our "book club for two" last summer and have been wanting to read another book together. We finally picked one out – Titan: The Life of John D. Rockefeller, Sr. I like reading about real people, and Steven likes reading about businessmen, so I hope it's another winner!
Blah. I'm so sick of seeing people trying to one-up each other online. Guys, we all live normal, mediocre lives. If you can't say "good for you," when someone shares something they're excited about, just move along. Seriously.
By
28 Responses to "Random Thoughts Thursday 130"