Highlight of the Week: Running with Dad / teaching two challenging classes / two great long runs / warmer weather!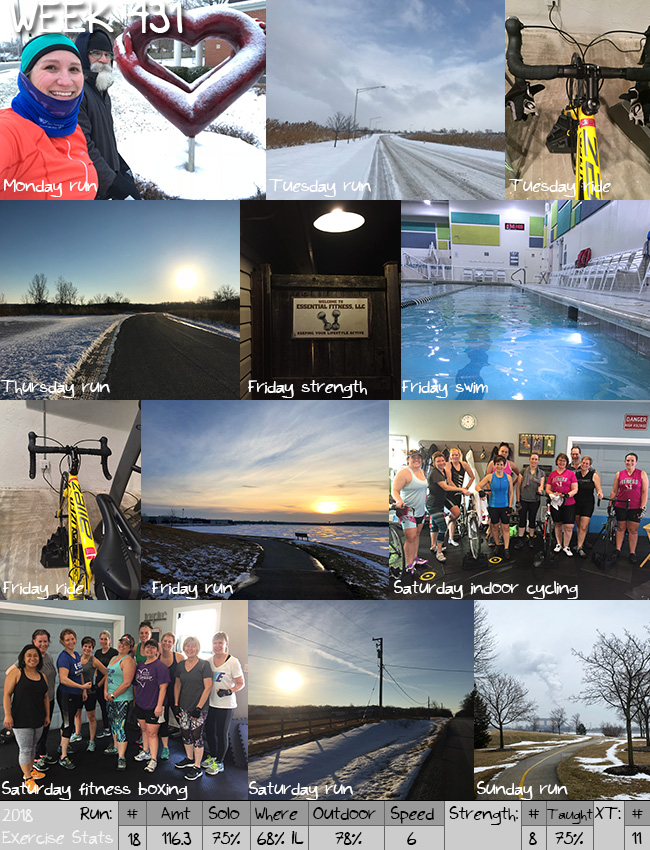 Monday | January 15, 2018: 4 m run (w/Dad)
Loc: Switzer/Anitoch Loop, Temp: 14°/14°, Time: 46:50, Pace: 11:42 avg, Difficulty: easy, Felt: good, slow & cautious on the ice and snow
Tuesday | January 16, 2018: 7 m run (incl. 8 hill repeats) + 25 mins strength + 10 m ride
Loc: hood, Temp: 20°/23°, Time: 1:21:29, Pace: 11:38 avg, Difficulty: easy/medium, Felt: great, just very slow on slippery snow
Indoor Ride Time: 39:18, Pace: 15.3 mph avg avg, Difficulty: easy, Felt: okay, still pissy about work
Wednesday | January 17, 2018: rest
Thursday | January 18, 2018: 10.2 m run
Loc: reverse Kilbourne/VP Woods loop, Temp: 31°/32°, Time: 1:41:19, Pace: 9:56 avg, Difficulty: easy, Felt: good, glad to run on clear roads, grateful for the stress release
Friday | January 19, 2018: teaching strength class + 1,008 yd swim + 17 m ride + 4 m run
Strength: Airex pads, kettlebell, & circuit, Difficulty: easy, Felt: good, but tired (sleepy)
Loc: FitNation, Time: 21:32, Pace: 2:08 min/100 yd, Difficulty: easy, Felt: good
Indoor Ride Time: 54:19, Pace: 18.1 mph avg, Difficulty: easy/medium, Felt: good, excited to teach the class!
Loc: Lake Andrea, Temp: 40°/40°, Time: 37:06, Pace: 9:16 avg, Difficulty: easy, Felt: good, held back in the wind!
Saturday | January 20, 2018: teaching indoor cycling (16.5 m) + teaching fitness boxing + 3 m run
Indoor Cycling Time: 54:12, Pace: 18.3 mph avg, Difficulty: easy then hard at the end, Felt: good! sweaty!!!
Strength: dumbbells & boxing, Difficulty: easy, Felt: good
Loc: hood, Temp: 46°/46°, Time: 29:34, Pace: 9:51 avg, Difficulty: easy, Felt: great to have the sun on my legs and arms
Sunday | January 21, 2018: 13 m run (incl. 8×400)
Loc: Outlet mall/Lake Andrea loop, Temp: 37°/38°, Time: 2:12:41, Pace: 10:12 avg, Difficulty: easy (a few intervals were hard), Felt: great

Notes:
I was able to get one last run/bike in with Dad on Monday before we went back home! It was another challenging run – it had snowed and iced over the night before. I'm glad neither of us fell during that workout, or the previous ones!
I did not manage my time well this week. I put off my speedwork – I usually do it on Thursday, but wanted to run long after a stressful work day, and I didn't want to do it Friday or Saturday after cycling intervals. Also, I should not have waited to practice my cycling class until the day before I was teaching it! I was all about doing what I wanted to in the beginning of the week, not what I needed to. Sigh. Will I learn my lesson? <— likely not.
As I was running next to cars on the road Thursday, I could taste the salt their tires were spitting up on me from the road, even through my gaiter! Yummy…?
It was a blast teaching indoor cycling and fitness boxing back to back. That cycling workout though – it nearly did me in! It was intense! I hope my students felt it, too!
I didn't end up doing my scheduled Thursday speedwork until Sunday, then when I looked at my calendar for Sunday, it showed tempo. Oops. Um, let's count Friday as tempo?!
I was able to run forty miles last week and this week. I'd like to stay at that average for the year, but right now it requires two double digit runs a week, and that isn't always going to be feasible!
Does anyone else come up with a huge to do list during their long run, then try to remember it all to write down when they get back?
By
4 Responses to "Training Week 431"