HOLY. FREAKING. COW. THAT. WAS. HARD.
I've never run such a congested race in my life. The announcer said there were close to 18,000 people. The event coordinators tried very hard to be organized. They had pace signs at the start, and kept repeating over and over NOT to start in the front if you were walking or planning on finishing in over 30 minutes.
Do people listen? NO! Because everyone is SO special that the rules do not apply to them (this is not a new thought in my head – I recognize this pattern in a lot of people). I got very frustrated when a lot of my coworkers started at the 7:00 minute mile pace, after they had all told me they planned on finishing in over 30 minutes. I passed them. Anyway…
The race was so congested that I did not cross the start line until well over a minute, and I was shoulder to shoulder with people the entire 3.5 miles. I actually saw one guy get knocked over onto the pavement because he was pushed from behind. People started in front of me who were walking, or running much much slower than the people around them. It was frustrating to have to dodge around these people. Oh well. I guess that is to be expected at a big race like this.
This is a race where I kept thinking, "And… why do I run again?" Because it was hard course (it was extremely muggy when we had to run under bridges), it was HOT (75°), and it was so freaking congested. It was just a HARD run. BUT, I gave it my all and finished 3.5 miles in 27:13. My clock time was 28:22 because I didn't cross the start line right away.
Steven came downtown to watch me race and hang out with me and my coworkers at the after party (I totally sucked at introducing him to people – what is my problem?). I am so happy he came to support me! He said he enjoyed watching people race.
Video of the start!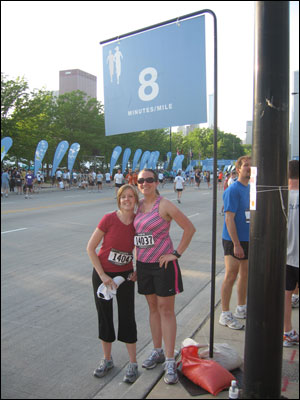 I started where I was supposed to… this is well before the HUGE crowds! (Click on the photo to enlarge and check out my awesome farmer's tan! Lame)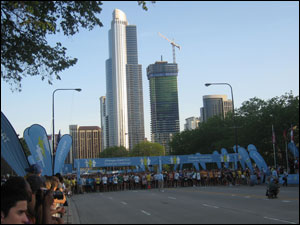 The start line.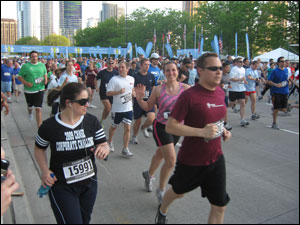 Starting off… still smiling…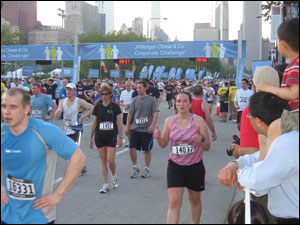 Scary finish photo!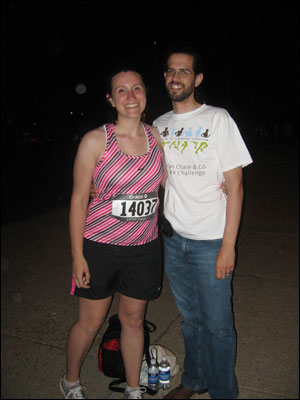 Me and Steven-o.
I was super pumped for this all day, and am happy with my time, but it was not as fun (the racing part) as I expected. I am worn out, and happy I have tomorrow off to kind of relax. And maybe go on an easy run (I can't help it!).
By
23 Responses to "Chase Corporate Challenge 3.5M 2009"