Data's been a bit of a sh*tbox lately. He normally likes to "hide" behind things in the evening, and jump up at our legs playfully when we walk by, then run away. But lately, his attacks have been vicious. On Sunday morning, he jumped up on me and bit me in the thigh. When I was standing up! He left a mark.
I think he is stressed because he hasn't had enough alone/free-time (hey, that is why I've been in a funk too!). But seriously, he needs to get over it (and so do I).
On Sunday, on our way to run some errands, we stopped at the animal shelter near our house. I had never been to the shelter before, but thought playing with some nice, grateful, cats for awhile would cheer me up!
Surprisingly, seeing all of the cats (over 300!) didn't make me feel bad. They were all playing together, and a lot of people were there playing with them. What made me feel sad was seeing the dogs, alone in their kennels, begging for attention.
Anyway, one of the small tiger cats really liked me. She kept trying to crawl onto me, and play with me, and steal all of my attention.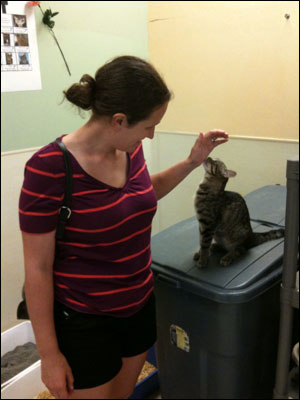 My new friend.
Some of her fur was still on me when I got home, and I think someone noticed. Maybe Data was a bit jealous… but he was really well behaved for the rest of the day! That is, until nighttime came and he wanted to jump up on me again.
So, all I need to do to get a little lovin' from him is spend time at the shelter everyday. Riiiiiiiiiiiiight.
Just for fun, here are some photos of the sh*tbox from this summer: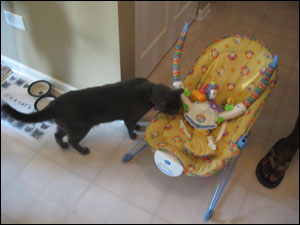 6/26 – Thinking "what have they done?!?!"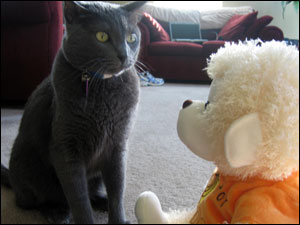 6/26 – "Who the hell is this guy?!"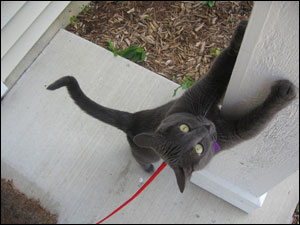 6/28 – Sharpening his "claws."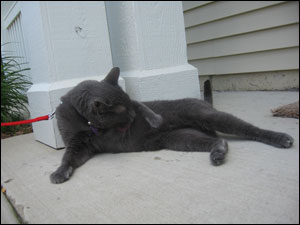 6/26 – Scandalous!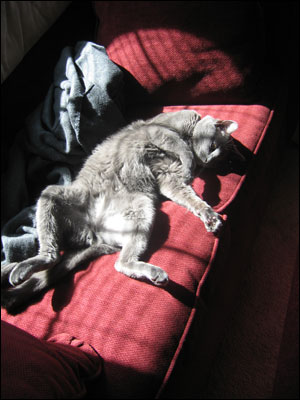 7/11 – Think he's comfortable?
7/11 – Vacuum Kitty!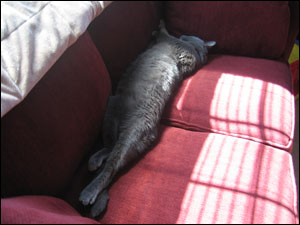 7/12 – Showing us a new way to lay on the couch.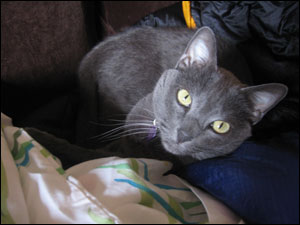 7/15 – Sleeping on a large pile of dirty laundry (we had 6 men stay over!).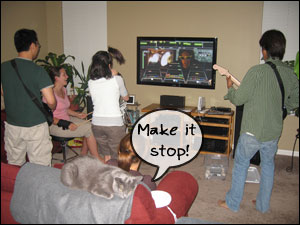 7/17 – Data is not a big fan of Rock Band.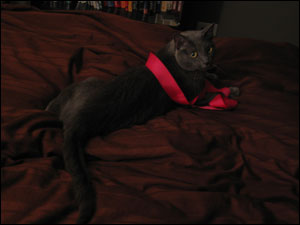 7/21 – Playing with a ribbon from Gina.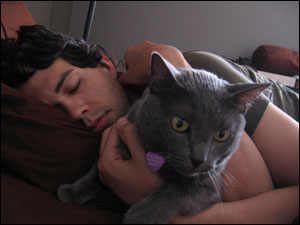 8/9 – Steven holds Data back from bothering me so I can sleep awhile longer.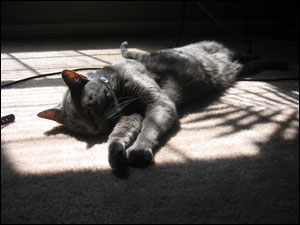 8/14 – Relaxing in the sun.
By
19 Responses to "How to make your cat jealous"