Q: How do you prepare for a visit from Grandma?
A: By cleaning like a mad woman, of course!
Come on, it's not every day you get to:
iron your place settings
discover shiny surfaces right there in your own home!
feel the tactile pleasure of cleaning each and every window blind
relive memories as you clean tiny little mementos on your knickknack shelf
vacuum every side of every cushion and pillow on the couch – I've confirmed – we do indeed, have a gray cat
scrub out Data's litter box by hand – ha, not! gotcha
Truth be told, Steven and I are very neat and tidy (he is more than me, for all of those women who think men can't be organized*), and we would be doing this type of deep cleaning for any holiday visitor, not just my grandma. It's just so time consuming!
Do you do a deep clean before each guest arrives? Or do you leave your place "as is"?
We always clean quite a bit for guests, but extra for the holidays.
At least we got to do some fun things, like put up the holiday decorations and listen to music while we were cleaning.
Data loves the fake tree, but we've asked him to admire it from a distance. It has valuable Star Wars ornaments on it after all!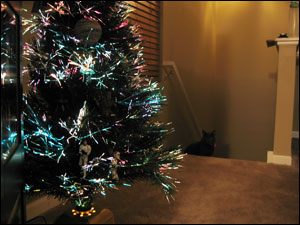 Data! I see you there!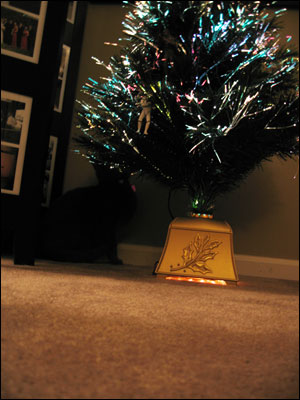 You better be a good boy Data, or Santa won't come!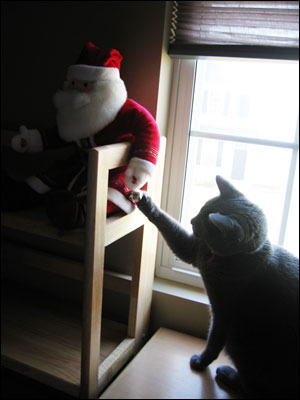 Side Note: Don't forget to enter my Homemade Holiday Sweets Giveaway!
I just found out yesterday that I won my first giveaway, EVER! Marcia, from Running Off at the Mouth is sending me a copy of The Runner's Cookbook, a book I have had my eye on for a year! Thanks Marcia! Check out her blog if you're looking for a new runner blogging friend!
*Or cook. He's a wonderful chef. I'm blessed.
By
18 Responses to "When Grandma visits"