What a crazy busy week we have ahead of us:
On Wednesday, I have to give a very important presentation at work which will determine whether or not I get a raise! Steven and I are also going to the Eating Animals Reading on that day AND my sister and her friend are staying at our house Wednesday night.
On Thursday, I am driving my sister and her friend to the airport at 5:30 am. Then, Steven and I are attending the Chicago Construction Expo all day. Then (!), my mom, dad and grandma are arriving for the weekend.
On Friday, my mom, grandma and I are going to Chicago to do some window shopping on State Street and Michigan Avenue.
On Saturday, we are BAKING all day long.
On Sunday, I will take my grandma and mom to church, then they will head home… and I will promptly collapse!
And that's not to mention all of the prep work we've done these past few weeks, this weekend and today and tomorrow – painting, cleaning, buying groceries, etc.
BUT, I am excited! We had a lot of fun baking all of our holiday sweets last year, and THIS year, I am doing a Homemade Holiday Sweets Giveaway!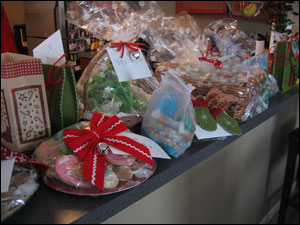 Would you like to win a Holiday Sweets Basket like one of these?
The Holiday Sweets Package will likely contain:
Frosted Sugar Cookies
Peanut Butter Kiss Cookies
Snickerdoodles
Chocolate Chip Cookies
Toffee
Caramels
Caramel Crispix
Chex Mix
I say "likely" because who knows what the day will bring. My mother is often springing (good) recipe ideas on us at the last minute.
I will put a note in the package saying which items are vegan and which are gluten-free. They will not all be, but please, still enter the contest! Some will be, and you can share the rest with your friends/family/coworkers/grateful strangers.
Contest Rules:
To enter the contest, simply leave a comment below telling me what your favorite holiday treat is. It doesn't have to be one I listed above. It can even be a favorite dish!
To get an extra entry, link to the giveaway in your blog, and leave me another comment linking to your post.
This contest is open until 5:00 PM CST on Saturday, November 21st. I will use the Random Integer Generator, or if I am feeling fiesty, the old "name out of a hat" drawing to select a winner on Saturday. I will announce the winner Saturday evening.
This contest is open to readers in the contiguous United States only. Sorry! I want to make sure your sweets arrive quickly!
By
38 Responses to "Homemade Holiday Sweets Giveaway"