Would you rather live somewhere where the you see significant changes in the seasons throughout the year, or where it pretty much stays the same? What is your ideal daily temperature?
I'm back and forth on this. And my answer definitely varies depending on during which season you ask me! I enjoy the snow, and don't mind the colder temperatures, but four+ months of it gets to be a bit too much for me! Ideally, I think I would like some place where each day has a decent amount of daylight, the temperature is usually above 70° (although that's not ideal for running) and it's not humid. Maybe we'll get there someday. It would be great to live somewhere where I could exercise outside everyday of the year.
Ah, snow.
This morning, while I was getting ready to leave, Steven sleepily asked if it snowed. I looked outside and sure enough, it had! Good thing he asked me – I would have been pressed for time if I hadn't known about the snow. I asked him how he knew it was going to snow (he usually doesn't keep track of the weather) and he said he could "sense evil." Ha ha.
So I went outside and found this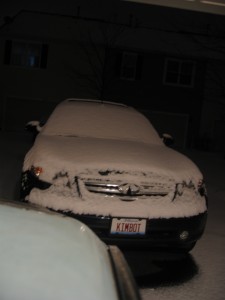 which meant I had to wear these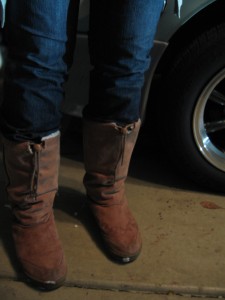 and do this.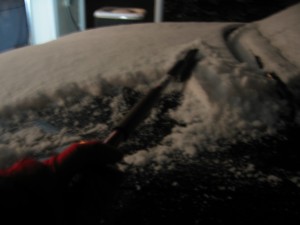 Yes, I could live without snow. And also, without the hidden layer of ice underneath the snow. Very tricky, mother nature.
My car has a "snow" switch (and AWD) which I think splits the power between the front and rear of the car (Steven, help)? I turned it on for shits and giggles this morning. I only slipped once on my way to the train station. Hooray! Snow!
By
30 Responses to "Friday Question #91"