Damn. Vegan "Chicken" and Biscuits make awesome leftovers*. Like, "I can't stop eating them and am going to turn into a tub-tub, thank goodness that's the last of them" awesome. Steven's cooking is so good, I almost always feel like this with his leftovers. We were thinking about making the Vegan "Chicken" and Biscuits for Erin and Jason's visit tonight, so we tried them out on Wednesday.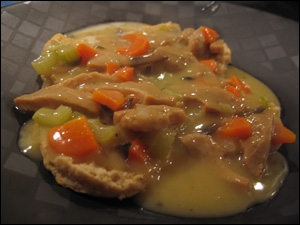 Can you spot the biscuit?
Steven followed this recipe for "Chicken" and Dumplings starting at the fourth step. We used biscuits instead of dumplings.
Saute onion, celery and mushrooms (we added) in margarine until soft
Add flour, celery salt and pepper to make a thick paste
Add veggie broth and bring to a boil
Add carrots, faux chicken and bay leaf (We used a box of Heartline's "Chicken" Fillet** for the "chicken.")
Reduce heat, simmer 20 mins, stirring often
Pour this awesome soupy mix on your biscuits
Nom nom nom away, lick plate clean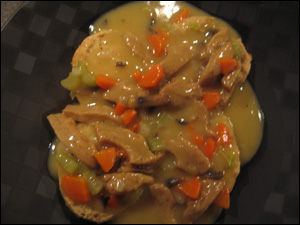 Steven excitedly told me that the biscuits had a "surprise" ingredient (before I tried one, without the soupy mix). After a lot of guesses (some silly and some serious), Steven gave me a hint that he thought the biscuits tasted like the ones you get at Red Lobster. I immediately knew what the "secret" ingredient was then – Nutritional Yeast. After my last fiasco with it, I was worried about the biscuits, but he was right, they DO taste like the ones at Red Lobster, and they taste great! (Steven used this recipe for the biscuits. He used 1/4 c. nutritional yeast instead of 1/3 c., and for the "1 teaspoon of dried herbs" used 1/2 tsp. garlic then for the other half teaspoon he used a pinch of rosemary, thyme and dill.).
We loved this recipe – especially during this time of year. It's such a hearty and filling dish! It makes you feel all warm and good inside. And it's got that creamy thing going on, with a little bit of a soft chewy biscuit. Yum yum. But since we couldn't come up with good sides (besides green beans), we are making something else for our guests tonight. Ha! At least we tried something new and it turns out we love it. We*** will definitely be making it again. We both said it reminded us of when our mothers made chicken and biscuits. And Steven suggested turning it into a pot pie…
Did you have chicken and biscuits growing up? Do you like the dish? Do you know what the difference between a biscuit and a dumpling is?! If so, please tell me!

*I took them to work on Friday.
**We order this stuff online.
***By now you must know, that by "we" I most likely mean "Steven."
By
16 Responses to "Vegan "Chicken" and Biscuits"