Yesterday Erin asked me what recipe I used for my homemade granola bars. I looked through my recipe archive, ready to send her a link, then realized, even though I talked about them, I never posted the recipe!
So, with Steven's permission (since he developed the recipe), I've posted the recipe below! Please note, these are chewy, and dense. They won't sit in your stomach like a rock, but they are not light and airy.
Ingredients:
2 c. oats
1/4 c. whole wheat flour
1/4 c. wheat germ or wheat bran
1/4 c. milled flaxseed
1/4 – 1/3 c. sweetener (honey, imitation honey, agave nectar, molasses)
1/2 c. + apple sauce
1 tsp. vanilla
1 1/2 tsp. cinnamon
1/2 c. raisins or whatever dried fruit/nuts you like (I used raisins and dates in these)
Directions:
Heat oven to 350°F, grease bottoms of two (2) 8.5″x4.5″ loaf pans very well (you can use metal or glass loaf pans, really, any size you want – it just determines the thickness of the bars).
Mix all dry ingredients, add in all wet ingredients. Cut up dried fruit/nuts to small sizes and add in. The mixture should mostly stick together, but add more applesauce if it is super crumbly.
Divide half of mixture into each loaf pan and smooth down with a spatula.

This is a photo of Steven's bars from last year. I just wanted to show them to you in the pan. His look a bit different because he uses different ingredients (puffed rice, baking soda and powder).

Bake for 20-25 minutes.
Let cool in the pan. Tip them out upside down onto a cooling rack, let cool a bit more then cut into whatever size you want on a cutting board.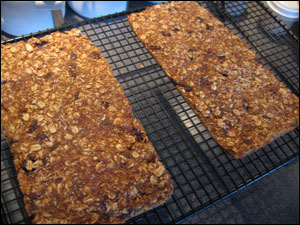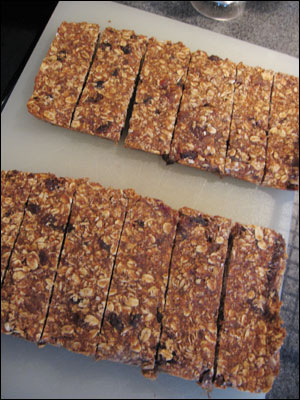 Easy, right?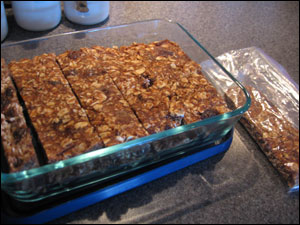 I like to store them in a container, then put them in a plastic bag when I want to take one to work. That way I can reuse the same bag over and over. Another option is to individually wrap each in saran wrap. These granola bars last about 1.5 – 2 weeks.
Do you make homemade granola bars?
Since I am talking about food, I might as well tell you that I added pearled barley to my oatmeal this weekend (after cooking for 45 minutes, of course) and LOVED it! Yum! I love how chewy it is. Any other ideas for things I can do with barley? We also have some couscous to use. Any favorite couscous recipes? Erin already recommended this one, which I cannot wait to try!
Half eaten oatmeal with barley, milled flaxseed and brown sugar.
Okay, and since I am still talking about food, check out these two pizzas we made last night. Yes, two.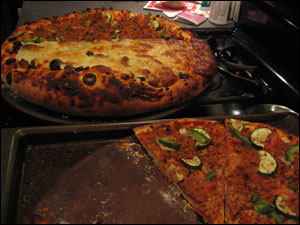 One SUPER thick one and one SUPER thin one. Muah ha ha.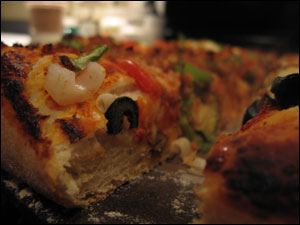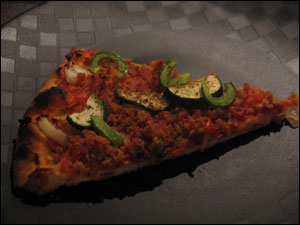 Would you want a piece of the SUPER thick pizza or the SUPER thin pizza?
---
Thank you for all of your entries on the My Favorite Things Giveaway! I had fun reading what you would put in your hypothetical giveaway!
And now, for the big weiner winner…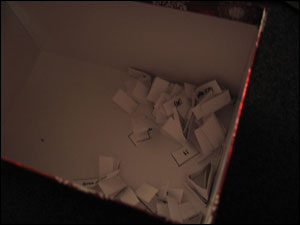 I used a handy-dandy holiday box my sister gave me for the drawing….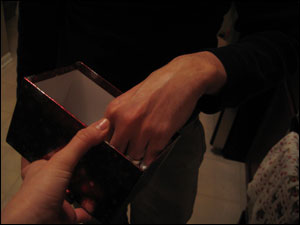 Steven did the honors and…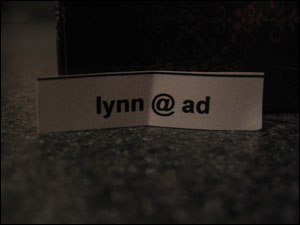 The winner is Lynn from The Actor's Diet! Lynn said:
my list would include 18 rabbits granola bars, justin's maple almond butter, peanut ginger chews, tootsie pops, sunshine burgers, and newman's own's ginger hermits
Damn, I have been wanting to try those 18 Rabbits Granola Bars!
Congrats, Lynn! Send me your mailing address and I will skip the goodies your way!
And to everyone else, thanks for entering, and please continue to do so! I have some other giveaway ideas!
By
45 Responses to "Our homemade granola bar recipe / My Favorite Things Giveaway WINNER"