Today Erin and I ran the Frosty Footrace 5K in Round Lake. I am so happy Erin ran it! I don't think I would have gotten the time I did if she wasn't there, but I'll get into that below.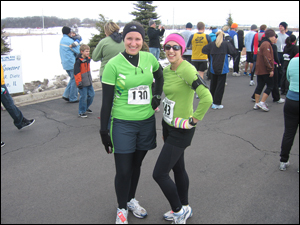 Notice that we are matching?! We didn't even coordinate. This happened at our last race too!
The Frosty Footrace is a very local race for me, and the proceeds benefit the community fitness center. I actually ran it last year too, and I thought it was fun to run it again. Are there races you like to run each year? I think I will definitely keep doing this one. It feels like a kick-off to race season to me!
We had great race conditions – no snow, no rain, almost 40°F, and no snow on the trails (phew). About 275 people ran it, and we were able to start near the front and didn't have to struggle much with crowding.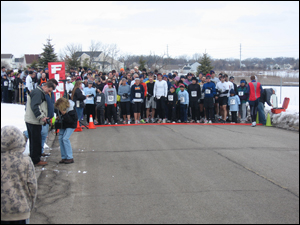 Can you find me in this crowd, Dad?
Erin had plans to finish in 26:23, and I wanted to finish in 27:00. We didn't really plan on running together. She wanted to hit 8:30s, and I wanted to do 8:41, 8:31, 8:21.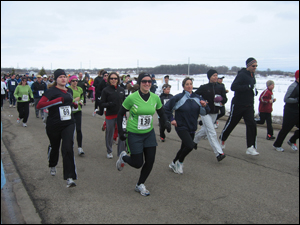 I took off a bit fast though! First mile? 8:02. Oops! I just felt so good when I was running that I didn't want to slow down, even though I kept telling myself I should.
And of course, I did. I would say fatigue hit in around the 2 mile mark (done in 8:12). The course had some small hills, and right after we passed Steven (and he took the photo below) we had to go up this mini hill and I thought "I might not be able to keep this up!"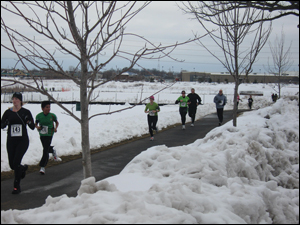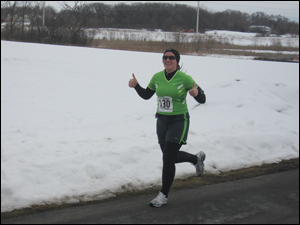 But you know what (or who, I should say) kept me going? Erin did! Early in the race, I told myself I would at least try to keep her in my sight (which I hope didn't annoy her). Our goals were so close together, I figured it made sense.
And it worked! I stuck behind her for the last mile (8:28, oops) and found my inner sprinter to finish the race out with a time of 25:51 (only one minute slower than my PR!)!!! Update: Official time was 25:55.3 – slower and shorter than what the Garmin told me.
I was pooped. Look at this finish photo: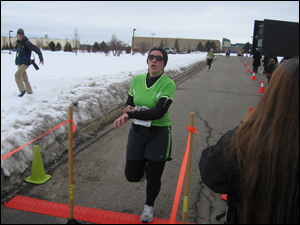 And… I accidentally peed myself in the last quarter mile (I had brought a spare outfit and changed). Ha ha.
Erin met her time too! I am not going to give it away though. You will have to make sure you watch her blog for her recap. Update: here is Erin's recap!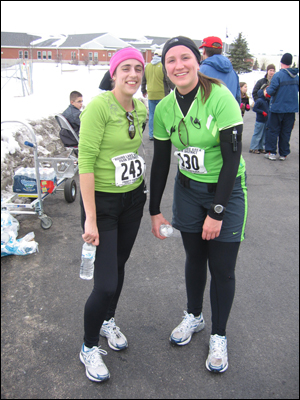 And guess what? We both placed second in our age groups! Boo-yah! It's a good thing Erin and I are in separate age groups – our times were really close!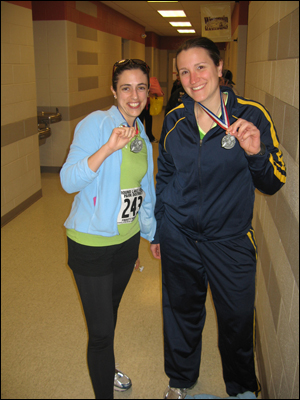 After the race and awards ceremony, we went back to our place to eat chili, cornbread, and Steven's newest masterpiece: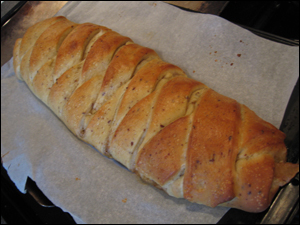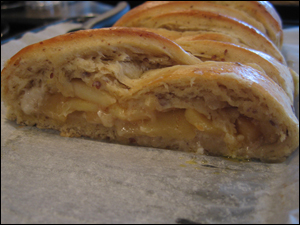 NOM! What a fun day. It was so nice of Erin to trek across the suburbs to run with me, and it was so nice of Steven to be our official race photographer, and make us lunch while we cleaned up.
Here's to the beginning of my race season! And to a few days of recovery runs!
Distance: 3.15 | Time: 25:51 | 1: 8:02 | 2: 8:12 | 3: 8:29 | 4: 1:07
By
44 Responses to "Frosty Footrace 5K"