I originally had 18 miles on the running schedule today, and when I saw some Grayslake Running Club members were going to Milwaukee to run the South Shore Half (which cost less than $14 to enter, by the way), I thought, why not?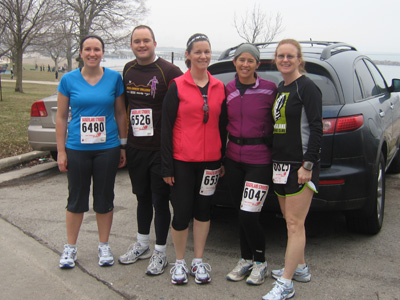 My goal was to run 8:45s and set a new PR, then run 5 miles afterward.
One of those things did not happen – the second one! I'm okay with that (I think. Maybe.).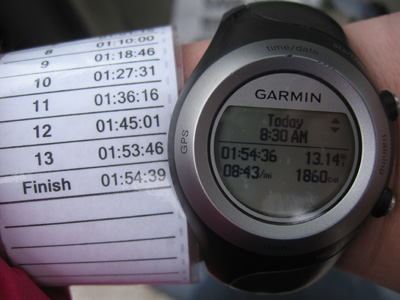 My official time was 1:54:40, which is funny – it was one second off of my goal time of 1:54:39! I took 3 minutes and 7 seconds off of my previous PR of 1:57:47.
Update: my official time was actually 1:54:06! The clock just read 1:54:40 as I crossed (and I thought that was my official time, but it wasn't). So I actually took 3 minutes and 41 seconds off my previous PR.

And here's how it went down… this is an well organized, but somewhat informal race, that gets a lot of runners – 850 last year and at least 600 this year. The race is NOT chip timed, so I walked for about 45 seconds before I crossed the start line.
The race website says this about how hilly the course is "There are several hills on the course, but no major ones to worry about." That is A LIE. This course is ALL HILLS. ALL. THE. TIME. I mean, check out the freakin' elevation map: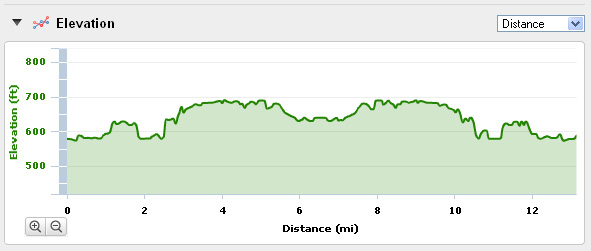 Sigh. Maybe that is not hilly for Wisconsin people? Anyway. The course is an out and back on a bike trail, so it was a bit crowded at first. BUT, that really helped me keep my pace (being so close to people)! I did really well in miles 1-7, and thought, "This is easy!"
Mile splits:
1: 8:53
2: 8:24
3: 8:33
4: 8:27
5: 8:27
6: 8:30
7: 8:38
I knew I was banking extra time in the first seven miles and I was excited about it. Foreshadowing – I didn't know I would need it.
Also, I should mention I tried something new (big race NO NO) for this race – I didn't run with my belt. I pinned my GUs to my pants (had to read about how to here – ended up taking one GU at 5 miles), and took water at the stations. That actually worked out well!
But what happened at mile 7? I kind of started to fall apart. I didn't feel that tired, or that out of breath, and I didn't feel bored… I am not sure WHAT it was. But, I slowed down. I walked through two water stops, up part of a HUGE hill, and a few other times. Sigh.
8: 8:55
9: 8:34
10: 8:57
11: 8:39
12: 9:28
13: 8:58
13.14: 1:05 (7:54 pace)
Garmin stats here, note, it was in the 40s and perfect out!
I didn't even have it in me to sprint at the end. Thankfully I banked that extra time, and crossed the clock at 1:54:40. Phew!
This course is actually really pretty. It's right next to Lake Michigan, and goes through some open areas and some forest-y areas. Some parts were muddy though!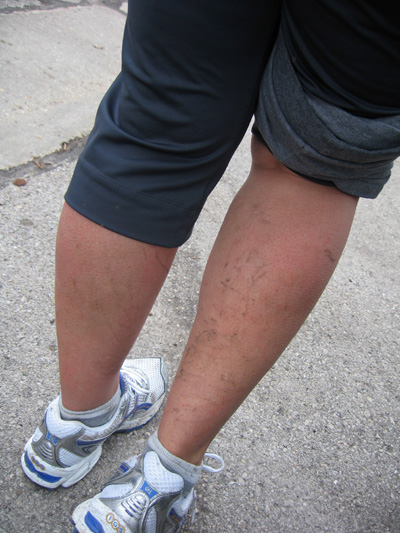 My legs and new shoes got all muddy. Ha ha.
You don't get a medal for running this race, but you do get a pair of gloves!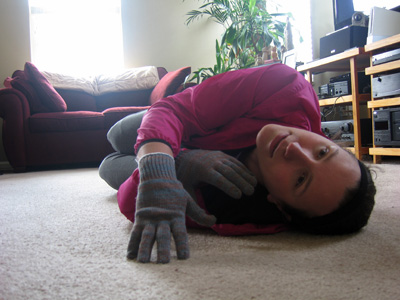 After the race I took another GU and met up with one of the people I rode with to run my 5 miles… I went out on the course and we caught up with Bobbi, then ran back in with her… then said "eff this I am done running." Sigh. I guess I will have to run my 18 this week. I feel like a lame-o for not doing my last 4 miles of my 18. Whatever.
We went inside and got some snacks, then headed back to Illinois!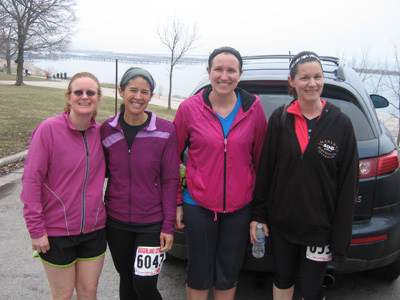 This is a nice, small race, and I would do it again! I would just be better prepared for those damn hills. I want to run a flat Half Marathon now!
And it looks like I have some more work to do on racing… I am just NOT that good at it! Sure, I met my goal, but the last 6 miles were a mess!
By
29 Responses to "South Shore Half Marathon Race Report"