Steven and I are always trying to come up with new hobbies to do together, and one of our ideas was to learn a foreign language. There are actually a lot of languages we are interested in learning, but we selected Spanish because:
it's so widely spoken where we live
it's the main language of many countries we want to visit (even though there are many dialects)
I have a bit of a background in it (4 years in high school, one semester in college)
it seems like it might be an easier start than Arabic
I am excited to try to learn a foreign language with Steven! And Steven's brother was nice enough to get us the Rosetta Stone set for Christmas (Latin America version).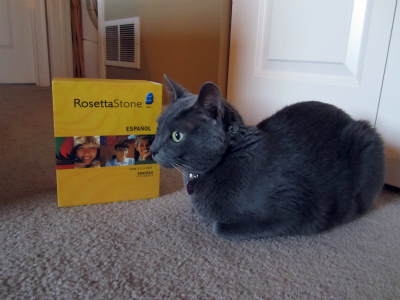 Has anyone else tried using the Rosetta Stone to learn a foreign language? What did you think of it?
Which language did you study in school? Did you retain any of it?
Since I posted a picture of Data, I must post another from last night: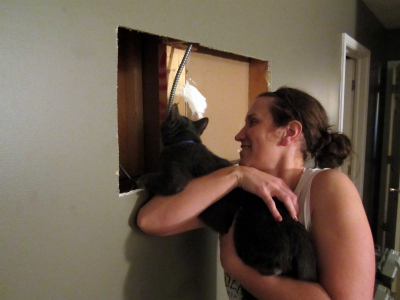 Data was going crazy trying to get in this hole in the wall that Steven cut in our bedroom. Data jumped up on to the edge of the drywall and was going to jump down in to the wall. How the hell would I have gotten him out of there if he did that? Luckily, I grabbed him before he jumped in to the wall, and held him to let him peer in to the hole. But jeez, he would not stop trying to get in to the wall. Data is… persistent, to say the least.
It's only three days after Christmas and Data is already back on the Naughty List. Data, don't think that Santa doesn't keep track year round!
By
28 Responses to "Aprender español"