Sometimes things just fall in to place…
Last week I was asking Abbi for advice on trail shoes. I am thinking about doing a 50K on 9/15 and Abbi is my go-to gal with all my ultra questions! We talked about it and decided I should try some trails with my regular shoes and see if I need more support. Okay. I decided to wait on trail shoes. 
But then Michel contacted me on Thursday and asked if I had heard of the Mizuno Mezamashii Run Project. I was all… huh?! She explained it to me – mezamashii is the Japanese word for brilliant or eye-opening, and Mizuno thinks it describes that fantastic run. They are using this project to put shoes on people's feet so they can experience that brilliant run – that is how confident they are in their shoes!
I think they are giving away something like 600 pairs, and Michel had a code and signed me up (I think you can still apply on their website). Thanks Michel! I talked to a rep on Friday and my shoes arrived today!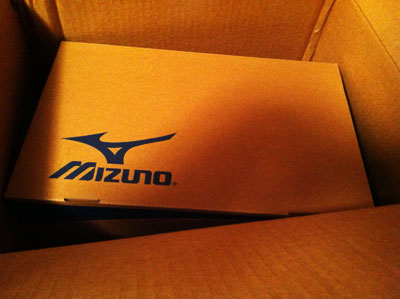 What did I get?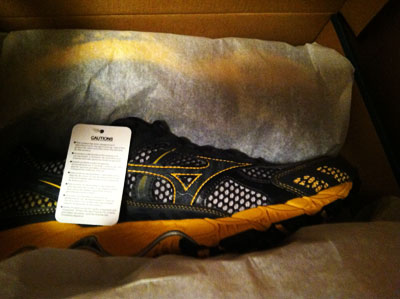 The Men's Wave Ascend 6 Trail Shoe*!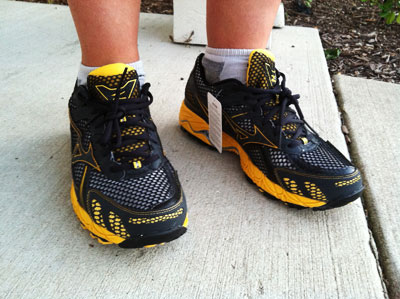 I can't wait to try them out. I put them on to walk Data and they feel so "grip-y!" And these came just in time – we are going to check out the site of the potential 50K this Sunday!
It is really cool that Mizuno is doing this. I asked about it on the phone, and the guy said they just want to get people out there in their shoes instead of pay a bunch of money on advertising. Cool idea. 
Have you ever tried trail shoes? 
*My feet are too big for Women's sizing. 
By
23 Responses to "Trail shoes from Mizuno!"