I sure am glad to be a runner… when I get to the train station and the train is already there, like yesterday morning!
Steven and I have been doing so many fun summer-y things and summer just officially started yesterday! We've done a few picnics, gone on a bike ride, went to the first Independence Grove concert this Tuesday and are going camping this weekend! Our first ever camping trip!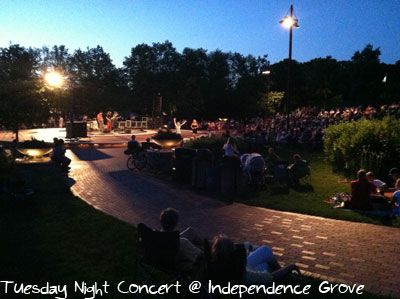 I get to see my parents today for a short bit. They are driving out here to get a new Datsun chassis for Steven and bring it to our house. Red Robin may be in order for dinner. Do I like Red Robin? Hmmm…
I have noticed lately that I have gotten much better at filtering myself. Not in person unfortunately, but in emails and comments. I think before I hit send/reply.
I was looking at an two -year-old post to reference the name of a drug I used to take and I took a glance at the comments… and wow. A lot of those people no longer blog or we no longer comment on each other's blogs anymore. Craziness. Have you ever looked back at an old post and thought "What happened to so-and-so"? (or, "Who was so-and-so, that name sounds familiar?" ha ha)?
There is no such thing as a "mute point." SIGH. Do you know anyone who says mute point instead of moot point?
I miss my long thumbnails. I cut them short because one was peeling at a really low spot and now I think they look stupid. As a side note, I liked the Cherry Berry Chiller from McDonald's. Sigh, where was it last year when that was all I wanted after my long runs with Erin? WHERE WAS IT THEN!?!?!?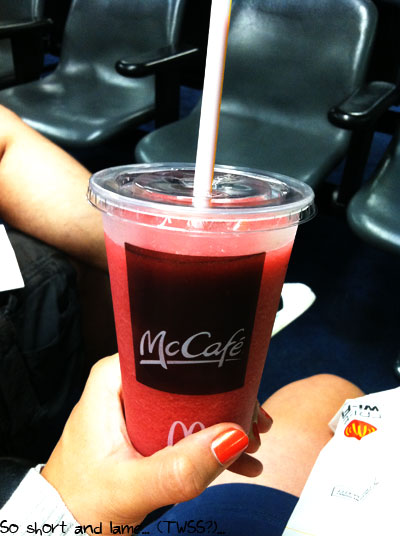 I am going to NYC in July to see Gina! We found a 5K to run in her neighborhood for über cheap. We decided I needed to run it in a red tank top. WHY ARE RED RUNNING TANK TOPS SO HARD TO FIND? I looked for one the entire month of April (I wanted to match Andrew at our half) and was unsuccessful. I ordered one yesterday off of Amazon. Duh. 
Other Random Thoughts Thursday Posts: XVII, XVI, XV, XIV, XIII, XII, XI, X, IX, VIII, VII, VI, V, IV, III, II, I.
By
25 Responses to "Random Thoughts Thursday XVIII"