Have you seen that movie Into the Wild* based on the book of the same title? If not, maybe don't read the next paragraph because I am going to give away the ending.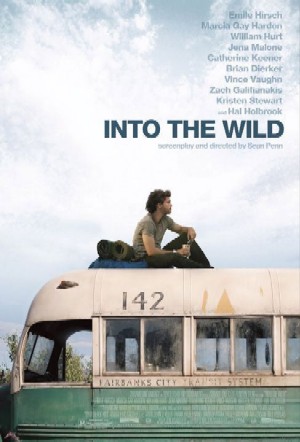 In the movie, the main character, Christopher McCandless (played by Emile Hirsch), graduates from college, abandons his possessions and gives away his life savings, then hitchhikes across the United States (and Mexico) and eventually in to Alaska to live in the wilderness. He doesn't tell his family that he has left or where he is going. Along his travels, he meets a lot of people and forms relationships with them, but it set on going to Alaska to live in the wilderness on his own. He arrives and lives there for a few months until he comes to the conclusion that true happiness can only be found when shared with others. He wants to return home but he is unable to cross a river to leave and is trapped. He accidentally eats poisonous plants and dies.  Updated: he dies from starvation.
I remember watching this movie and being really annoyed by McCandles character. Why did he insist on secluding himself? Why didn't he tell his family? Why didn't he want to have any relationships in his life? I'm sure these are all things you are meant to think about.
But the thing I think about the most after seeing this movie (years later), is that quote – "happiness [is] only real when shared."
Is that true? I consider myself to be a very independent person, and happy to do things on my own, yet…
Sometimes just taking a break to have a silly conversation with a coworker makes my day, and bring me out of a dumpy mood.
I quit therapy last week, because I realized I was avoiding sharing issues with my friends to try to be more positive…. but it was really just making me more negative in the long run. I've since been sharing things with my close friends and feeling better. I didn't need the therapy for that**.
I really struggled living in a foreign country on my own (Rome, summer 2006 – I stayed after my classmates left when spring semester ended). I craved interaction, a good friend, someone. I knew something was wrong when I went to visit a classmate and London and was crying when I left. I made friends while I was there, and spent every night with my German nonna, but it wasn't enough. I wish I could go back now, that I am stronger. Ha ha. And go back with Steven! 
Sometimes running with friends is the only thing getting me out the door (although I do usually love running alone, it is a treat to be with someone else).
These examples are more my interpretation of that quote. It's not that I believe you are not happy when you are doing something by yourself, or if you never tell anyone about it.  I have gone on many adventures alone and loved them. But I have learned that I really do benefit from human interaction. And I probably would not do well living in seclusion.
How do you interpret the quote? Does it have any truth for you?
*Or maybe read the book? I've only seen the film.
** I do need it for my food issues but that part was not working out.
By
20 Responses to "Happiness is only real when shared"