Woo hoo! I just realized my last race of 2012 – the Hot Chocolate 5K/10K yesterday – and my first race of 2012 – the Cherry Tree 10-Miler Relay - were both in NYC! And, they were both with Gina and her brother-in-law, Greg! And Gina's husband Steve joined us for the 5K yesterday!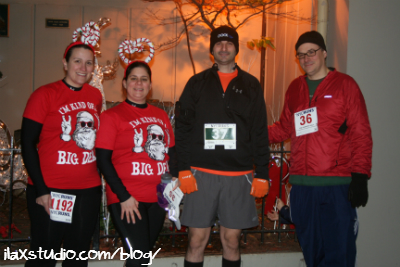 Me, Gina, Steve and Greg – all photos from Gina's camera, photos taken by a family member. Notice how we all have different bibs? The race recycled bibs from other races for this event. Green effort? Money-saving effort? Who knows. Funny? Yes. 
The Hot Chocolate 5K was put on by NYCRUNS, on Roosevelt Island. Roosevelt Island is a small island (about two miles long) between Manhattan and Queens, in the East River. Gina had done a few races on Roosevelt Island and told me how much she loved them – flat course, scenic views of the island and Manhattan (and Queens?), easy to get to from her house, not too crowded… I was itching to join her for a Roosevelt Island race! I am pretty sure I have never raced on an island before, ha ha. Edited to add – derrrrp, Manhattan, Staten Island… yes I have raced in these places before. Thanks, Gina. 
Have you ever raced (or run?) on an island before?
So Gina told me about this race well in advance… maybe in October? And I penciled it in my calendar, but was not sure how to make it work – December gets kind of crazy. But one day, I checked flights, saw they were $137 round trip and knew I had to come for this race! You cannot say no to a price like that!*
Blah de blah blah. On to the damn race report!
This race ended up selling out with over 1500 runners between the 5K and 10K (which had two different start times)! Gina, Steve, Greg and I all lined up together in the back of the start chute. The race was chip timed, so I was not worried about delays in crossing the start. However, there was a bit of weaving in the first half mile, which was unfortunate, as I was there to pace Gina for a PR! I tried to get us to run the tangents, and avoid as much weaving as possible, but I am sure we wasted a bit of energy until it cleared up in the second half of this first mile. And after that, we didn't have any issues (with weaving, that is).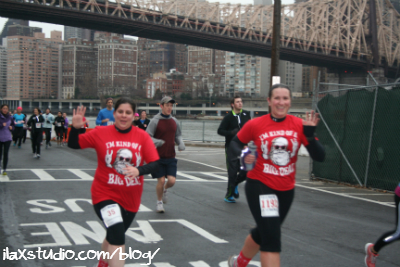 Looking good at Mile 1!
Gina told me her goal was to run A 32:xx 5K. She also told me I had full rein to play drill sergeant. She probably now wishes she hadn't said that. I yelled at her for exerting too much energy (high-fiving, getting people to cheer for her), walking, slowing down, saying she couldn't do this… I also told her I expected her to feel like she wanted to throw up, that 5K PRs are supposed to hurt and that I didn't want her to feel like she left anything on the course.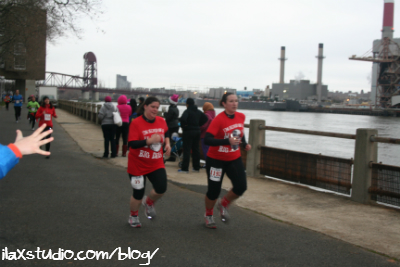 I don't think she did. 
Wait. Maybe our friendship got left behind?!
Just kidding! I hope. Gulp.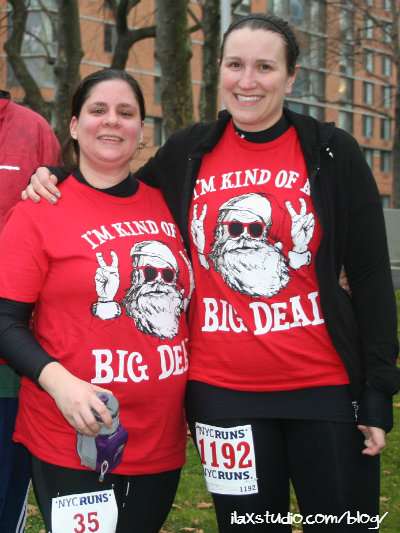 She looks like she still likes me in this post-race picture… right?!
Gina did really well. But! I am going to leave her story of her race and the finish for her** to tell! My story is just of me enjoying pacing my friend in a 5K, in a new location that I loved. And with her wonderful family there to support her (her son, Dad, Dad's wife, sister-in-law and nephew)!
The boys did well too! Steve came in before us (with a PR!), and one second before his brother! What a surprise! We lost Steve right away on the course, but kept track of Greg… so it's neat they ended up finishing together despite not starting all that much together!
As the title suggests, there was hot chocolate after the race. And we got mugs instead of t-shirts. I really like them!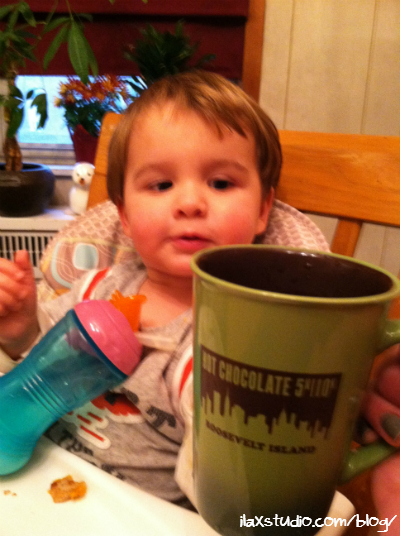 Luca is not so sure
I'm happy I got to do a few races in NYC this year! I hope to be back in 2013, for the 10-mile relay that started my racing season last year. This time, we hope to enter TWO teams… stay tuned…
*Ugh. Too bad my flight was delayed over an hour and a half though, and I got to their house at midnight. Sorry, guys!
**Gina, update your blog already! 
By
24 Responses to "NYCRUNS Hot Chocolate 5K Race Report"