Highlight of the Week: Ending the week by completely KILLING my long run with Bobbi! We started out at a fast long run clip (for us) and never let down. It left me feeling really confident, especially since I've been having fueling issues lately.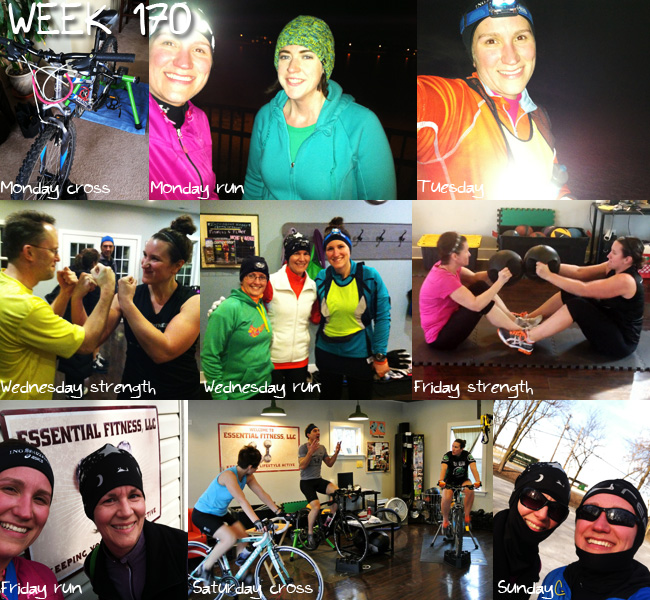 Monday | January 14, 2013: cross (bike trainer) + 5 m run (w/Anne)
Cardio: Mountain bike on trainer at various speeds, Time: 30 mins,  Difficulty: harder than I thought it would be, Felt: good
Loc: Vernon Hills Big and Little Bear Lakes, Temp: 25°/23°, Time: 1:01:31, Pace: 12:18 avg, Difficulty: easy, Felt: great
Tuesday | January 15, 2013: 8 m run
Loc: neighborhood, Temp: 28°/25°, Time: 1:25:49, Pace: 10:44 avg, Difficulty: easy, Felt: unsafe (icy)/happy
Wednesday | January 16, 2013: strength class + 3 m run (w/Bobbi and Chris)
Strength: circuit, plyo and boxing, Difficulty: medium, Felt: decent
Loc: Grayslake, Temp: 34°/34°, Time: 34:04, Pace: 11:22 avg, Difficulty: easy, Felt: good (still icy though!)
Thursday | January 17, 2013: rest
Friday | January 18, 2013: strength partner session + 4 m run incl. 4×2:00 (w/Bobbi)
Strength: medicine balls and bench, Difficulty: medium/hard, Felt: strong
Loc: Grayslake, Temp: 28°/28°, Time: 37:29, Pace: 9:22, Difficulty: hard effort during intervals, Felt: good
Saturday | January 19, 2013: cycling class
Loc: Essential Fitness LLC Multisport Club, Time: 45 mins, Difficulty: medium/hard, Felt: challenged
Sunday | January 20, 2013: 10 m run (w/Bobbi)
Loc: DPRT, Temp: 14°/14°, Time: 1:34:26, Pace: 9:27 avg, Difficulty: medium, Felt: really strong

Notes:
Brian, the trainer who owns Essential Fitness LLC (where I train…) started a Multisport Club this year! Of course, I joined. Besides having seminars and sponsors with discounts and all that, the club also offers some fun classes. This Saturday was my first cycling class! It kicked my butt… in a good way. Brian put a real slick on my back wheel, so I still don't have my blue tires on. Maybe when I take the bike back outdoors. Ha ha. 
Last Saturday, and this Tuesday, after taking a GU, I felt my last meal in my chest. I am not sure if that is heart burn, but it didn't feel good. I tried a fig newton on Sunday's run, and that worked a bit better (despite barfing a bit up in to my mouth in the last mile). I hope the issues is dependent on what I eat before the run and not during. It would be awful if it was the GUs! I just bought two cases!!! Ha ha.
By
19 Responses to "Training Week 170"