Highlight of the Week: A kickbutt long run on Friday (with friends!) where I wanted to keep going… and would have, had I not had an appointment to get to! Okay, and ending my week with a windy race that left me feeling ready to tackle my 5K next week (more about the race tomorrow)!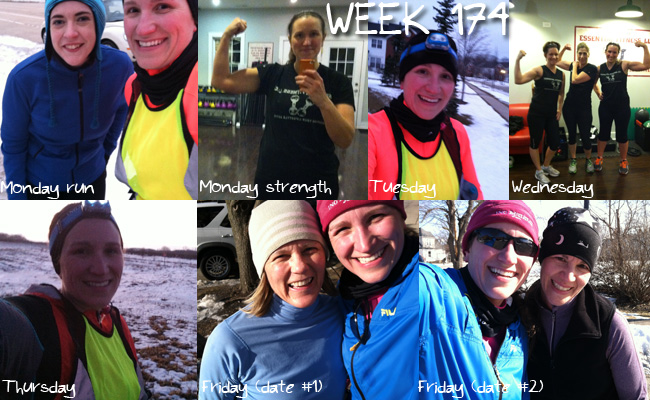 Oops. I did NOT mean to have two flexing pics. Obnox.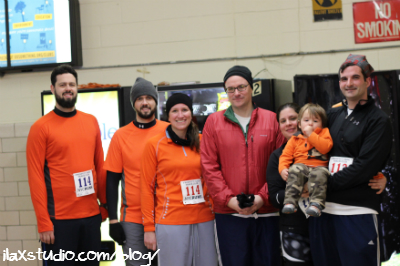 Monday | February 11, 2013: 5.4 m run (4.4 w/Anne) + strength class
Loc: Vernon Hills, Temp: 32°/32°, Time: 1:05:15, Pace: 11:43 avg, Difficulty: easy (icy), Felt: good then hungry
Strength: circuit + core + cardio, Difficulty: easy/medium, Felt: good
Tuesday | February 12, 2013: 10 m run
Loc: hood, Temp: 26°/25°, Time: 1:43:52, Pace: 10:20 avg, Difficulty: easy, Felt: great
Wednesday | February 13, 2013: strength class
Strength: kettlebells, Difficulty: medium, Felt: on fire
Thursday | February 14, 2013: 10.2 m run
Loc: hood, Temp: 35°/35°, Time: 1:39:17, Pace: 9:44 avg, Difficulty: easy, Felt: great
Friday | February 15, 2013: 15.6 m run (0-6.35+ w/Pam, rest w/Bobbi)
Loc: Grayslake, Temp: 22°?, Time: 2:25:59, Pace: 9:22, Difficulty: easy, Felt: spectacular
Saturday | February 16, 2013: rest
Sunday | February 17, 2013: Cherry Tree 10-Mile Relay (3.4 m)
Loc: Prospect Park, Brooklyn, Temp: 30°/31°, Time: 26:38, Pace: 7:52 avg, Difficulty: medium, Felt: strong

Notes:
Man, something really clicked after I took my rest day on Friday the 8th, and I've just felt GREAT since then! Maybe all this healthy eating does pay off? Nah… Whatever it is, I am going to ride it for as long as I can. I LOVED getting some middle distance runs in a few times this week!
I did miss getting a bike session in this week though. Or any sort of cross training. Oops. Does walking all over Manhattan on Saturday count?!
By
25 Responses to "Training Week 174"