It's silly, but the Frosty Footrace is the only race I get nervous for all year long. It's in the town I live in, and I always try to race it* and place 1st in my age group. And there is usually a huge turnout from my running club. Not so much this year, which was odd. Anyway…
How often do you get nervous for races? All? None? Specific ones like me?
I used the relay last week to gauge where my speed was. I ran just under 8:00 minute miles at the relay, and decided to try for 7:30s at the 5K.
And like I said, I was nervous! This course has rolling hills, and it can be awful if it's windy. Luckily, the wind behaved, the sun was out, and my only challenge was those damn hills. I was feeling more confident going in to it, especially after a nice warm up mile with Erin. 
I asked my club friend, Ed, if he would pace me for 7:30s. He invited me to run 7:00s with him. Ha ha ha! I decided just to keep him in my sights and ended up meeting up with him around the 1.5 mark. We ran until 2.5ish together. Running with him really helped me keep my speed up in those middle miles. My first two splits were 7:15 and 7:19.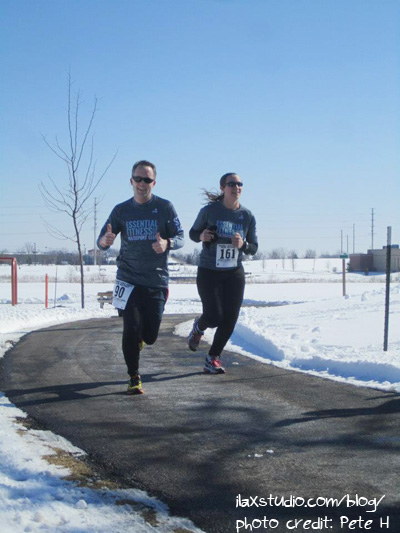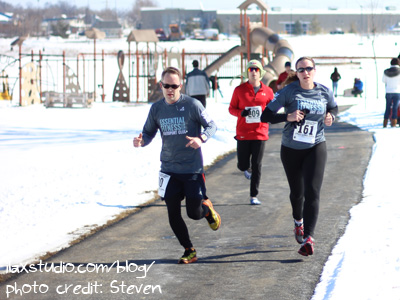 Ed and me
Then we hit the damn hill at 2.2. GAH! It gets me every year! My last mile was 7:50, with the last .1 at 6:47. Average pace was 7:26 (or 7:28? I ran .05 extra, oops).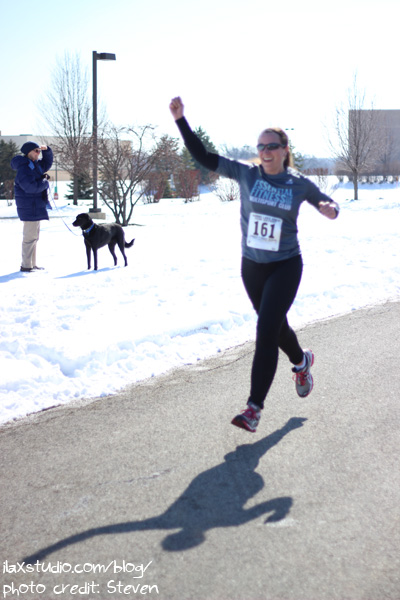 Overall time was 23:27 which means… A NEW PERSONAL RECORD (PR) by 26 seconds!!! Ahh! I wanted to PR the 5K last year and never did. I never thought it would happen this year. I am very pleased!!!
I'm also very pleased that I didn't get the "I never want to race a 5K again" feeling during the race. I usually get that feeling every time I race a 5K. I mean, there were points I thought I might have a stomach emergency, but I never thought "I HATE THIS! Why do I do it?!" Woo hoo!
Erin had an awesome finish time too, and Queenie was second overall!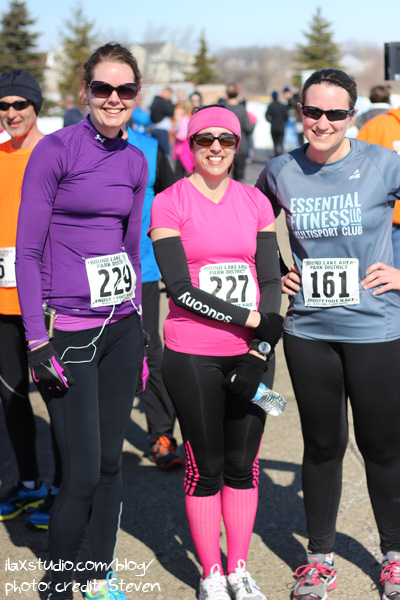 Queenie, Erin and me
Since they only have one overall winner (and no second or third), Queenie was first in our age group (AG), so I missed my first in AG goal, since she is way faster than me! Ha ha. But! I still got second in my AG!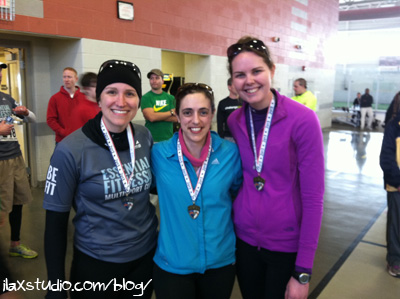 After the awards ceremony, the three of us set off to get a few more miles in. Queenie joined us for four (then turned back) on the way back to my house. Where Erin and I were greeted with this.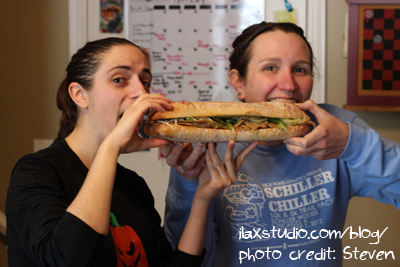 Heaven. Steven is such a sweetie to make us lunch and also come out and take all our pics!
This race left me feeling confident! Now I wonder what I could do on a flatter course. Hmm…
Just kidding. 
Maybe. 
*I "race" a very small amount of the races I do – most are just for fun!
By
57 Responses to "Frosty Footrace 2013 5K Race Report"