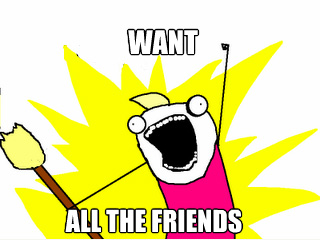 A few times, Bobbi and I have discussed how we have such great groups of friends now, and aren't sure if we have room for more friends. I've wanted to talk about this here, but wasn't sure how to do it without making myself sound like a huge ass. I think I figured out a way.
Maybe?
Last night, I did trapeze with Erin. ZOMG!!! So fun! I can see why she loves it. But we'll get to that below.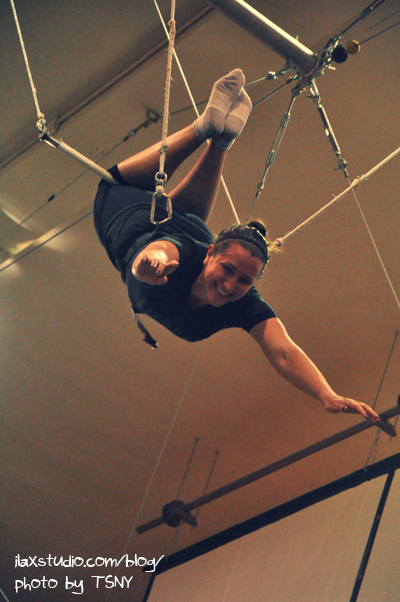 Huge thanks to Erin for getting me the photos!!!
We were redeeming a Living Social deal that included dinner after trapeze. Erin and I sat at the end of the table with the rest of the Living Social peeps*, and spent most of our time talking to a young couple. 
I was sitting there, talking to them, enjoying our conversation SO MUCH, thinking, "There are so many wonderful, interesting people in the world! I want to meet them all! I want to be friends with them all**." WANT ALL THE FRIENDS!!!
No, Kim, no. You do not need to make friends with every interesting person you meet. You don't need to chase down runners in your hood. You barely have time with your closest friends, say, take for instance, the one with you?!?! Gah, if anything, this awesome evening with Erin made me miss all the time we used to spend together when we were training for the Milwaukee Marathon. 
Sigh.
I just get this urge. When I meet someone and get a good feeling about them, I think "I want to spend more time with them!" I don't think about the fact (right away) that I barely have time to spend with my close friends now. 
And that is why I sometimes think, "geesh, maybe I should not be trying to make more friends – maybe I have enough."
So. If that makes any sense. 
Moving on…
The Living Social deal we purchased included introductory lessons with trapeze, silks and acroyoga at Trapeze School New York. There were maybe 20 of us, and we were split in to two groups – one did trapeze while the other tried silks and acroyoga, then we switched. 
My group tried trapeze first (Erin was in our group and just practiced advanced moves since she has been there quite a few times). Holy cow! I tried not to be afraid, but just getting up to the platform to jump off, my body was shaking. Oh, endocrine system. You so smart.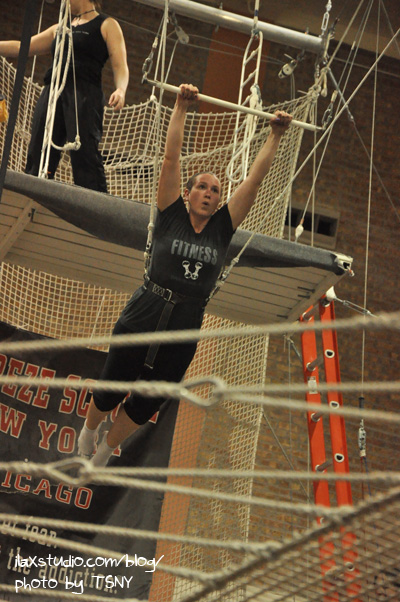 But it was a huge thrill, and I loved it. I am a bit of an adrenaline junkie!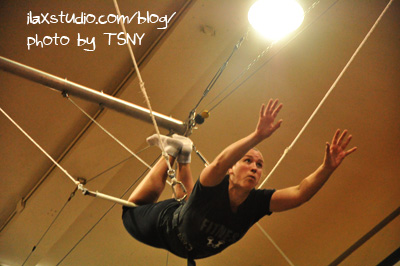 I actually thought playing with the silks and trying the acroyoga was super cool too.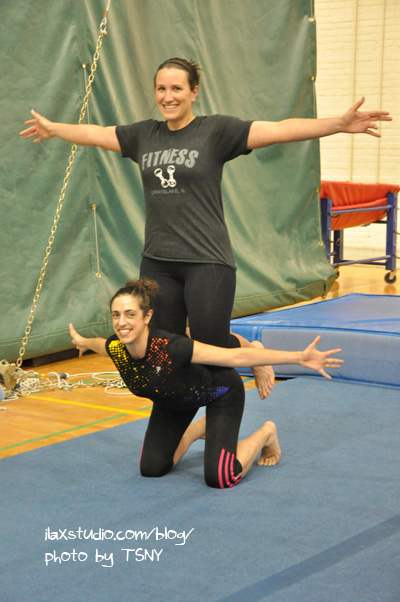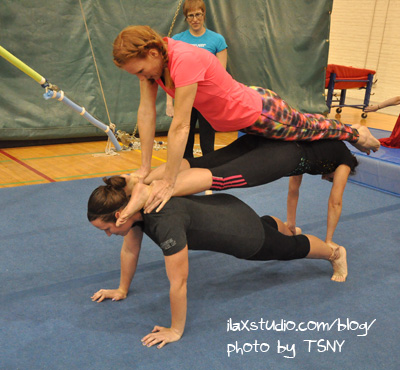 I made sure to try it out with my dad (my parents are in town for a helicopter tour of Chicago) later last night. Ha ha.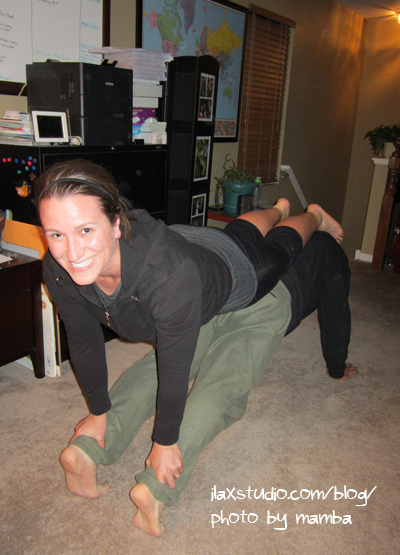 Since I was able to swing from my knees and extend my arms during my go at trapeze, they let me try a catch. Which… I totally messed up the hands part. Oops! But that was really cool! I got everything else right!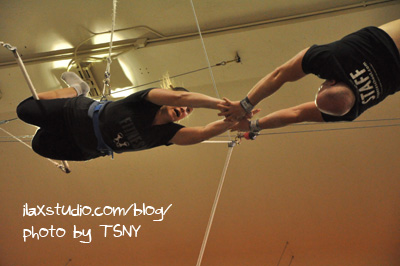 I had so. much. fun. And am so happy that Erin asked me to go. I am not sure I would have thought to try this on my own! I definitely want to go back and try it again… in August. After I take that test in July. DO ALL THE THINGS IN AUGUST! MAKE ALL THE FRIENDS IN AUGUST!
*I was thinking "Who would want to eat dinner with a bunch of strangers?" But if you like making conversation, it's really fun. I bet that is what it's like when you get paired to eat dinner with certain couples on cruises. 
**Slight exaggeration.
By
33 Responses to "WANT ALL THE FRIENDS!!!"