I really like spending time in the air, so when a "Tandem Hang Gliding Adventure" via Amazon Local showed up in my inbox*, it was kind of a no brainer. Steven and I decided to sign up, and even convinced our friend Pete to sign up as well! His wife, Denise**, decided to be ground support. 
We hang glided out of Gutzmer's Twin Oaks Airport in Whitewater, Wisconsin, which is just over an hour from my home.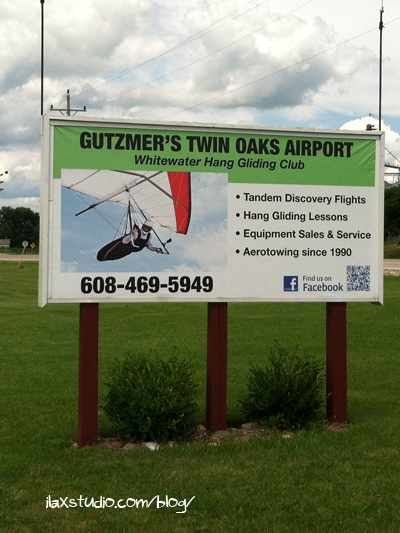 I didn't really know, um, anything about hang gliding before going in to this. I was too lazy to read much on their website. I kind of looked in to what to wear, so I would be comfortable with the temperature drop… but, eh, I felt really "free spirited" about this, shall we say. I was really hoping I would just show up and not have to do any silly ground school, just strap up, and go!
And yay! It was mostly like that! I mean, show up, wait for our turns, then strap up, and go! Yippee. 
Anyway. So I was surprised when I got there and saw we are pulled up a couple thousand feet by a plane then released in the glider. I was wondering how we'd get up to the point where we'd be able to glide. It's not like there are any cliffs to jump off of in Wisconsin.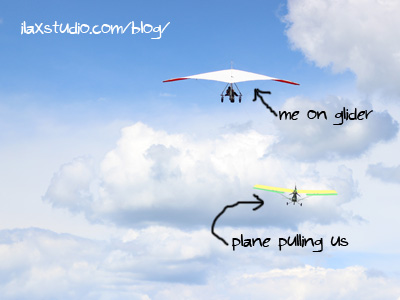 Let me tell you – it's kind of nutso to be pulled through the air, behind an airplane. But! Let's start at the beginning. 
There were a lot of different gliders there, and several people were taking off in solo rides between our tandem rides.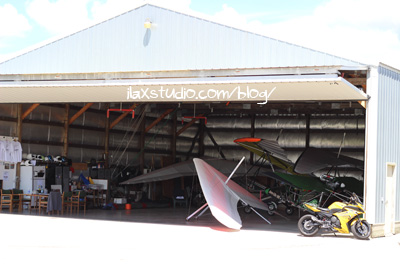 It was interesting to see all the different gliders, and talk to the pilots. We learned a lot about hang gliding! You can actually stay up in the air for many hours – long enough that we were wondering what these people did to eat and use the rest room up there. The highest altitude flown at that site was 9000′ ( I think we got up to 2000′). The world record for longest flight (not sure of start site) is 440 miles. Whoa. 
On the contrary, our flights were about 20-30 minutes. And… that was enough time for me! Ha ha!
When it was my turn to fly, I strapped in to a suit to hook me in to the glider. Yeah. This suit, and the carabiner, is the only thing holding you in.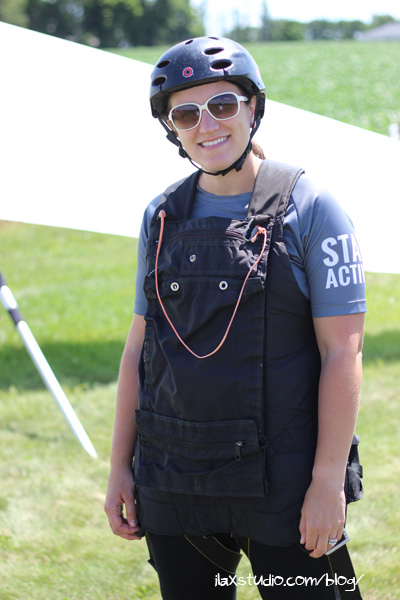 And that purple carabiner is the only thing strapping me to my pilot, Paul.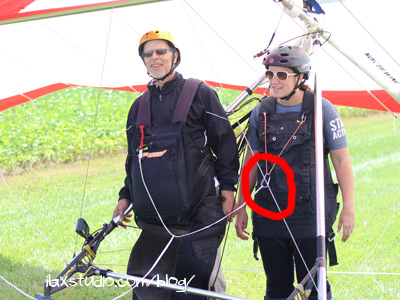 There is a special harness they put just under each knee so you can relax your legs and they don't swing around (they recommended crossing the ankles during the flight, which I did). 
We attached to the plane by a long skinny, rope, and Paul let me give the "Go, go, go!" signal for the plane to take off!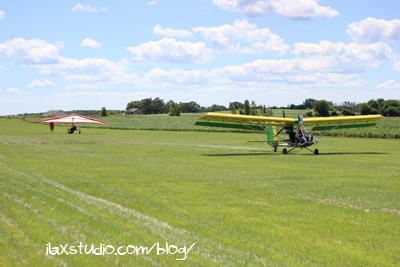 And we were off the ground right away!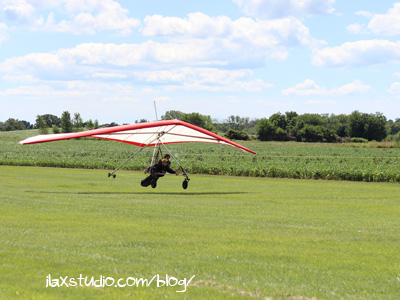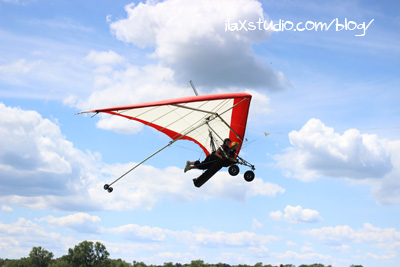 So, you actually sway around quite a bit in the glider. And, it's easy to forget that you are hooked in to it, from behind. By that one carabiner. You kind of just feel that if you let go (at this point, I was holding on to the pilot and my harness) that you will fall. 
Yeah. I'm not going to lie. It's kind of freaky.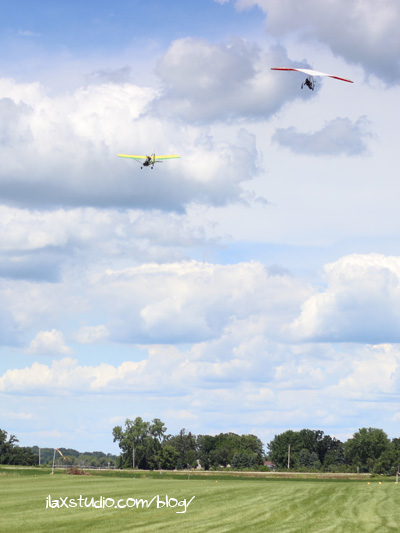 It's loud (because of the plane engine), and bumpy, the entire time you are being pulled by the plane. But you also feel kind of safe, because you are being pulled by a plane (WITH AN ENGINE), right?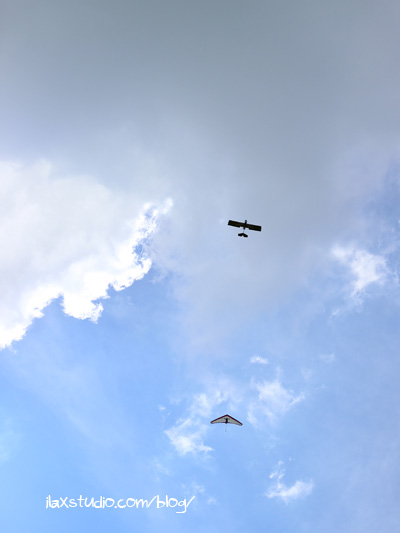 So I ask Paul, "How do we know when the plane is going to release us?" He tells me, "Oh, the pilot will just wave his hand to signal we've gone high enough, then he'll release us, we'll turn right and go!"
Ugh, whaaa?! We don't tell him?! Panic! I live in fear of unplanned things! Ha ha ha. I was wondering, when the plane let us go… will we glide?! Or plummet to our deaths?
Phew. We did glide. Ha ha.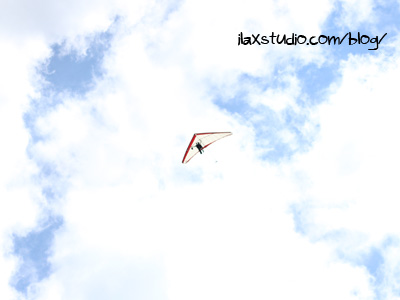 And gliding was peaceful, and quiet. You steer by lightly placing your hands on the bar and using your body weight to shift left, right, up or down. Paul let me steer right away! "Look! You are flying! All by yourself!" Um, that is cool and all, Paul, but "I think you'd do a better job flying!" Ha ha. 
We were actually having trouble finding the hot pockets of air that give you lift. I mean, not trouble, like we were going to fall – we just weren't getting up much higher. We did find a few, but the actual gliding portion (sans plane) seemed shorter than being pulled by the plane! I definitely wasn't up there long enough to understand why pilots would want to be up there for hours on end. Maybe I wasn't in a "bird" frame of mind! I did have a little bit of "I'll be happy to be back on the ground" thoughts going on. And a few "if I fell from this high up, would I die instantly?" thoughts. Yeah. 
Don't worry. It's actually completely safe! I think those thoughts are natural! Right?!
The landing was super soft. There are wheels on the glider, so we just landed right in the field and were able to stand up, unhook, and be on our merry way!
The pilots there kept talking about a "natural high" you get from hang gliding. I didn't feel that jazzed! Not like when I jumped out of an airplane. Later on, we told people we went hang gliding, and they thought it was a big, scary, deal! I was like, "Oh yeah, we did do that earlier today." Hmm, maybe I should have worked harder on getting myself pumped for this! It was an incredible experience, I am happy I got to try it, and my pilot was super cool… I guess it just wasn't what I expected? Maybe I'll have to try it again. 
Would YOU go hang gliding?
*All the way back on December 18th! I had this big long intro written about how anxious it makes me to have unused deals (Groupon, Living Social, whatever) like that for so long, but I am pretty sure I have written about that before…
**And she thought it looked so fun she decided to do it, too!
By
33 Responses to "Hang gliding in Whitewater"