Yay! First race of 2014!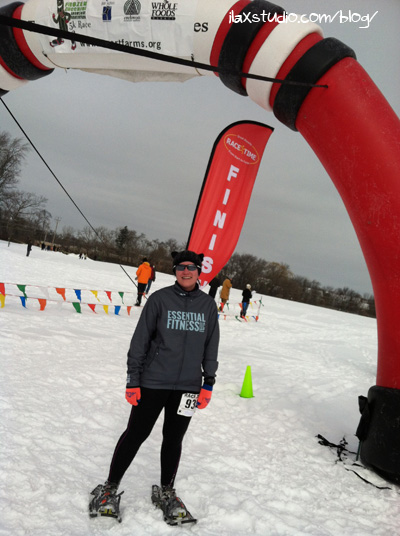 And, yep yep! Still the hardest race to date. Ha ha.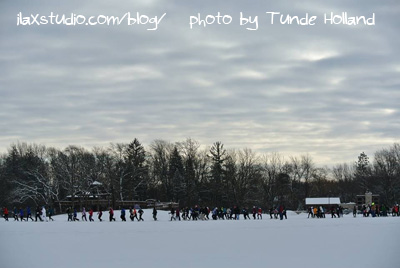 The Frozen Zucchini Snowshoe Adventure is aptly named. And not just because of the "frozen" part! I mostly mean the adventure part! Snowshoeing is a lot of fun, and I find it really relaxing. Running in snowshoes… um… yes, adventurous!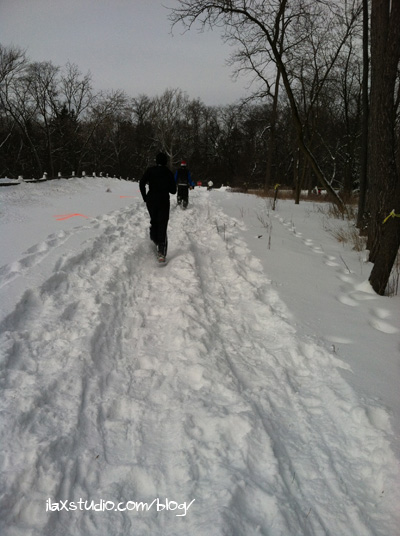 I did this inaugural race in 2011 and have wanted to do it again. Not really sure why, because I find it so challenging. Maybe because I love the snow and don't mind the cold! Or I'm just crazy. 
Would you run a snowshoe 5K?
Anyway, I told Erin she needed to do this race, too! And for some reason, she listened to me! Woo hoo!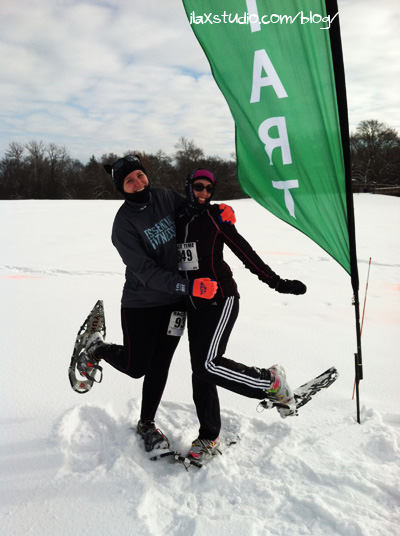 We went to packet pickup on Saturday and I was really impressed by the goodie bag – not only did it have stuff I could use (check out that schweet neck gaiter, AND! I got to choose which color I wanted) – but it had vegan treats, too!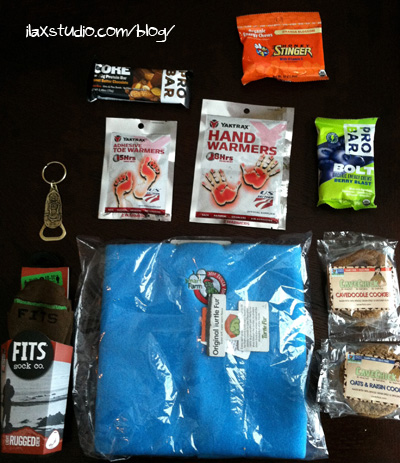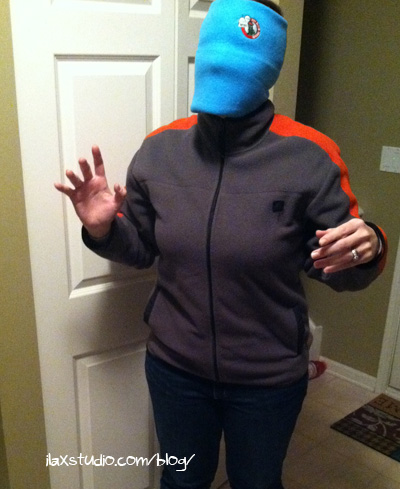 And we were quite lucky for race day, because it snowed a few inches overnight! YAY! Fresh powder to run on! I shall note, that there was no snow for this race in 2012 and 2013, and I find that very sad.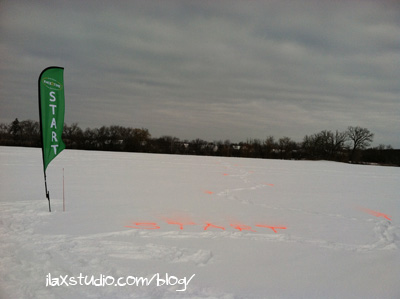 I found the park with ease, we had enough time for Erin to work out some bib/sock issues and use the restroom, then it was time to put the snowshoes on and take off (after a beautifully sung National Anthem, I must add)!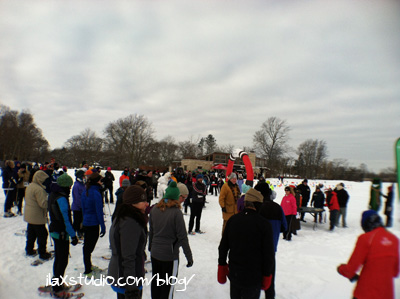 Running in snowshoes is challenging, in my opinion. Heck, it's challenging not to trip in them, when you are not running. Right at the start, I felt the burn in my hip flexors, as I focused on bringing my knees up a bit higher and widening my stance as to not trip myself! I knew this race would really work me, and it did. I had that upset stomach you get (or maybe just me?) from doing speedwork when I was done. And I wore my heart rate monitor for S&G – I was in the 180s the whole time. WITH walk breaks! Ha!
Still, I had fun. I tried to smile. I enjoyed feeling cozy and warm in my new Efit jacket. I did not enjoy cold snow flying up at my crotch. Hee hee.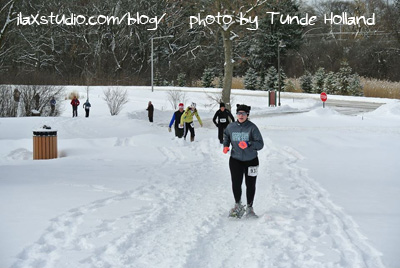 Erin and I started together, but I ran most of the race by myself. A goal was not to fall, and that didn't happen, because I got overly excited when I saw a fellow snowshoer with an Iowa State hat on and wanted to give him a fist bump, and completely forgot to focus on what my legs were doing (you kind of have to, the whole time) and tripped myself! Ha ha! I got a good laugh from it, and gave me a fist bump after the race!
The course was two loops. It was interesting, we were more toward the front (of 180 runners (pdf here)) of the pack in the beginning, which made the terrain more challenging on the first loop, because it was not as "stomped" down! On the second loop, it was much better (but I had used so much energy on the first loop that it didn't help me too much, ha ha!).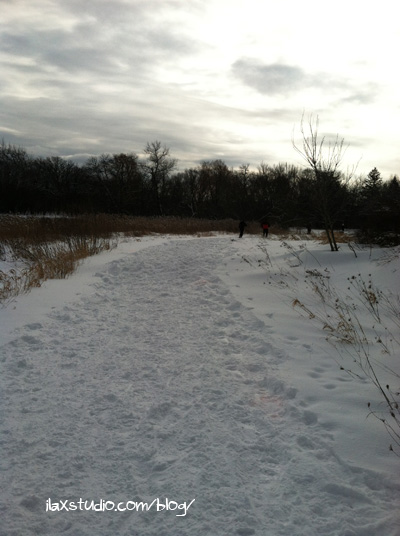 I remembered when I ran this race in 2011, I was third in my age group, and they only did first and second age group placements. So I tried not to get passed too much. But dang, it's so tiring! I really kicked it up for the last tenth of a mile and there was definitely a thought of "This is hard work. No way in hell I am doing a marathon this year. Working hard suxxxxxx." as I approached the finish.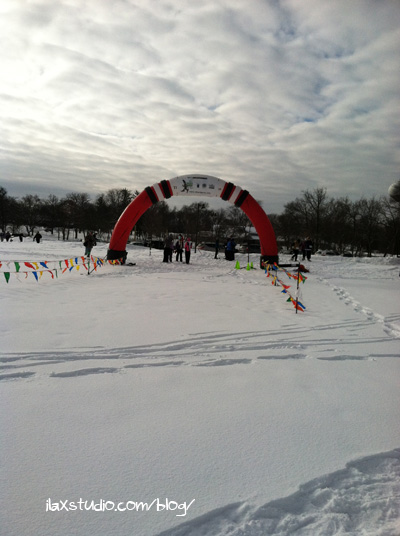 I finished in 44:21 (only a little slower than my 44:09 2011 finish) which was good enough for second in the 30 and under (huh?) age group (out of 14 people). Unfortunately, I missed the age group awards because I was changing, but Erin picked up my award (a $25 Erewhon gift card) and got an award, too!
I am happy that Erin tried this race! I think being outdoors in the winter can be a lot of fun (and we had a great day – mid teens for the temp, a little bit of sun, and 15mph winds with gusts (<— last part is sarcasm)), and I like to share that with people. The race director mentioned this too – beside promoting their local farming/sustainable mission – that there are outdoor, healthy, fun winter activities. I really hope to use my snowshoes a few more times this winter, I mean, we have the snow! I told Erin she should come visit again and rent snowshoes so we can go out… for a walk! Ha! It'll take a few days to recover from this race!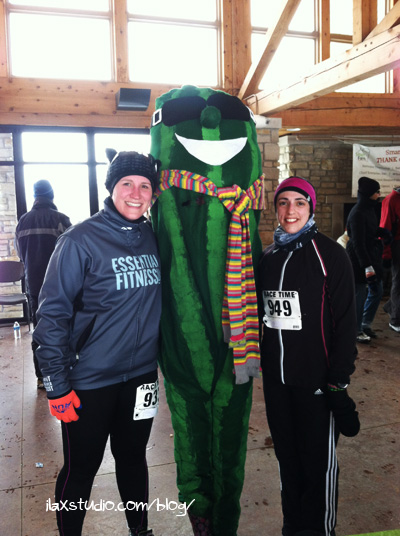 By
37 Responses to "Frozen Zucchini 5K Snowshoe Adventure Race Report"