Alternatively titled: I figured out the post "big event" blues
Wow. This is NOT the conclusion I was expecting to make when I started reading this article – "On the road to happiness, a pleasant surprise beats a sure thing" (pdf here).
Based on, yes, recent studies, this article mentions the theory that being surprised by an outcome has a bigger effect on your happiness than knowing the outcome in advance. A simple example is going to a movie and expecting to dislike it. If you end up liking the movie, you will have a higher happiness level than if you had gone thinking you'd like it, and ended up doing so. Interesting, right?
As I started reading the article I had two reactions: I need to lower my expectations for everything, and, what about the discontent of dreading something – doesn't that downplay the overall happiness, even if you end up enjoying it?
Ha. Just read ahead, Kim. The article addresses that:
But this doesn't mean that having low expectations is the path to happiness, because the model also shows that such pessimism leads to discontentment while you wait for an outcome. So if you make plans with a flaky friend and assume he'll cancel, you'll take a hit on your happiness in the meantime, even if you experience a boost when he shows up on time.
Ahh. Gotcha. That makes sense. But then what am I taking from this article other than something I probably already intuitively knew – that "these two factors — degree of surprise and overall expectation — play a dual role in determining our momentary well-being, although surprise matters more"?
This is where I was like, WHOA:
…while the idea behind the happiness equation isn't new, the study is a "strong and interesting" piece of supportive evidence. But can we use this knowledge to boost our own well-being? Lowering expectations as a tactic has already been ruled out, but the study does hint at why you might not feel as elated after reaching an expected goal as you might think.

"People are always pursuing goals, and when they reach the goal, they don't end up being as satisfied as they perceive they'd be–as if happiness is held out in front of us, and we never quite achieve it," Loewenstein said.

On the other hand, he suggests that there might be some consolation in realizing that we are all hard-wired this way in order to keep us moving forward.
That… is so me. I am much happier when achieving a goal I was not expecting. Of course, I am thinking about this in regards to exercise related goals, but it could be applied to anything. 
But when I do a race and meet some time goal I didn't even consider, it's a much bigger (happier!) deal to me than if I did what I "knew" I could. Of course, I believe in training and not aiming for ridiculous goals, and I also believe in self confidence. So I am really just thinking about the times when I have completely surprised myself. 
This happened at my 5K PR from March of 2013. I had just PR'd a few weeks earlier in the 5K and was happy about that – I had been expecting/planning for it. I showed up at this other 5K thinking "why did I register for this?!" I didn't have a plan, started out with a friend, then felt great and took off! I ended up taking 49 seconds off of the previous PR!
The element of surprise DID make me much happier. And it was not so much that I lowered my PR time – it was that I was expecting to, then felt great and did it! 
The same thing happened at Iron Girl yesterday. I picked a very aggressive (for me) time goal, not really being sure AT ALL if I could hit it. And when I did, it was such a nice surprise (ha, I think to everyone else, too)! It was much more rewarding to me than just going out there and doing what I "know" I could do.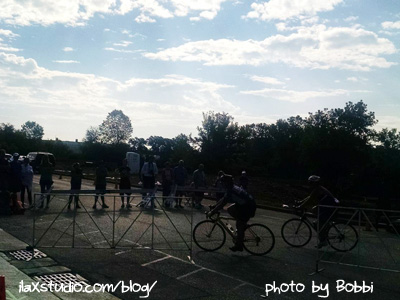 So back to the post title (and alternative, ha ha), this article made me think about how I am just not one to set many goals. That doesn't drive/motivate me. And I really think this theory is a HUGE part of that. And a huge part of why you feel down after a big event (I mean, along with it being over and not being able to plan for it anymore and all that). 
Do you agree with this theory? Does a "surprise" outcome make you happier than an expected one?
By
21 Responses to "This is why I don't set goals"