I've said it before and I will say it again! Triathlon relays are so fun! Especially when so many people I know are doing it, too!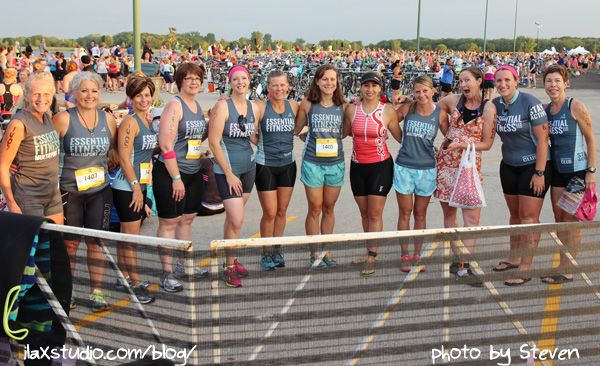 This year, the studio I work at, Essential Fitness LLC (Efit), had four teams and one individual participating in the Iron Girl Pleasant Prairie Sprint Triathlon (last year, we had two teams and two individuals). And, xaarlin stayed at my place and was doing the full relay, too! SO MANY PEOPLE!!!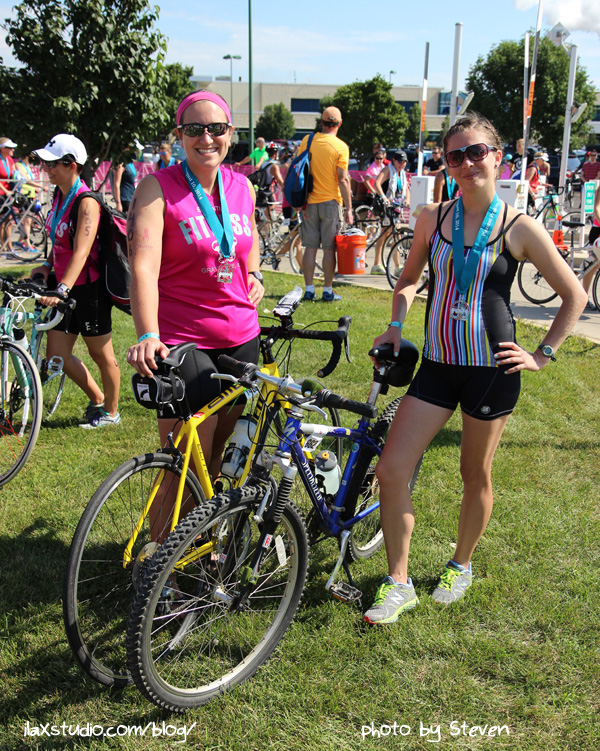 I had actually been thinking about doing this race as my first triathlon, but changed plans when we decided to have several Efit teams. And yes, I asked who I thought was the fastest swimmer and runner to be on my team. Ha ha, why not?!
There was a lot of teasing about having a "stacked" team and even some straight up questioning if I should be the cyclist on that team. Yes, this was my first time being the cyclist on a relay team. But gosh, people, I don't suck that much! Ha ha!
But all that talk, despite knowing my team (and me!) just wanted to have a good time, made me a bit nervous. My "happy with an average 16 mph pace" didn't feel like it was going to cut it. So I looked at last year's winning race results and saw the average bike pace was over 20 mph, and aimed to average 20. I wanted to push it the entire time and spend the whole (biking portion of the) race in the  "pain cave."
Great method, right? Don't train for it, just push it on race day. Well, it is "only" 12 (or 11 – it's not measured accurately) miles. I just biked 70 miles and that was easy… it should be fine, right?
Spoiler alert: it was fine. But I'll tell the whole story!
This triathlon starts at 7:00 am with five-minute wave starts for age, starting with oldest athletes first. The relayers go with the youngest athletes, in the final wave at 7:45 am. Quick side note: it's so interesting to watch this, because people are already on their bikes before your relay swimmer has even started, and already on their run, before your cyclist goes! The whole time, you don't really know who is in first overall, since they could be in any one age group, and might not be the first to cross the finish line!
Our swimmer, Marlene, did fantastically, and was the third relay swimmer out of the water, with a time of 14:53 for the half mile swim. T1 was done in 47 seconds.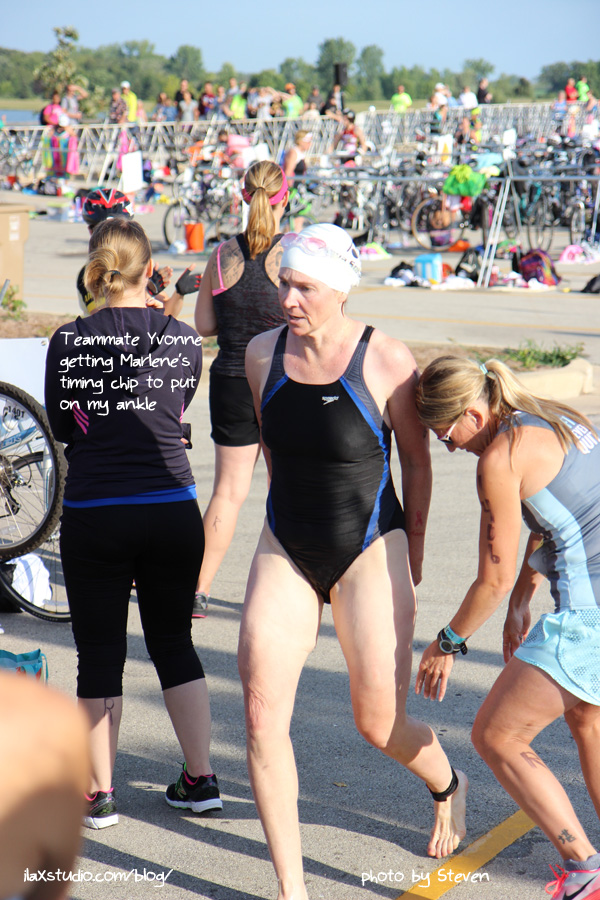 Of course, the relayers are nervously waiting around at the transition area, wondering when their teammates are going to come in, and sometimes seeing the other teams take off before you (all of the relay bikes were racked together and off to the side).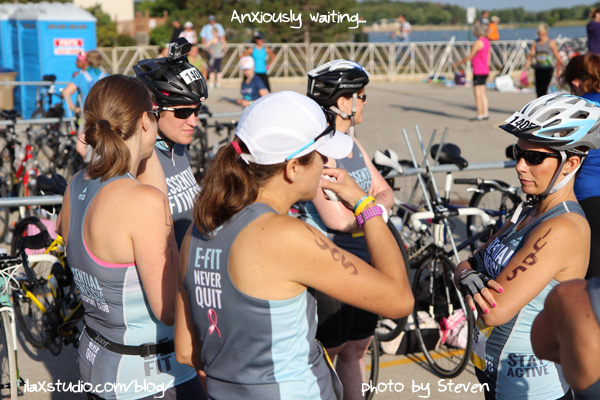 I knew we were in third when I started, and wondered if I could catch the first place relayer, who had just over a two minute head start. 
I pushed and pushed and pushed on my bike. I tend to be a lazy rider – spin, spin, spin, coast for awhile – there was NONE of that. I was pedaling in a medium high cadence the whole time. I shifted as necessary, but didn't so much pay attention to what gear I was in, just that I kept that cadence up. That was pretty neat – I felt really connected with my bike, and that method worked really well!
There are rules about taking no more than twenty seconds to pass on the left then getting back over to the right, and maintaining a distance of four bike lengths between bikes. Yeah… I was almost in the left the entire time, passing people, and calling "on your left!" I rode on the right when I wasn't passing.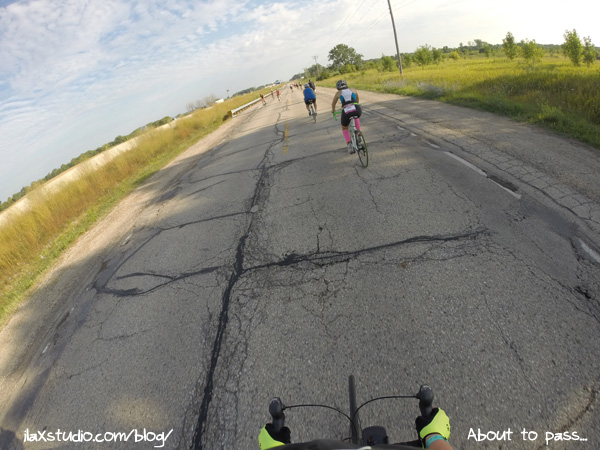 I was passed by one person the entire time, and I kept playing tag with this other cyclist – she'd get ahead, then I would, then she would, and so on. I said to her "it's unfortunate we can't pace and draft off of each other!" She agreed. It was a bit windy and drafting would have been nice.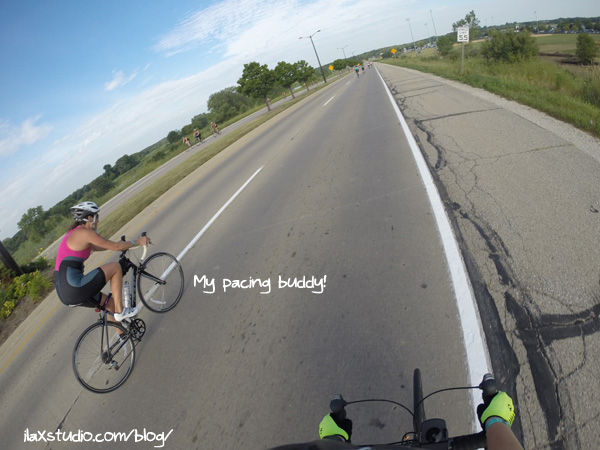 But other than the wind, the course was pretty good! There was a bit of uneven pavement, but I could keep pace there. Three smallish hills that slowed me down, but not terribly. I was worried about the two 180° turns, but there was no issue there (just losing speed). 
Most of my GoPro pictures look like this – me checking my speed to try to average that 20 mph.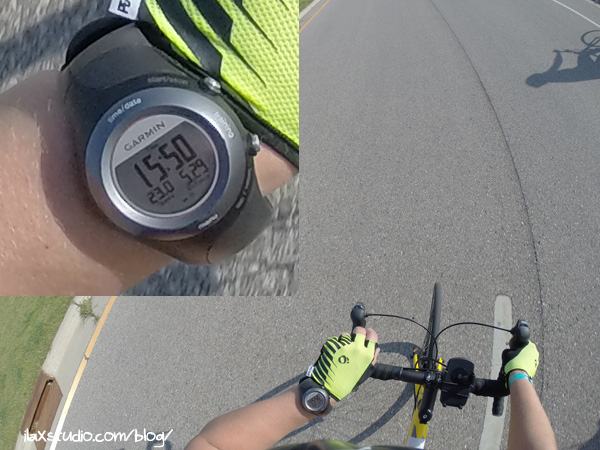 I am not so good at math when I am working out, so I was trying to figure out if I was on target with pace, and knew if I got to 30 minutes and my watch said I had gone 10 miles, I would be on pace. 
I wasn't. I was under. Too slow. But I kept pedaling as hard as I could, anyway!
I had told Yvonne, our runner, that I would try to cycle the advertised 12 miles in 35:00 minutes, and my final cycling time was 35:08! Right on target and a 20.5 average pace according to the official results. The Gramin recorded 11 miles at 19 mph pace. So… at least I hit around the 35:00 minute goal (I think a few people were really surprised I did!)!
My plan was to dismount my bike and take my shoes off then run all the way through transition to Yvonne. We had a good rack spot near bike and run exit, but were all the way across from swim and bike finish. 
So I got off my bike and my calves immediately cramped up. Gah! I ignored it and ran as fast as I could. I felt like I was running fast. Ha ha. Who knows!
Video of T2 from Brian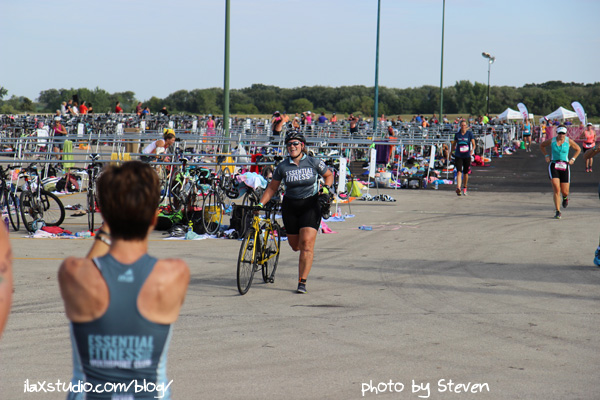 T2 was done in 43 seconds and Yvonne took off! We knew she was aiming for a sub 21:00 5K, so we watched the rest of the relay teams come in, as well as our individual triathlete and xaarlin, then booked it to the finish to run in with Yvonne!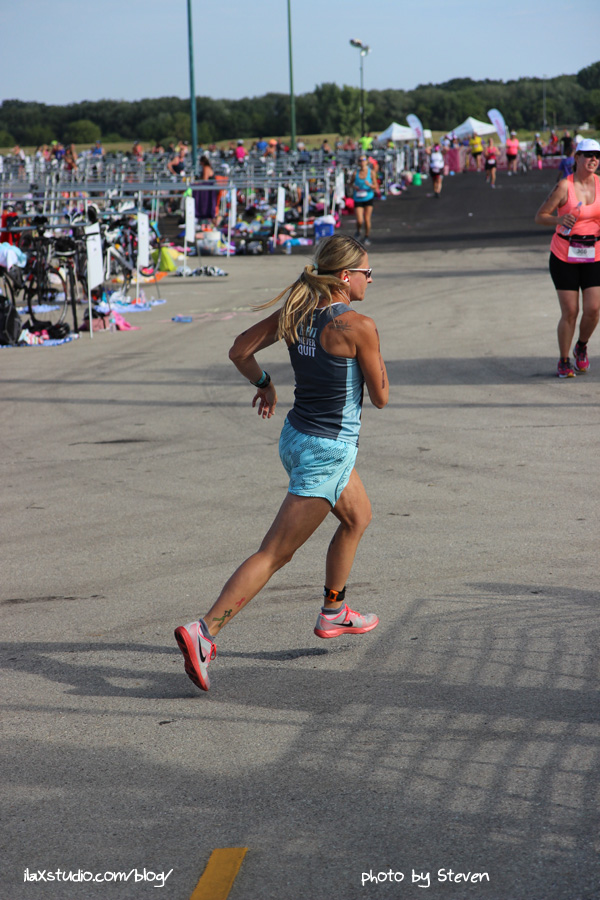 Yvonne's PR is 20:26 and she finished the 5K in 20:27. Gah! Second 5K this summer she has been off by a second! But man, she was looking fantastic on the run! She said she got all worked up and started out too fast, then slowed it down a bit, and really struggled with the sun and some nasty gravel part (must be new to this year – boo!). But you never would have guessed it when she came flying in!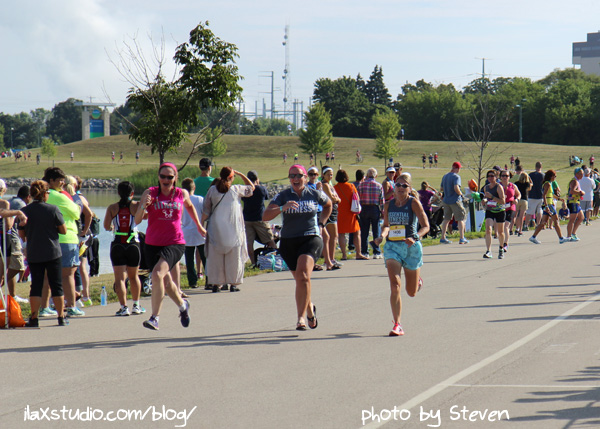 Oh! And what happened to the first place relay team? I never caught that girl on the bike – she was averaging 22 mph. We finished a minute and 46 seconds after them, overall! Yvonne made MAJOR headway on our overall time!
A hopeful goal of mine for this race was that I would beat my previous team sprint relay times on this course of around 1:30:00 each. We did. Our final time was 1:11:58, and we were the second relay team overall!!!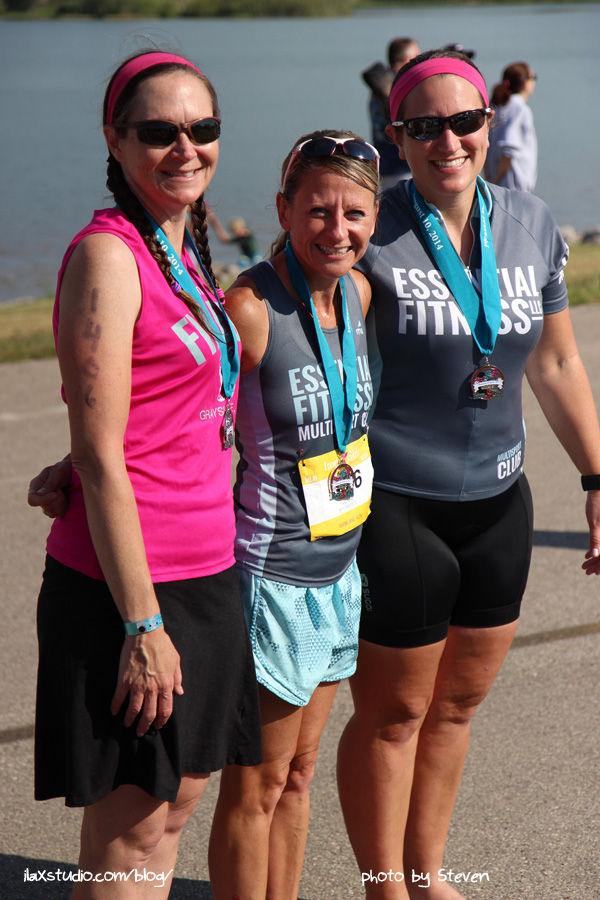 I felt so proud of my team and how hard we all pushed it! And I felt relieved that I belonged on the team with these two, after all the (teasing) comments I received about it. 
And I felt so proud of ALL the teams and individual athletes – and even the people I don't know! This is a super supportive race, and it was fantastic to hang around at the finish and cheer on everyone.  
And I LOVE how many people came out to support us. Steven was there taking photos. I didn't get a picture of us together, but apparently I can rely on the GoPro.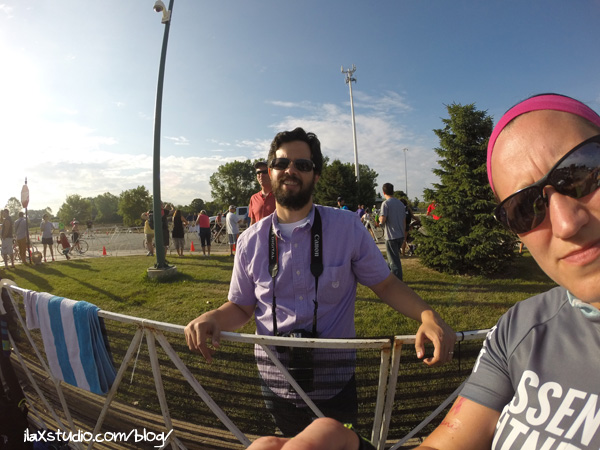 And several Efit friends were there spectating – special thanks to Bobbi, Pete, Rich, Mike, Brain E, and Dave! And of course, to Brian S, our trainer who encourages us to do so much!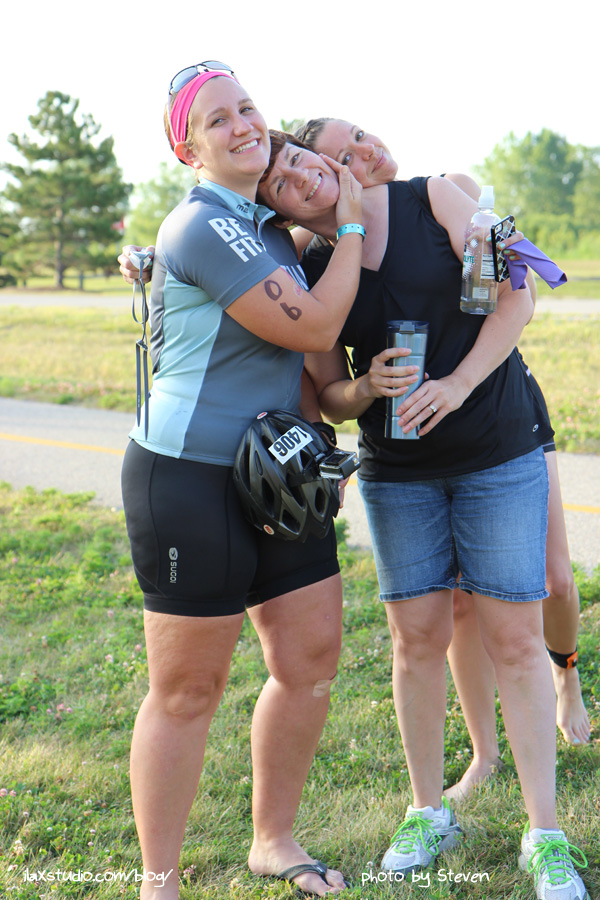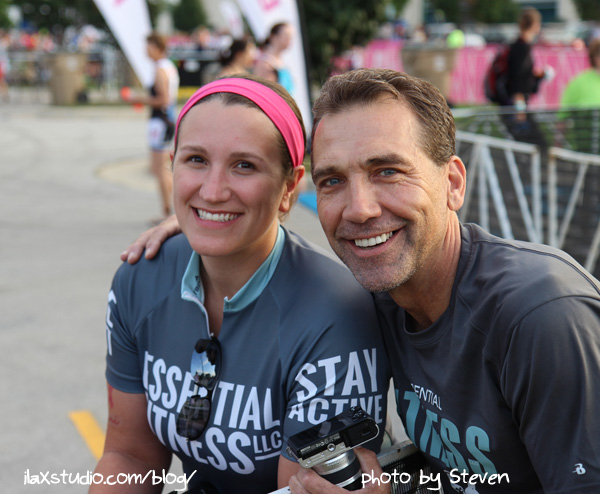 We wore pink headbands and pink ribbon tattoos in support of a friend with breast cancer
It really means a lot to have so much support. And especially for a hectic race like this. I mean, yes, it's all in one area, but you are running all over to see the swim start, then back to transition, and to the finish. And watching for four teams and two individuals is a lot of work! I felt EXHAUSTED when it was all over!
This race left me really jazzed about what I could actually do on my bike if I train a bit. Of course, I mean in the single-event sense. I am sure I would have been much slower had I swam before I biked! And let's not even talk about the run. Ha ha. 
Okay, and since this isn't long enough, a few final thoughts:
I am so so proud of xaarlin for doing her first triathlon!
Like last year, I still think this race is crazy expensive to do the relay. But, they do have nice medals and shirts. Maybe some of the money is going to that?
There were new rules this year for relay transition – your bike had to be mounted (or stay mounted) before the ankle strap was transferred.
I left my left shoe a bit loose so my toes wouldn't go numb as they have been. Now my left ankle is a bit sore from cycling so hard. Derrrr, Kim. 
Parking was much better this year, than last. 
I liked how you didn't have to go as a relay team to get your packet this year – it made coordination easier. And I liked that they gave the cyclist and runner both a bib and bike stickers – I put my bib in the bibfolio! HOARD ALL THE RACE THINGS!!!
By
50 Responses to "Iron Girl Sprint Triathlon Relay Race Report (2014)"