Ahh, the Round Lake Frosty Footrace*. My town's 5K. A race I've run every year since 2009.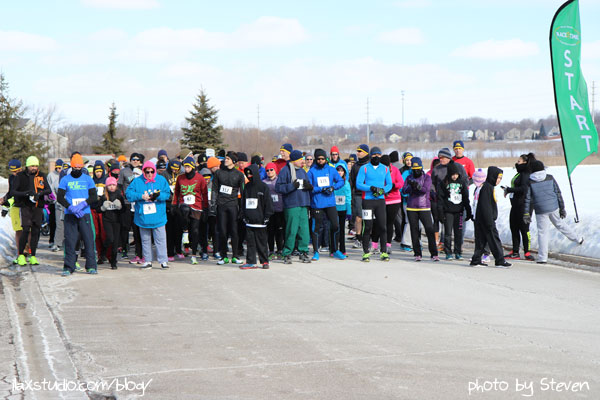 This used to be my goal 5K race, yes, every year. I love running in the cold, and like training hard in the winter.
But you know what I don't love, in a 5K? Hills. This course has them, sprinkled in the first and last mile. And they don't get easier, year after year (Wait! Should I be hill training?! Ha ha).
So this year, I had this race planned as a speed workout/tune-up for my goal 5K in three weeks. My plan (hope) was an average pace of 7:15 minute miles.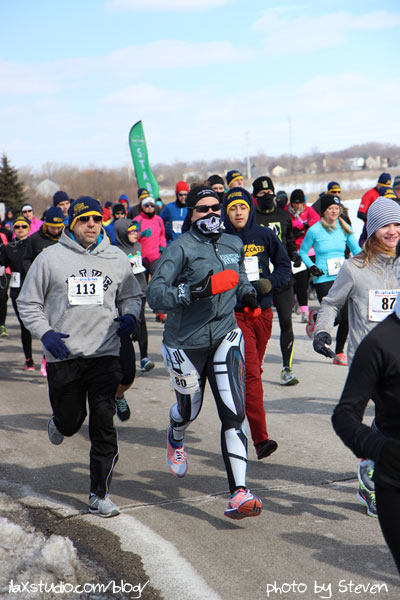 Ha ha, this photo reminds me that there were children lined up at the start line (this race is not chip timed) and that I kind of had to … nudge a few of them out of the way to get going at the start
I came very close – about 7:20/7:25 pace average with a 22:58 finish – a course PR by 29 seconds and a second place age group placement!
My first two miles were on track, like I thought they'd be – 7:05 and 7:12. I knew to push it in those miles, on the flats and downhills, and whenever the wind was at my back. Oh yeah. The weather. 13° F with 11 mph winds from the NW. Fun.
I knew I'd slow at the hill in the third mile. I did – 7:49 (eek!). I tried to push it for the last .1(3) – :50 (6:46 pace) – just to finish under 23:00! Success!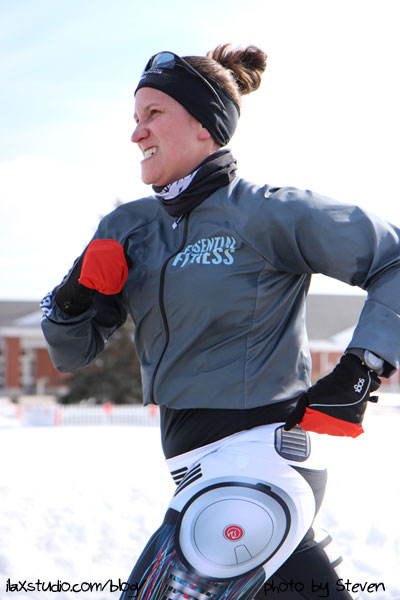 Steven caught my "I gotta finish under 23:00" face
I had almost the same finish time as the flat 5K I did in Dec (22:57 then vs. 22:58 now), so this is promising that the speedwork is helping, since I could do that time on a harder course.
But… I just wasn't in to it during the race. I was out there thinking "why do I do this?!" and "do I want to do this again in 20 days?!" (now 19!) Ugh. We'll see.
Tidbits:
We got a mug and stocking cap! I love mugs! And they had a hot chocolate bar after the race. Fun!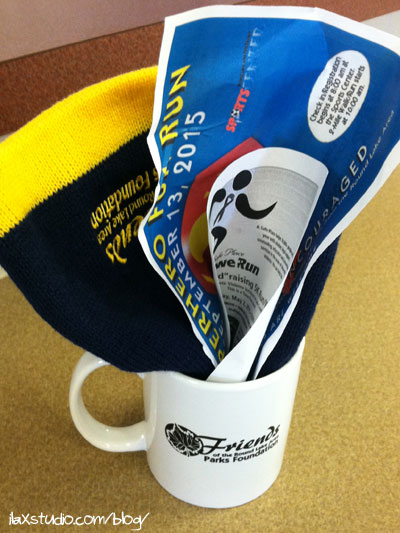 Three other people from Efit raced and everyone placed (and finished in front of me!)! I knew I may have started out too fast when Yvonne ran with me for a bit. Oops!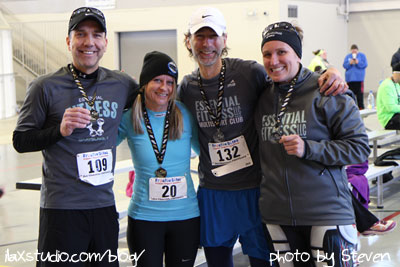 At least 30 people complimented me on my tights!
Steven spectated/took pics AND my older brother and his girlfriend were there! They happened to be in town this weekend and spent the night and stayed for the race! How sweet!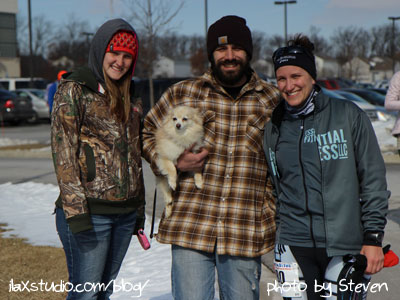 I got much needed redemption from the December 5K at this race! That's all I'll say about that.
Yeah, not sure about another 5K in 19 days. I was 20+ seconds slower than my PR at this race and want to run a 21:59 for my next PR. Seems like a long shot. Although I'd probably actually rest for it and not run 16 miles the day before like I did for this. And… I did run a PR at this race in 2013 then take almost 50 seconds off it, just under three weeks later, at the course I am thinking about running for this year's attempt. So. We'll see.
The girl who normally wins this race wasn't at the starting line when the race started. I saw her pass me in the first mile and was shocked she was behind me. She still won, and was third overall. I think she started behind everyone!
I love that the proceeds from this race benefit the seniors' programs at the park district! It's nice the money goes back in to the community!
*renamed the Frostie Bites Hot Chocolate Footrace 5K this year because of the sponsor
By
35 Responses to "Frosty Footrace 2015 5K Race Report"