This post is not sponsored and these aren't affiliate links. I've found myself sharing my favorite running items lately (especially the tank) and wanted to share them here. It's basically a snapshot in time of what I like to run in. 
Xaarlin gave me a Nike Dri-FIT tank top for Christmas that I am kind of in love with. And have been raving to all my running friends about.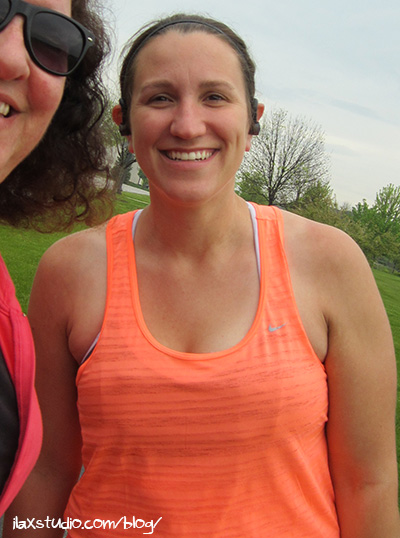 Sorry to cut you out, Mamba
It just looks like another orange tank top, but the stripes in the fabric essentially have little vents in them that allow more air to pass through the tank. Paired with how light it is, it keeps you cooler than a traditional top. And it almost feels like you're running without a shirt on at all. Woot woot!
After I wore this tank and realized how much I loved it, I decided to try to shop around and find more. Unfortunately, this exact tank is no longer on the Nike site (this is the most similar), but I did find one on the clearance section in my local running store, and just saw them for sale on 6pm! Yeah… I am going to get a few more. I know this is what I will be wearing all summer long. (I should note, there are complaints online about how "delicate" the tank is, and that it snags easy. Yeah, it does – it's that kind of fabric. I'm careful not to let velcro touch mine, but I don't really sweat it if it gets a snag – it happens. Also, it's long, and runs a bit big.)
Most of my other tanks feel stifling compared to this one, especially the ones with shelf bras in them. It's probably better I replace some of that old stinky stuff in closet anyway!
Alright, so you know I am in love with that tank. What else will you see me wearing this summer?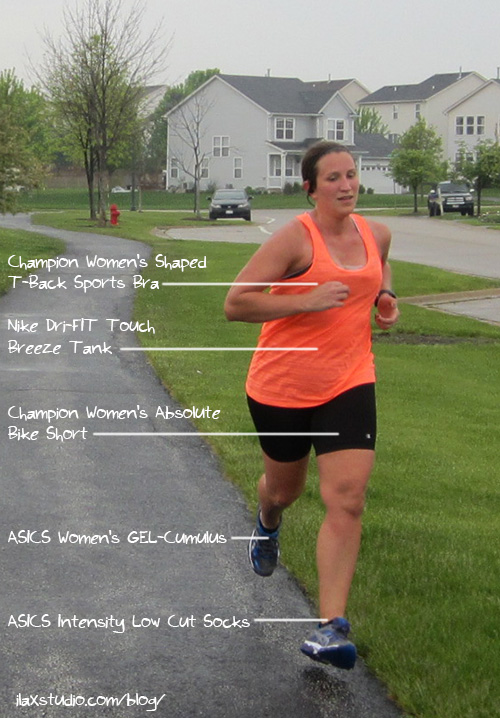 Champion Women's T-Back Sports Bra – I buy these a cup size smaller to keep everything in place. The cup seam placement is key for me on these (that's all I'll say about that!).
Nike Dri-FIT Touch Breeze Tank – See love letter above.
Champion Women's Absolute Bike Short – Don't be mislead by the name – it's not a bike short with padding! I think it's called that because of the longer 7″ inseam, which is perfect for me. These aren't compression, but they aren't baggy, and stay in place. They keep me un-chafed (when I use Vaseline in all the right places).
ASICS Women's GEL-Cumulus – My go to shoe since late October 2010. I also wear the Nimbus from time to time, the GEL-Lyte33 for racing flats, and the GEL-Scout for trails.
ASICS Intensity Low Cut Socks – These socks fit my bigger feet and have the right amount of padding and breathability. They dry out quick when they get wet (which is rare, like when I go through a deep puddle – they really let my toes breath, otherwise).
What's your running uniform? Does any of it match mine?
By
50 Responses to "Current running uniform"