We knew we'd had animals living in our attic because of the openings in to it. But hey, roof work (part of the FHA loan) started yesterday! Pretty soon those holes will be gone (and eventually the attic cleaned and new insulation installed).
Denali came over to supervise (we hadn't seen Denali since February 22!).
Steven kept insisting he was hearing something in the attic. Suuuuure, Steven. Uh huh. Ha ha. Actually, one of his super powers is insanely awesome hearing, so while I couldn't hear it, I believed he was hearing something.
Um, yeah.
The roofers must have screwed in some loose bulbs when they were working, and the front of the house was lit up really bright before we went to bed. We couldn't find the switch to turn these "new"(ly found) lights off, so Steven went outside to just unscrew it a bit with his hand, and was greeted with this: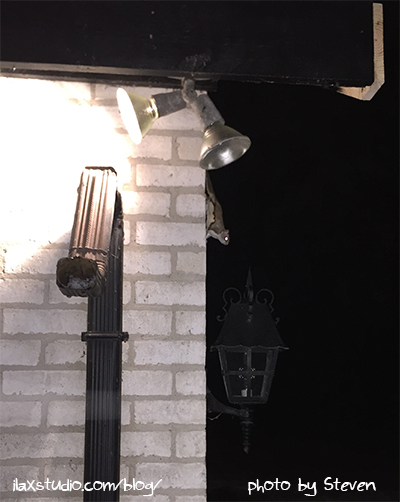 Oh, hai.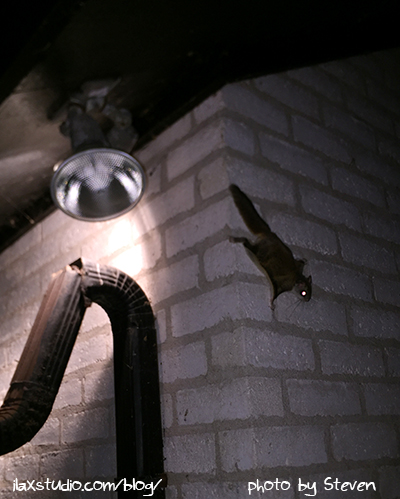 Yeah, that would be a flying squirrel!
Steven watched it scurry up the wall and back in to the attic.
I was thrilled he got photos and went between "aww, cute" and "eek!" for awhile, looking at them.
Then we talked about all the work it will take to get "them," out. Yeah, if you have one flying squirrel, it means you usually have quite a few – they live in packs. And may be living in the walls.
And since we're animal lovers we'll have to find a humane way to get them out.
Then domesticate them so they can live with Data!
Just kidding. Then take them far far away.
Fun, fun, fun. Ha!
(But at least it wasn't a ghost in the attic!)
By
25 Responses to "Even MOAR visitors!"