While discussing RAGBRAI with Gina yesterday, I noticed something very interesting about the Day 7 course…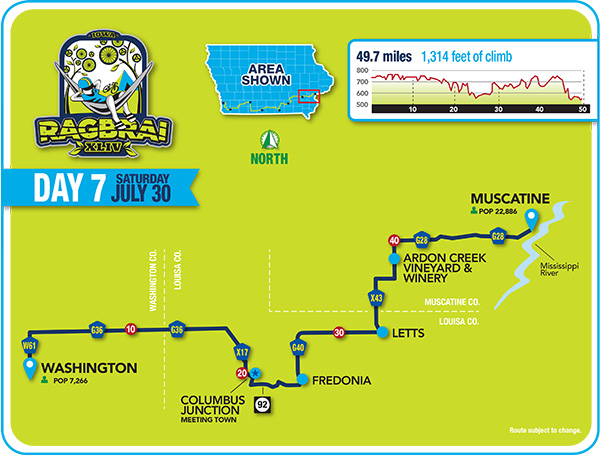 Image from here
Do you see it?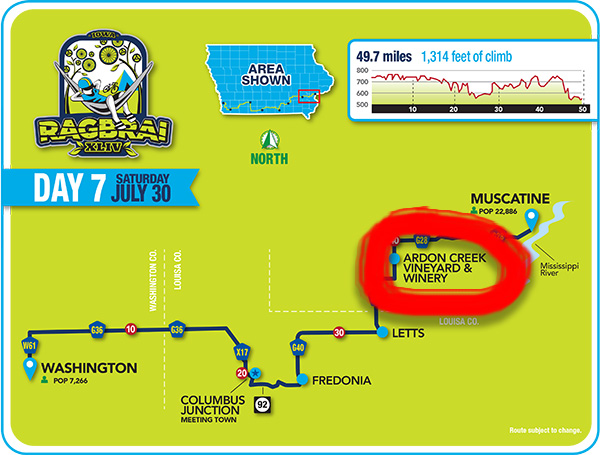 How about now?!
Um, the course goes through a winery town? Whut, whut?!?!
This will make for an interesting end to the ride! Muah ha ha. I actually rode my bike once after having a drink (and burger and fries) and guess what? It was a horrible thing. But that was 30 miles on crushed limestone on a mountain bike (after already riding 30 miles). This will be 10.8 miles on roads on a road bike (after having ridden around 40 miles). Hmmm.
MORE IMPORTANTLY, did you notice I said "discussing RAGBRAI with Gina"? She signed up! YAY! Dad, Will, Julie, Gina and I are all signed up for Day 7!
During my bike ride with Efit on Sunday I was thinking about how much I enjoy RABGRAI, and I'm stoked Gina gets to experience it for the first time this year! It will be fun to plan out the details when it gets closer. It's just over three months away! (<— how is summer just around the corner?! Eeek!)
By
20 Responses to "Fun ride ahead!"