Highlight of the Week: Hitting my mileage goal for the second week in a row! Doing a double!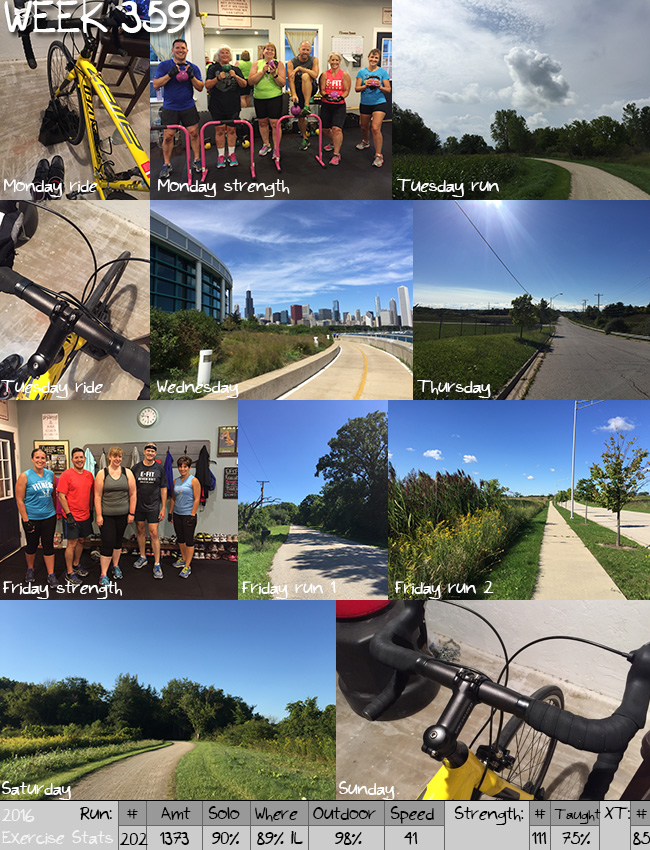 Monday | August 29, 2016: 10 m ride + teaching strength class
Indoor Ride Time: 42:30, Pace: 14.1 mph avg, Difficulty: easy, Felt: good
Strength: Kettlebells and Lebert Equalizer, Difficulty: easy, Felt: surprisingly good (just so sleepy lately!)
Tuesday | August 30, 2016: 7 m run + 10 m ride
Loc: Van Patten loop, Temp: 79°/81°, Time: 1:12:31, Pace: 10:21 avg, Difficulty: hard, Felt: so hot, so tired
Indoor Ride Time: 39:05, Pace: 15.4 mph avg, Difficulty: easy, Felt: good, sore butt
Wednesday | August 31, 2016: 3 m run
Loc: Chicago Lakefront Trail, Temp: 77°/75°, Time: 29:16, Pace: 9:44 avg, Difficulty: easy, Felt: windy, but enjoyed the breeze
Thursday | September 1, 2016: 6 m run
Loc: hood, Temp: 69°/69°, Time: 57:58, Pace: 9:39 avg, Difficulty: easy, Felt: good (right knee a still bit tender at start)
Friday | September 2, 2016: teaching strength class + 4 m run (incl. 4×400) + 5 m run
Strength: Kettlebells and Lebert Equalizer, Difficulty: easy, Felt: good
Loc: hood, Temp: 70°/71°, Time: 38:48, Pace: 9:42, Difficulty: easy-ish, Felt: best during the intervals!
Loc: hood, Temp: 71°/71°, Time: 51:13, Pace: 10:14 avg, Difficulty: easy, Felt: good, minus almost bathroom emergency
Saturday | September 3, 2016: 15 m run
Loc: DPRT, Temp: 54°/69°, Time: 2:45:26, Pace: 11:01 avg, Difficulty: hard, Felt: low on energy (hungry), tired (legs)
Sunday | September 4, 2016: 7 m ride
Indoor Ride Time: 28:19, Pace: 14.8 mph avg, Difficulty: easy, Felt: good on the legs!

Notes:
I've been lazy with water on my runs, choosing to run with my handheld and running by fountains or places where I can buy water. My 7/8 mile loop has a fountain, but the water tastes so bad – like iron. On Tuesday's run, I stopped there to fill it up, and it tasted even worse – like iron, but rotting. I took three sips then dumped my water bottle out (with 2.5 miles to go) to make sure I didn't drink anymore. And I survived!
Other stories from my runs this week:

It cracks me up when I run by fenced in dogs and they get all excited and run "with" me. I much prefer this to loose dogs!

During my Thursday run, I was leaving our neighborhood and someone was pulling out of their driveway, then stopped, and reversed when I ran by, to let me go by. I thought that was nice. Then he pulls up to me as I am running down the street and says "Did you see how I pulled back for you back there?" "Yeah, thanks!" I responded. "You know why I did that?" Oh geesh. Where is this going? "Why?" "Because people who exercise are A-OK with me!" Phew. Ha ha. Then he asked if I wanted to be a "skinny kid" and we had a short convo about how much we like food.
I was doing a u-turn in the grass on my second Friday run and almost stepped right on a snake (like this one in the picture)! I felt bad that I almost did!

I hate that some of the cyclists are so rude on the trails out here – mostly coming from behind and not calling out, then coming WAY to close to me (when I am running). During my run on Saturday, I had something new happen – I was running over on the right side of the trail, and a group of cyclists came toward, me around a corner, and decided to swarm on either side of me, instead of all go to my left – where there was PLENTY of space. They were all wearing matching jerseys and going FAST. That was a dick move. No other word for it.

Time for the August recap! In August I ran 107 miles, cycled 88.7 miles (8 indoor rides, 1 outdoor ride) and swam laps 4 times. My coldest outdoor run was 58°F and my warmest was 89°F. I taught 8 strength classes, and did 1 strength session at home. This was the first month of the year I didn't teach any weekend classes (and with good timing, with all our house work). I'll be back at it in September.
By
6 Responses to "Training Week 359"