Highlight of the Week: Making it through! I hope I feel better next week!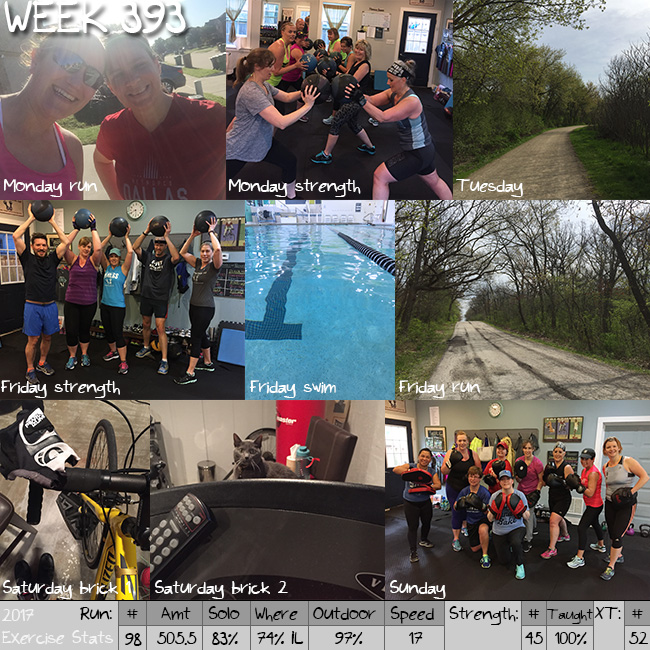 Monday | April 24, 2017: 4 m run (w/Gina) + teaching strength class
Loc: McKinney, Temp: 44°/48°, Time: 37:36, Pace: 9:23 avg, Difficulty: easy, Felt: good
Strength: medicine balls, Difficulty: easy, Felt: good
Tuesday | April 25, 2017: 5 m run
Loc: VP Woods, Temp: 70°/67°, Time: 49:28, Pace: 9:53 avg, Difficulty: easy, Felt: good, thirsty
Wednesday | April 26, 2017: rest
Thursday | April 27, 2017: rest (sick)
Friday | April 28, 2017: teaching strength class + 1,008 yd swim + 5 m run (incl. 6×400)
Strength: medicine balls, Difficulty: easy, Felt: fine, but "sick" hot
Loc: FitNation, Time: 22:01, Pace: 2:05 min/100 yd, Difficulty: good, Felt: smooth
Loc: hood, Temp: 52°/48°, Time: 50:21, Pace: 10:04 avg, Difficulty: hard, Felt: fine, just sick-ish
Saturday | April 29, 2017: bike/run brick (10 m bike & 2 m run)
Loc: indoor, Time: 31:18/20:07, Pace: 19.2 mph/10:03 avg, Difficulty: easy, Felt: good, sweaty
Sunday | April 30, 2017: teaching fitness boxing
Strength: kettlebells + core/cardio moves & boxing, Difficulty: easy, Felt: okay, too hot

Notes:
I think Monday night was the first time in months that all of my students have been able to make it to class! Woo hoo! With summer just around the corner, that will happen less and less. Ha.
I took an unplanned rest day on Thursday because of a sore throat. Then I did my speedwork the next day. I had planned 6×400 with some hill repeats on tired legs but my legs and lungs said "NOPE! We need more rest!" so I called it short. On Saturday and Sunday the cold went to my head and chest, so I mostly rested over the weekend.
I am happy the cold hit this weekend and not next weekend – I am running a half marathon on Saturday! I'd like to run in under 2:10.
Monthly recap time! In April I ran 130.5 miles (25 runs), cycled 45 miles (4 indoor rides) and swam 4,263 yards (4 swims). My coldest run was 34°F and my warmest was 76°F. I taught 9 strength classes, and 3 fitness boxing classes.
By
5 Responses to "Training Week 393"