Highlight of the Week: A bike ride with Dad!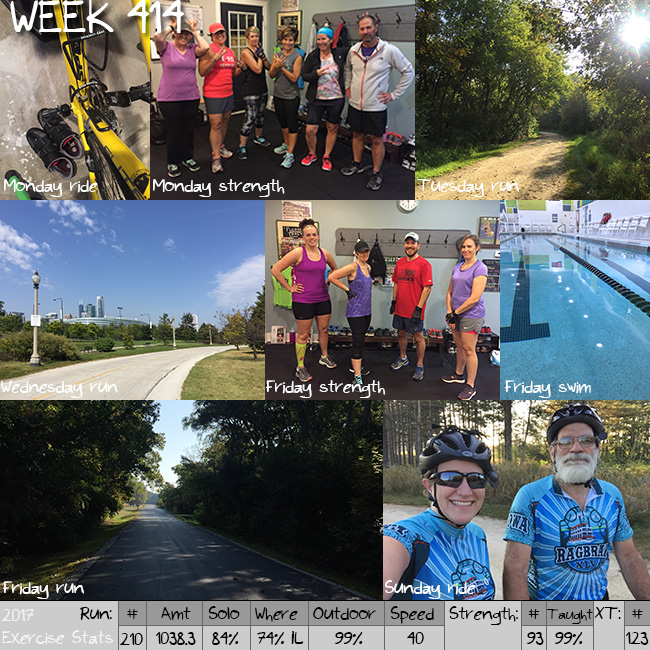 Monday | September 18, 2017: 10 m ride + teaching strength class
Indoor Ride Time: 38:23, Pace: 15.6 mph avg, Difficulty: easy, Felt: good, just sore butt
Strength: medicine balls and core/cardio circuit, Difficulty: easy, Felt: good
Tuesday | September 19, 2017: 5 m run
Loc: VP Woods, Temp: 72°/70°, Time: 55:00, Pace: 11:00 avg, Difficulty: easy, Felt: good BUT SO MAD ABOUT WORK
Wednesday | September 20, 2017: 4 m run (incl. 5×400)
Loc: Chicago Lakefront Path, Temp: 78°/84°, Time: 41:15, Pace: 10:19 avg, Difficulty: medium, Felt: good, just SO HOT
Thursday | September 21, 2017: rest (but so. much. cleaning.)
Friday | September 22, 2017: teaching strength class + 1,008 yd swim + 3 m run
Strength: Lebert Equalizer & Kettlebells, Difficulty: easy/medium, Felt: good, hot in the studio
Loc: FitNation, Time: 20:30, Pace: 2:02 min/100 yd, Difficulty: easy then medium, Felt: good!
Loc: hood, Temp: 72°/79°, Time: 30:42, Pace: 10:14 avg, Difficulty: easy, Felt: hot, but great
Saturday | September 23, 2017: rest
Sunday | September 24, 2017: 17.2 m ride (w/Dad!)
Loc: around town loop, Temp: 67°/67°, Time: 1:17:18, Pace: 13.3 mph avg, Difficulty: easy, Felt: great, so much better than inside!

Notes:
I haven't been running much this month, and weather in the high 80s/low 90s this week sure isn't making me want to. I hope we don't see any more of that in October (I know we still have a few more days of it left here).
I was sad on Saturday morning when I didn't get to work out with Dad before the day started (we were all up too late to get up early, and he and Steven were starting an outside project early to beat the heat anyway), so I made sure we had plans for Sunday morning. We did a loop bike ride around my house and enjoyed chatting and riding on low traffic roads!
Thanks to everyone who entered the Starbucks giftcard giveaway! Random.org picked #3 (each entry and joke counted as two), which was Shelley!
By
6 Responses to "Training Week 414"