If you know me in real life you've definitely heard this story. And I swear I've shared it here, but I can't find it, so here it is again!
I saw What Lies Beneath – the ghost movie with Harrison Ford and Michelle Pfeiffer – with friends when it came out in the summer of 2000. We went to the late showing on a Saturday night.
The movie freaked me the hell out. I was worked up about it afterward, and glad that my friends had picked me up and I didn't have to drive home alone.
But… I still had to walk in to the house after they dropped me off. Not a big deal, right? Well, my parent's home (much like our home now) is surrounded by woods with a long driveway. Dark. Quiet. Peaceful during the day… terrifying at night when you've just seen a scary movie and your imagination is running wild.
So, even though I was a mature sixteen-year-old (ha), and it was late at night (close to midnight), I decided to call the house and see if my parents were still up, and one of them would meet me outside to walk me in. I was that freaked out!
My mom picks up the phone, and I tell her what's going on. Sure, she'll meet me outside to walk me in!
Also, she adds, "It's a good thing you called, because I was actually about to head outside to wait for you in the dark and jump out and scare you."
What. The. Eff. MOM!!!!!!
Thank heavens I called! I cannot imagine what would have happened, had she followed through with her original plan! It wasn't unusual for any of us to hide and scare each other like that, but that really would have been the worst time for it to happen to me.
Ha ha ha.
So my mom walked me in, and I had her come in my bedroom and look outside and make sure there was nothing out there. Then tried to fall asleep.
Until this week, I hadn't seen that movie since it first came out. I remember how scared I felt that night and never wanted to feel that way again.
But I saw it was on Amazon Prime this week and decided to watch it.
Um… it's not even that scary. The scary parts are predictable. The effects are cheesy now. So what was my problem the first time I saw it?! Maybe since I was young? And saw it in the theater at night?
So it seems I can handle ghost movies better now. I still do NOT watch torture movies, or most horror though. My imagination is way too vivid and I have nightmares for days.
No related photo for this post… but here's a photo of Data's ghost from last October. He claims he sees her inside the house now. Oh, Data.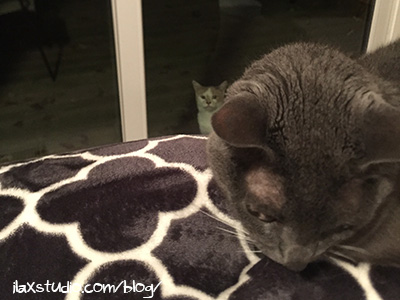 By
10 Responses to "Not scary anymore"