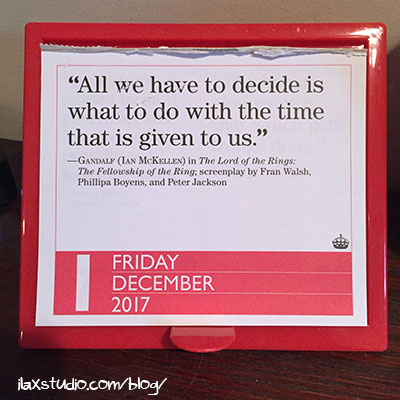 One of my first thoughts when I woke up today was "this month is going to FLY by!" We have something going on every weekend, and many weekdays. Wheeee!
So today's quote is perfect for the first day of December. It's a good reminder that it's up to us to do what we value with our time! (That's how I interpreted it. I am not a LOTR fan so I don't know what it's actually about. Ha!)
Here's what I am excited about this month (per usual, list is in mostly chronological order)!
Seeing Lindsey Stirling in concert! I've been a fan for a few years now and really want to see her dancing violin player shtick.
Going to the dentist (I LOVE having my teeth cleaned).
Completing refinancing our house.
My annual December trip to Dallas to see Gina, Steve, and Luca!
Running a holiday themed 5K (maybe!).
Seeing Star Wars: The Last Jedi.
Treating myself to a massage before hosting Steven's dad and brother for Christmas (maybe I should have one after, too?! Ha.)
Celebrating Steven's birthday!!!
Teaching three fitness boxing classes. I am especially excited for the December 23rd "Merry Fitness Boxing" class!
Hosting Steven's dad and brother for Christmas.
Lighting the "campfire donut" candle. For whatever reason, I've been saving it for this month!
Continuing getting in 5K shape! I have a long road ahead of me (I might be in 5K shape for a race in April) but I am enjoying the process of hill and speed work each week, and of eating less and losing weight.
A quiet New Year's Eve at home with Steven?!?!
By
12 Responses to "Things I'm excited about in December!"