Steven and I had a productive New Year's Eve planned out – exercise, house projects, put away Christmas decorations, and work. Then we were going to treat ourselves out to dinner!
But our dinner plans went awry! We had a visitor over mid afternoon and THEY NEVER LEFT. And they didn't want to go out to dinner with us, sigh. So we stayed in.
Ha ha ha. That guest was Snow.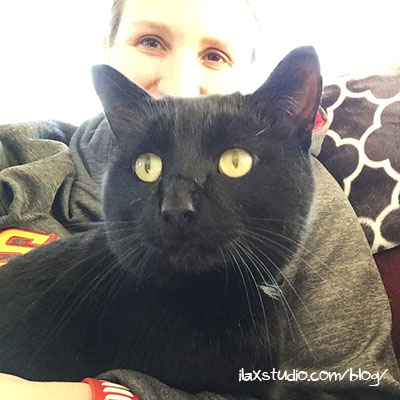 I brought Snow in around 2:00 pm so Steven could work on insulating the sliding glass door around Snow's house. Snow was doing okay, sitting with me and being petted, but then he started to get antsy about going back outside. But Steven had to close the door to Snow's house to work on it, and we didn't want Snow out there, unable to go inside his house, so we kept him in.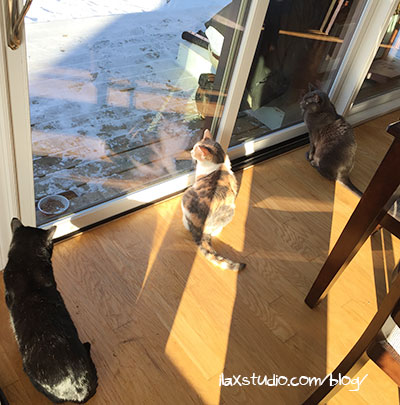 Snow, Khali, and Data watching Steven work
Snow waited by the door to go out (rather patiently, actually), but eventually tired of that and went upstairs to hide under our bed.
When Snow's house was ready for him to go back outside, we called for Snow and he didn't come. So we shook the dry food container, and Data and Khali came running downstairs immediately. Snow slowly came out of the bedroom, came downstairs, and walked right by where Steven was holding the door open for him to go outside… then turned around and ran back up the stairs. He's usually super eager to go back outside!
I think Snow may be done with winter! And done with his surprise visitors outside.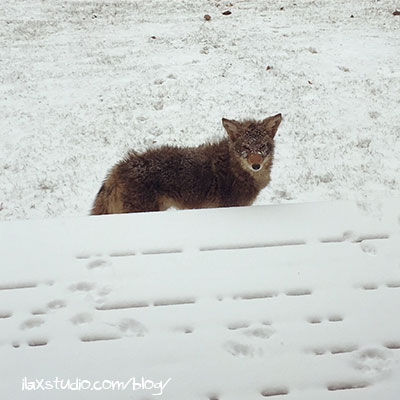 Photo from Christmas Eve. We were all watching a movie inside when Andrew saw this coyote running around in our yard! I took this photo of him right by the patio that Snow's house is on.
Snow then camped out under the bed, FOR THE REST OF THE NIGHT! At first I thought he was scared, but then I realized he'd let me pet him and get all purry, he'd eat food, and he played with a mouse I put under there for him.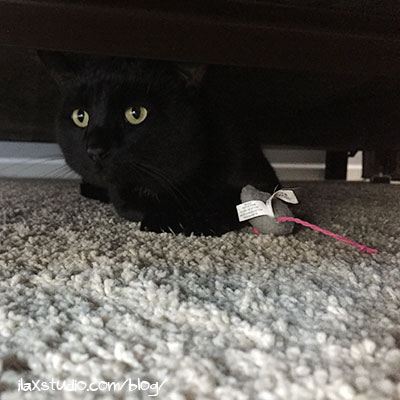 Yeah, totally done with winter.
He picked a good time to spend the night – it's -8°F outside as I write this (the first floor of his house is 40°F, second floor is 75°F).
We don't mind if he's inside, but we would like to be inside when he is (to monitor what he's up to), since he's not fixed, doesn't have shots, and has all his claws (we'd never remove them – just mentioning that because he could hurt Data or Khali during play, accidentally). So… we may be home for a while. But again, it is -8°F out!
In other news, I stayed up until midnight! Woo hoo! We watched a movie until 9:30, then Steven worked, and I did some computer stuff, then tidied up and cleaned to stay up. Ha!
And one last cute cat pic from the day: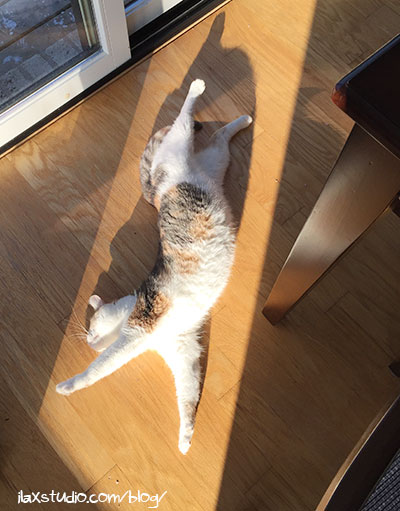 By
21 Responses to "The house guest who doesn't know when to leave"