Highlight of the Week: Running with Andrew on Christmas Day / running outside in the snow & cold / a tough fitness boxing class / running with Bobbi!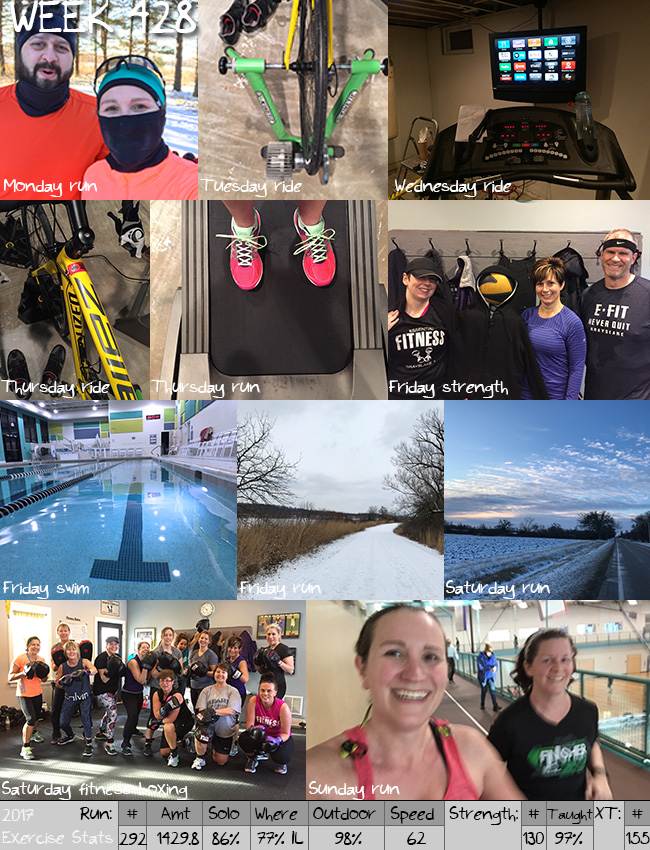 Monday | December 25, 2017: 1.7 m run (w/Andrew)
Loc: Van Patten Woods, Temp: 16°, Time: 21:30, Pace: 12:39 avg, Difficulty: easy, Felt: great
Tuesday | December 26, 2017: 20 mins strength + 10 m bike + 1.5 m walk
Indoor Bike Time: 41:44, Pace: 14.4 mph avg, Difficulty: easy, Felt: good, sweaty!
Wednesday | December 27, 2017: 4.5 m run (incl. 3×800 & 4×1:00)
Loc: Treadmill, Time: 51:40, Pace: 11:29 avg, Difficulty: easy/medium, Felt: good
Thursday | December 28, 2017: 15 m bike + 3 m run (incl. 5×1:00 hills @ 3,4,5,6,7) + 1 m walk
Indoor Bike Time: 59:16, Pace: 15.2 mph avg, Difficulty: easy, Felt: good
Loc: Treadmill, Time: 33:00, Pace: 11:00, Difficulty: easy/medium, Felt: good
Friday | December 29, 2017: teaching strength class + 1,176 yd swim + 4.7 m run
Strength: medicine balls, Difficulty: easy, Felt: great
Loc: FitNation, Time: 25:29, Pace: 2:10 min/100 yd, Difficulty: easy, Felt: great
Loc: VP Woods, Temp: 14°/15°, Time: 53:08, Pace: 11:18 avg, Difficulty: easy, Felt: happy to be outside! (and hungry)
Saturday | December 30, 2017: 3.5 m run + teaching fitness boxing
Loc: hood, Temp: 1°/1°, Time: 35:24, Pace: 10:07 avg, Difficulty: easy, Felt: good, until legs turned to ice cubes
Strength: bands, core, and boxing, Difficulty: easy/medium, Felt: good! felt the band workout RIGHT away!
Sunday | December 31, 2017: 11 m run (parts of laps 16-52 w/Bobbi)
Loc: Waukegan Field House, Time: 2:05:36, Pace: 11:25 avg, Difficulty: easy, Felt: really good, glad for company!

Notes:
We had some nasty temps with low windchill this week, so I actually ran on the treadmill! Woo hoo, go me! I run quite a bit slower on our treadmill than I do outside, but that doesn't bother me. It's harder for me to run on it than outside, so I feel like I'm getting quite the workout. However, I can feel it tweaking my body – specifically my right glute and behind my left knee (like, where the skin folds on the back of my leg). I set up a massage for next Friday.
I wasn't planning on cycling Thursday morning, but one of the cats had a hack attack so I was up. Thanks, cats! Eyeroll.
On Thursday I planned to run outside on lunch break, when it was light out and a bit warmer, but my one hour 10:00 am call lasted until 12:30 pm and I couldn't anymore. Grr. Treadmill again!
But I got to run outside Friday and Saturday. Yay! (I shouldn't have Saturday – it was 1° with 14 mph winds and a feel of -20°).
My fitness boxing students are SO strong and hit SO hard. Ha. I thought I was going to wake up really sore from boxing on Sunday, but luckily, I was fine.
I forgot to mention a few students gave me holiday gifts this year, which I thought was really nice!
I ran on a new-to-me indoor track on Sunday. I could have run outside, but I wanted to run double digits and it just didn't make sense for me to do that when it was 2° out. And Bobbi joined me for a few miles in the middle. Yay! And the run lane is on the outside, so I didn't have the bruised elbow issue. And… this place was by a Starbucks, so win win, all around!
It's monthly recap time. In December I ran 135.8 miles (28 runs, and my highest mileage month of the year! (by one mile over last month, ha!)), cycled 73 miles (6 indoor rides) and swam 3,192 yards (3 swims). My coldest run was 1°F and my warmest was 62°F. I did 4 hill sessions and 3 speed sessions. I taught 7 strength classes, and 4 fitness boxing class. I did 2 strength workouts at home.
I could add a 2017 recap here, but this is long enough!
By
2 Responses to "Training Week 428"