I received all of these books as gifts, except Life's Too Short To Go So F*cking Slow, which I bought myself.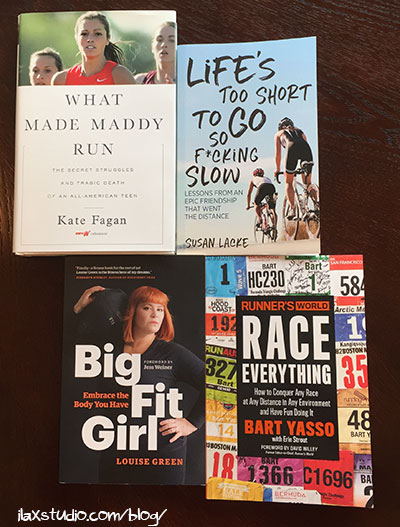 What Made Maddy Run is about Madison Holleran, a college freshman and track athlete at University of Pennsylvania, whose death by suicide was a horrible shock to her loved ones and the college community. This story began as a column written by Kate Fagan for espnW, then Fagan developed it in to a book.
The book discusses Holleran's story, Fagan's story (she also struggled as a freshman college athlete), the pressure on young people, and suicide. I was mostly interested in Holleran's story, not so much the author's (ha, sorry), and found the insight on social media's effect on young people (and everyone!) to be very interesting.
I struggled with keeping interest in some of the pages when it was copies of texts or chats, but other than that, the book held my interest. I recommend it! It leaves you with a lot to think about.
---
Life's Too Short To Go So F*cking Slow is the story of Susan Lacke and her friend Carlos. In the beginning of the book, Lacke has just moved to Arizona as a newlywed, works at a university, and does not have her sh*t together. She is greatly intimidated by her boss, Carlos, who's an orderly, hardass Ironman athlete.
One day Carlos tells her she is going to join him swimming the next day, and she goes. And keeps going. And becomes interested in swimming, cycling, then running. Eventually she starts doing triathlons. Carlos keeps pushing her, and doesn't put up with her whiny bullsh*t. They develop a unique relationship that she cherishes. This book documents stories from their years of friendship.
Yeah, that's a horrible description, ha, but this read was super quick and enjoyable! I finished it in just a few hours. If you like relationship stories, you'll like this.
---
I saw an interview with Louise Green in Bicycling Magazine, and I enjoyed it, and it mentioned her book, Big Fit Girl, so I put it on my wishlist without looking it to it too much. Oops. I was hoping it would be more story-based, but it seems more like a "rah rah, love your body"/inspirational kind of book, with some reference information in it, and it's not for me. I didn't get very far.
---
Something similar happened with Race Everything by Bart Yasso. I tried to read it, but it was too reference-y, with lots of training plans, and tips, and not very much story telling (although there is some!). I think I should be reading Yasso's book My Life on the Run, instead. Again, my bad!
By
4 Responses to "Books I've read (or tried to) so far this year"