Highlight of the Week: Tuesday's awesome run/my students enjoying the fitness boxing workout!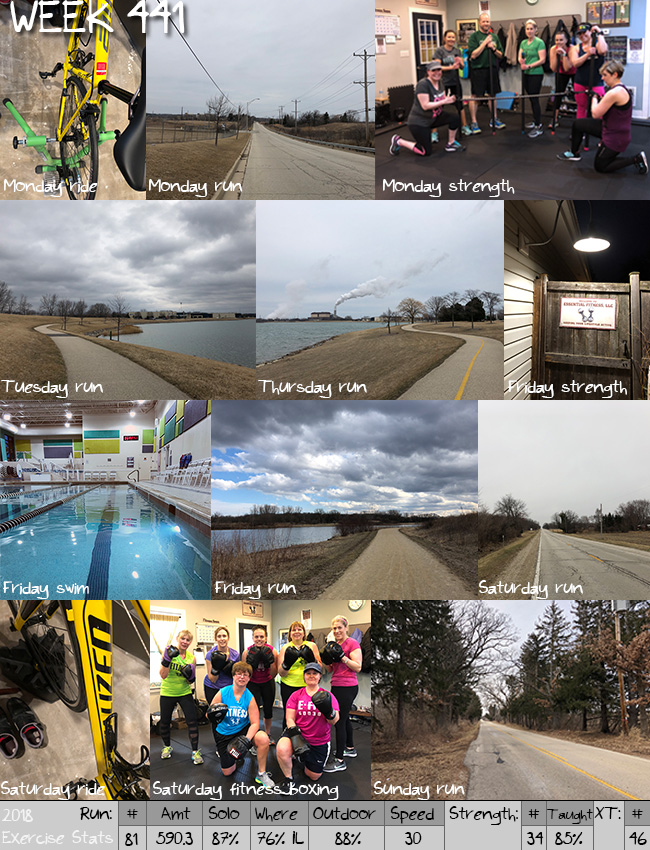 Monday | March 26, 2018: 15 m ride + 6 m run (incl. 8 hill repeats) + teaching strength class
Indoor Ride Time: 58:21, Pace: 15.4 mph avg, Difficulty: easy, Felt: good
Loc: hood, Temp: 42°/43°, Time: 55:04, Pace: 9:11 avg, Difficulty: easy, Felt: great
Strength: body bars & resistance bands, Felt: good
Tuesday | March 27, 2018: 12 m run
Loc: Lake Andrea/Outlet Mall Loop, Temp: 46°/46°, Time: 1:48:22, Pace: 9:02 avg, Difficulty: mostly easy, Felt: really great
Wednesday | March 28, 2018: rest
Thursday | March 29, 2018: 7 m run (incl. 4×800, 4×400)
Loc: Lake Andrea, Temp: 41°/40°, Time: 1:04:07, Pace: 9:09 avg, Difficulty: medium, Felt: angry
Friday | March 30, 2018: teaching strength class + 1,218 yd swim + 10 m run
Strength: box, kettlebells, & boxing, Felt: good
Loc: FitNation, Time: 26:05, Pace: 2:09 min/100 yd, Difficulty: easy, Felt: good
Loc: to VP Woods and back, Temp: 41°/37°, Time: 1:38:06, Pace: 9:48, Difficulty: medium, Felt: decent, but tired legs
Saturday | March 31, 2018: 4 m run + 10 m ride + teaching fitness boxing
Loc: hood, Temp: 40°/40°, Time: 38:05, Pace: 9:31 avg, Difficulty: easy, Felt: good
Indoor Ride Time: 39:12, Pace: 15.3 mph avg, Difficulty: easy, Felt: good
Strength: whole body moves, boxing with gloves, Felt: great!
Sunday | April 1, 2018: 11 m run
Loc: ML/VP Woods Loop, Temp: 32°/33°, Time: 1:48:08, Pace: 9:50 avg, Difficulty: mostly easy, Felt: good

Notes:
Whoa, Tuesday's run. I don't have my pace showing on my watch for most runs, just the split per mile. So I was surprised to notice my pace kept dropping with each mile, and I decided to go for negative splits! I started with a 9:44 pace for my first mile, and ended with a 7:56 pace, each mile being the same or faster than the one before. Wheeeee!!! My stomach felt that ALL night. Worth it though – it was fun.
Thursday's workout, on the other hand, was a bit of a disaster. It was my last "big" speed workout before my race and I thought it would go well. No. I got a bloody nose during my first interval (that lasted a few miles) and the wind really screwed up a few of my splits and made me angry. Sigh. Oh well.
I'm glad my weather app let me know we were going to have crazy winds on Saturday, so I did a longer run on Friday instead of Saturday, to avoid being too miserable outside. I don't want hot weather to get here any faster… but I am a bit sick of all the layers and of course… THE WIND!
I did a fun Easter themed workout in fitness boxing on Saturday. It's cheesy, but I love that crap.
Sunday's run was in the late afternoon, after sampling seven vegan donuts in the morning. I didn't feel the donuts until the last three miles of the run – success! Ha!
This is my last 50 mile week (the last five weeks have been 50.5, 52.4, 54.5, 51.2, and 50). Time for a short taper before the 5K on Saturday!
Monthly recap time! In March I ran 230.6 miles (my highest mileage month since January 2016) (27 runs), cycled 145 miles (10 indoor rides) and swam 5,544 yards (5 swims). My coldest run was 17°F and my warmest was 51°F. I did 4 hill workouts, 4 speed workouts, and 4 tempo workouts. I taught 8 strength classes and 3 fitness boxing classes. I did 1 strength workout at home.
By
2 Responses to "Training Week 441"