THE ONE* THING!!!
My snister text me and Mom these pics on Saturday, which say that Starbucks is getting rid of the "You Are Here" mug collection to introduce the new "Been There" series.
NOOOOOOOOOOOOOOOOOOOOO!
Ha. I kind of collect the "You Are Here" Starbucks mugs. I like to buy one when I travel to a new city/state. The new mugs are the same size, so they'd "fit" with the ones I have, but the designs are a completely different style! Of course, change is hard, and I like the old ones better.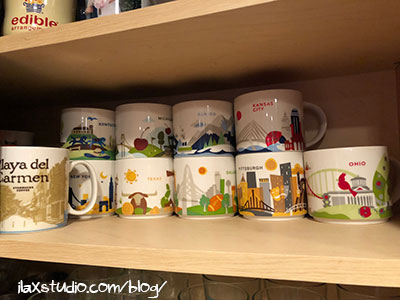 But… do I need any more mugs? No. Not. At. All. I had to clear mugs out from in front of my Starbucks ones to take the picture above, and I have lots of mugs in storage in the basement, AND a few "You Are Here" mugs that are still in the box, because they are from cities/states I haven't visited yet (I don't use them until I've been there). Then there's the fact that I don't drink coffee, and only use mugs for hot drinks in the cold season, which is ending soon…
So, this is a good thing.
But I am trying to decide if now is the time to buy the Illinois, Chicago, and Wisconsin "You Are Here" mugs before they are gone…
NO! NO MORE MUGS!!! Hee hee.
*Not counting the Star Wars Hallmark ornaments I used to collect much more seriously.
*Also not counting race bibs or medals.
By
21 Responses to "They're getting rid of the ONE thing I collect!"