Well, I used my pacer, Terry, at the Rotary Shamrock Shuffle 5K in McHenry yesterday,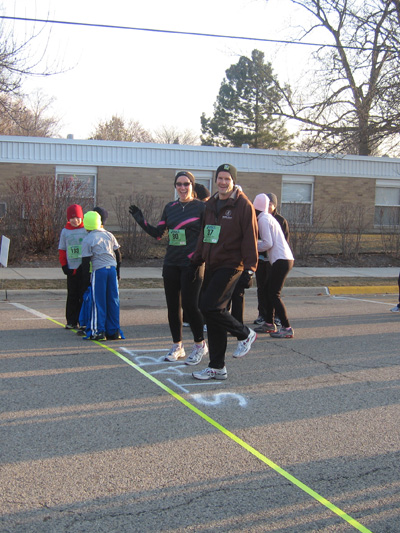 and have a new PR of 23:54! That is 57 seconds off of my old 5K PR of 24:51 (from July of 2009)! Woo hoo!
Terry is a friend of mine from the Grayslake Running Club. I cannot thank Terry enough for coming out early on Sunday morning (on the first day of Daylight Savings Time, and after a night that included a few drinks, no less) to pace me! Thanks Terry!
As you can see from the photo above, we started right at the start line. It was a small race (somewhere between 100-200 people) and not chip timed. I felt like I started too far back at the Frosty Footrace and wasn't going to make that mistake twice (I also remembered to double-knot my shoelaces)!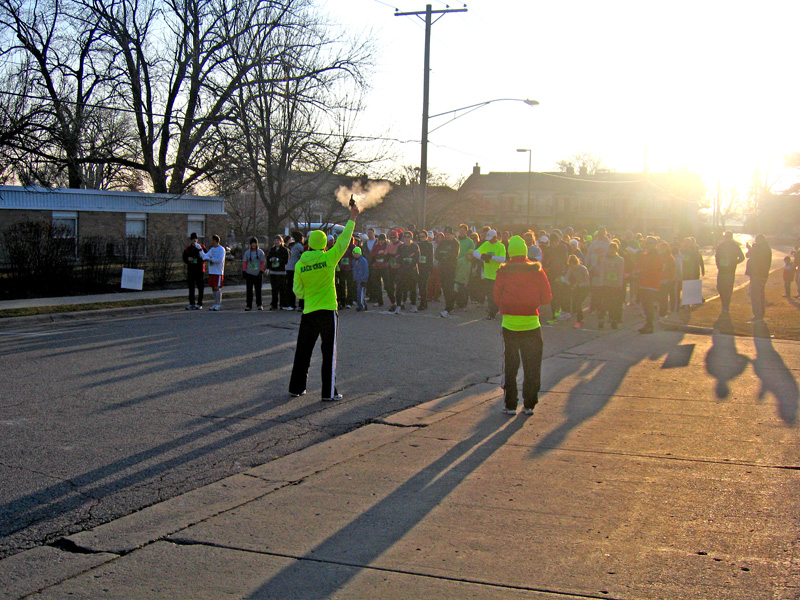 Terry had worked out a plan for us to hit just below 24:00. We would start out fast, get our adrenaline going, then try to take it easy the second mile, and finish strong.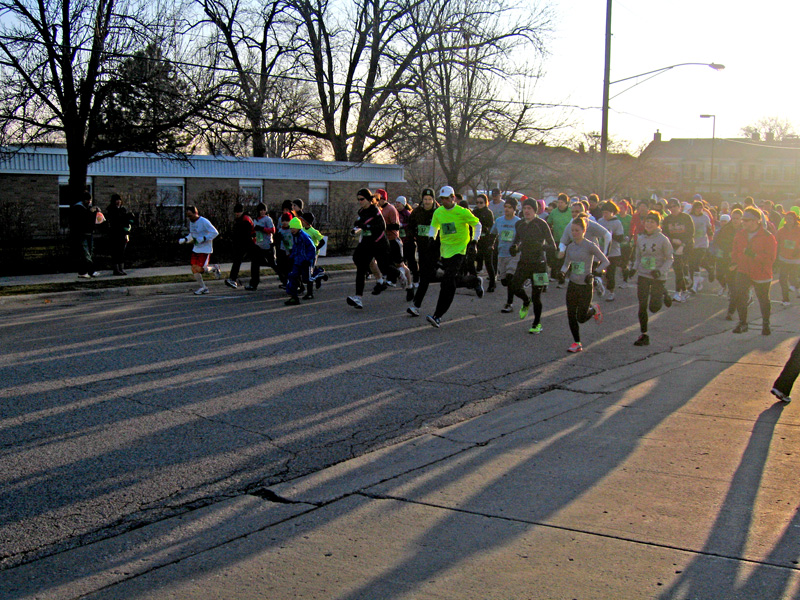 Mile 1 – 7:24 – Well, we sure went out fast! After I got used to the pace, and got up some small hills, I felt good.
Mile 2 – 7:42 – I got in to the swing of things and felt comfortable at this pace. I was thanking volunteers and cheering on other runners who passed us (only a few) and runners coming back from the out and back. My legs felt kind of heavy, but it was no big deal. I commented to Terry on how good I felt.
Mile 3 – 7:59 – This was when my brain said "WHAT ARE YOU DOING?!" and my stomach said "WHOA, I DON'T THINK SO!" My stomach started to twist and cramp (I ate too much the night before). Terry stayed a bit ahead of me to keep me going. He was awesome and motivating, saying things like "Remember when Pre ran with that foot injury?" (we had just watched Without Limits together) and "Only 4 minutes left!," "You can do this! Use your inner mantra." Terry really helped me keep going, especially thinking about only having four minutes left to run, as opposed to a distance! Again, thanks Terry!
Mile 3.1 – 00:54 (7:59 pace) – Despite my desire to sprint out the finish, I could only muster an 8:00mm effort! But I still got my PR!
Garmin stats here (notes: it was in the high 20s, and we ran a warm-up mile at 8:17 pace).
Here's Terry encouraging me at the finish: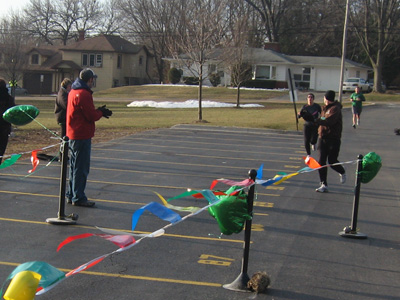 Smiling because I knew I was going to make my goal (click to make larger):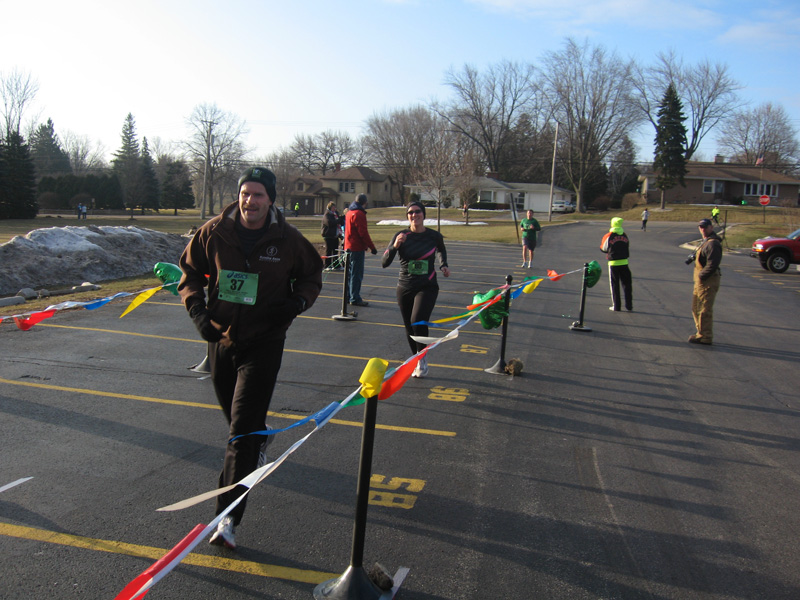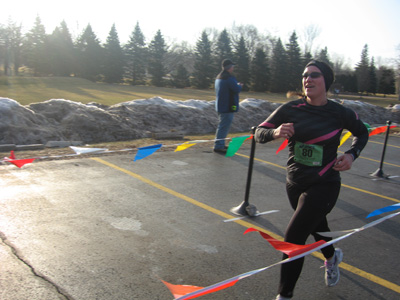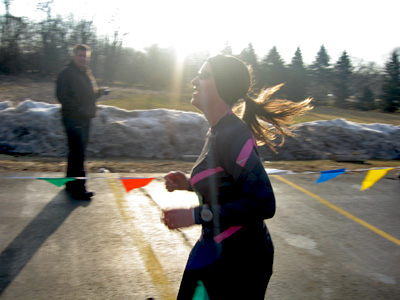 Excited about the clock time (again, click to make larger):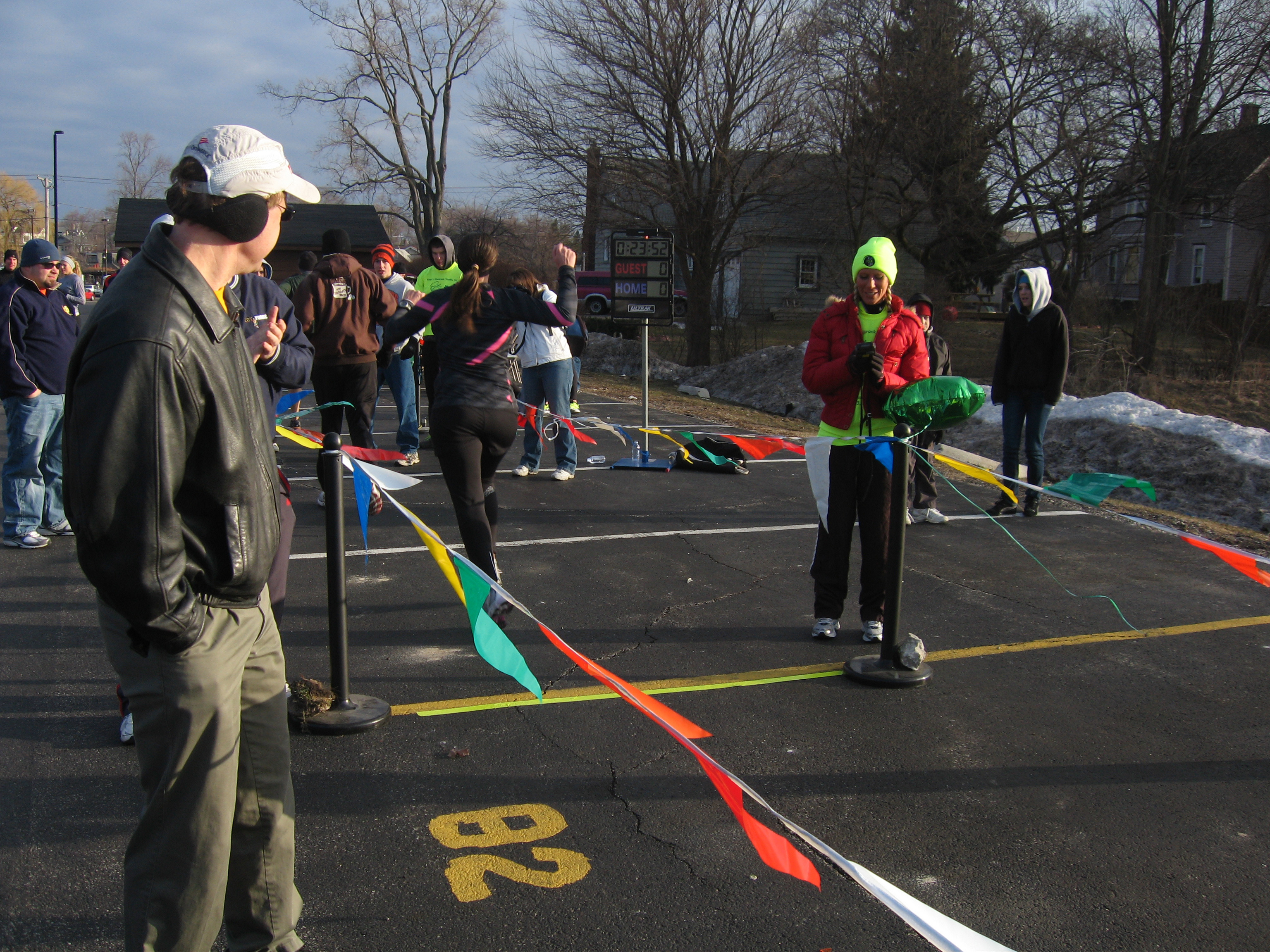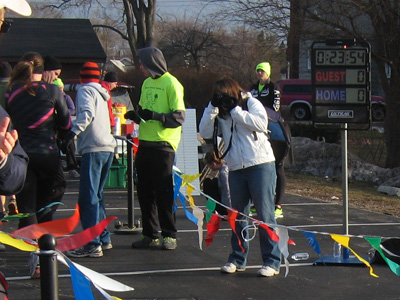 I'm still not sure on my final time, but it was probably 23:54!
Yay, we did it!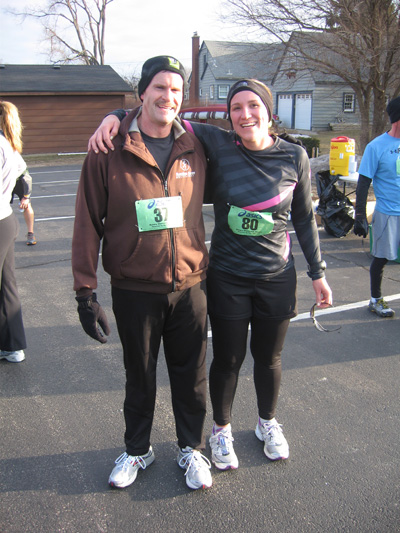 Of course, we stuck around for awards, and I got second place in my age group (20-29) – the icing on the cake!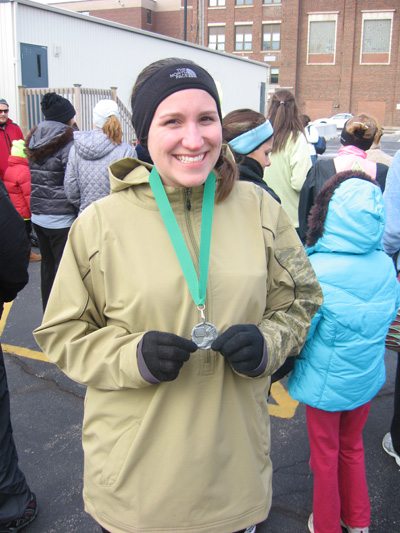 What a great (early) start to the day. I kind of thought I was done racing 5Ks after Frosty, but this one made me feel confident and strong! I have a few coming up that are just for fun, but I may try to race a few more this summer or next winter. I just love the cold weather races.
Thanks AGAIN to Terry! And a HUGE thanks to Steven, who got up super early and waited around before the race for an hour, during the race, and after the race for another hour, AND took all of these photos. He is so supportive of my running and I really do appreciate it. And I do miss running with you, Steven!
Confession: we took a two hour nap after the race! That lost hour really affects me. And I did take my "pre-game" nap the day before the race (picture below). Ha ha ha.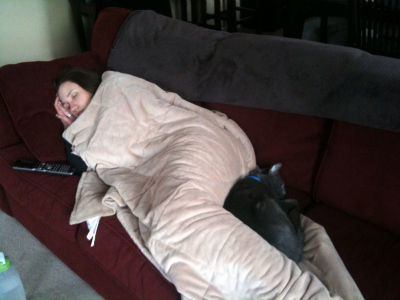 And one more time: Yay!
By
42 Responses to "Rotary Shamrock 5K Shuffle Race Report"