As a thank you to my readers, I am doing one giveaway a week until Christmas. This is giveaway #3! The giveaways will all reflect different interests of mine, and this one is… fashion!
Note that I said I have an interest in fashion, not that I am fashionable. Because I surely am not! I've abused my best friend relationship with Erin and should probably be ashamed of the amount of clothes I had her pick out for me this year, because I trust her fashion judgment better than my own. And despite receiving InStyle in the mail, it doesn't seem to be rubbing off on me! Hmm. But you guys know I have a few favorite fashion items, starting with… scarves! Bet you didn't see that one coming! The first item included in this giveaway is a scarf:
The scarf included in the giveaway is new and in a plastic sleeve – I tried on the sample to show it to you guys
I love the simple pattern of this scarf! I actually bought one for myself with a gray, orange, beige and dark blue stripe. Can't resist the orange!
The second item is earrings! I love earrings. I thought these would be fun to wear to work or out and about. And of course, I bought a pair for me too. One for me… one for you…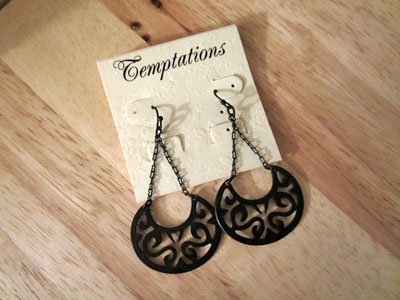 And lastly, the third item is not really a fashion item, but something I consider a must for the cold months… or for anyone who has cold feet* – two pairs of fuzzy warm socks (size 5-11)!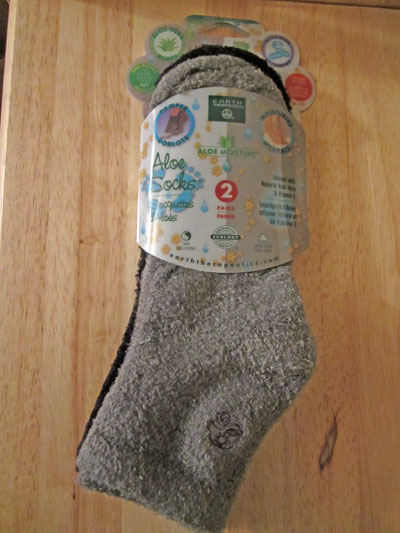 I have lots of pairs of these types of socks, and I wear them all winter long when I am bumming around the house, since we keep it at 65° or something silly like that (I actually like the cold!). 
Hmm, kind of a random assortment of things included in this giveaway, but hey – I mentioned that I am pretty random with my gifts! I do feel bad that this a gender-focused giveaway, as the first one was. Men, please feel free to enter and give these to your partner, sister, mom, that nice lady in the office… And actually, you could wear the socks, if you have smaller feet! And now that I think about it, that scarf would look really handsome on a guy! I should have got one for Steven!
Fashion Giveaway Rules
One reader will receive the scarf, earrings and two pairs of socks. 
Required to enter the giveaway:  leave me a comment letting me know what your fashion style is, or if you are as clueless as me!
Optional extra entry: share this link on your blog and leave an additional comment letting me know you did.

This giveaway is open until 5:00 PM CST on Friday December 9. I will use random.org to select the winner. I will announce the winner on Saturday December 10. 
This giveaway is open to all readers.
*The real kind, not the figurative kind.
By
25 Responses to "Season of Giving Giveaway #3: Fashion"