Why did my first 10 miler (the Elgin Valley Fox Trot) have to be so hilly (and windy)? Why why why?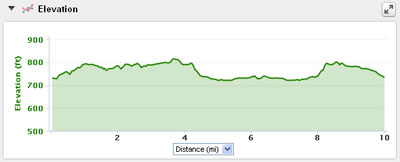 Actually, this is just what you get when you say you will run a race without looking up any information about the actual race before signing up. As of this morning, I did not know what time the race started, where it started, if there was water on the course, or what the course was like. Thankfully, running club friends were picking me up, so I did not have to worry about getting there.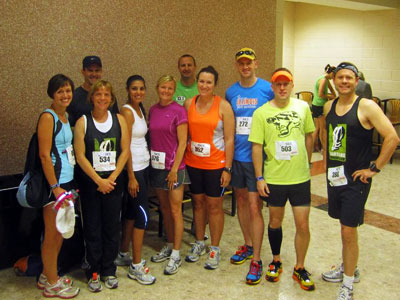 Grayslake Running Club Friends (me in orange) – I look so tired because I got up at 2:30 am to drive Mica to the airport. We had a lot of fun and I was happy to spend time with her before she left for Korea for the summer!
I did look at the course on my phone and then saw an old blog post from someone saying it was hilly. Then on the ride down, my running club friends did confirm that Elgin is hilly. 
Yay…
Okay, it was not THAT bad. 
Driving down there was an interesting lightening show and really threatening clouds. But it never rained and the race started on time. It was actually decent enough weather for running – when we started it was 64° and it was 62° when we finished!
So enough blah blah blahing. After an beautifully sung national anthem, and an announcement by the race director (saying you cannot walk the course… huh?) we were off.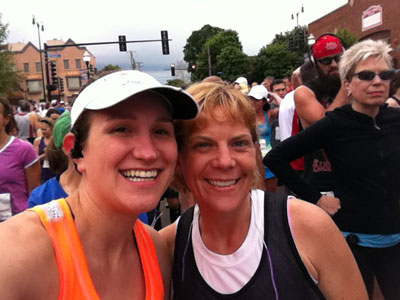 No one in the club was doing a pace that I felt comfortable trying, so I decided to do one mile at a comfortable fast pace and see if I could keep that pace. The first few miles were in the 8:20s. I was already wondering if I could keep that up. Miles 4-5 were a giant downhill and I tried to speed up more because I had a feeling we would be going back up that hill (hated knowing that). I stayed about the same pace. I slowed down for miles 6-9 when I wondered when the hell I would ever have to turn around and go back up that hill.  
I really wanted to push the last mile (and it was downhill, thankfully), and was starting to get tired when this woman said to me "I've been pacing off of you for a few miles! Don't slow down now!" So we raced to the end. The last mile was my fastest (7:52, all others were in the 8:00s). I felt like I was flying and my feet were burning. I am excited to see the official photos.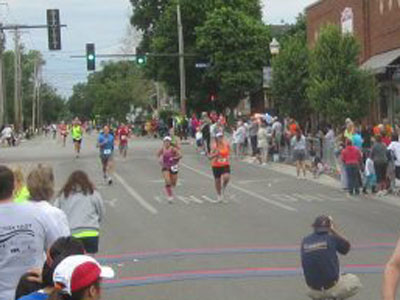 My finish time was 1:25:22 for an overall 8:33 pace. 
Some things went really well for me on this race. I did a really good job running the tangents and my watch said I ran exactly 10.0. That helped with pacing. I took a GU before and at mile 5 and never felt hungry. I never stopped to walk. I took my handheld and didn't have to slow down much for water. 
This course is really well run and has a lot of perks!
You get to see some really cool houses in Elgin.
You run through a zoo with bison!
There are showers to use for free.
There was a fun 80s/90s rock band at the end.
Lots of awesome food for free and for sale, one free beer for every runner (did not get mine). 
Free massages, vendors, etc. 
AMAZING volunteers!
Cons:
Hills
Boring out and back from miles 4ish to 8ish (it was along the Prairie Path but not on it)
I had a lot of fun driving down with my running club, hanging out before and after the race, and driving back. I'll have to do the whole club race thing again sometime.
By
20 Responses to "Elgin Valley Fox Trot 10 Mile Race Report"