I spent part of New Year's Day morning going through all of my 2012 photos to add them to the digital photo frame we keep in our kitchen. I was just doing the task yesterday because I had the day off from work, but it actually turned out to be a wonderful reflection on 2012! I had so many photos of good memories with Steven, friends and family. And now, for a photo recap of each month… JUST KIDDING!!! Ha ha ha.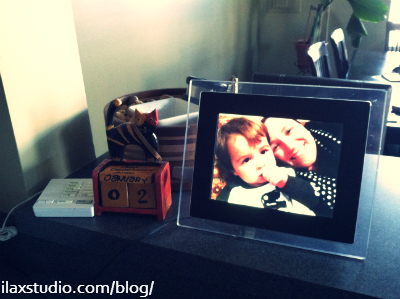 Anyway, we have three digital photo frames in the house* – one in the kitchen, living room and office. The one in the kitchen had a bunch of random photos on it which is why I updated it. The living room one has wedding photos, and the one in the office has photos from my family's trip to see me in Italy in 2006.
I was bad about updating the frame in the kitchen, so I've put a reminder in my calendar to add new photos to it at the end of each month. I think it will be a good way to reflect on the month.
But enough blah blahing**. I wanted to ask you about digital photo frame usage. I've noticed people don't really use them like we do. We either put ours on a timer or leave them on all the time – but we rarely see them on at other people's homes.
Do you have digitial photo frames? How often do you have them on? How often do you add more photos?
*And even one that we recevied and never put photos on – eek!
**Even though that is ALL this blog is.
By
25 Responses to "Digital photo frame usage"