I felt like I might appear to be a bit of a phony in last week's post about envy on Facebook… when I said I am not an envious person. I'm really not an envious person. But I thought I would tell you about a childish feeling that I do sometimes struggle with – holding grudges/not being able to forgive and forget.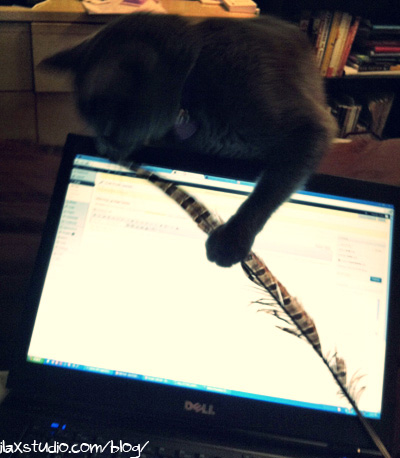 Data, you really need to quit holding a grudge against that feather! What did it ever do to you?!
Of course, I could share a lot of delicious examples of my childish behavior, but I don't think the best ones, or even the one that made me think of writing this, are blog appropriate. So let's journey back in time… to high school! AHH!!!
In high school, I lent a friend money to buy something. Bad idea, I know. I think maybe it was a couple thousand dollars. Not that much. You all know where this story is going – friend never paid me back, stopped returning my calls, skipped town… I went to college and tried to forget about it. But damn! I could have used that money for living expenses, architectural supplies, and food! I was quite upset about it. And was holding a bit of a grudge against that person. I even went to their place one time when I was visiting my home town and pounded on their door, to demand SOMETHING, only to find someone else living there. 
I finally got over it though. Money is just money (and not meant to be lent!). I found out the friend was struggling with some bigger issues and was happy to hear they were doing better. 
Hmm. That might not be a very good example. I am sure a lot of you will be like, "Wtf, Kim, they deserved that grudge." Okay, let's try something else…
I've had a really close friend hook up with my ex-boyfriend and not tell me about it, and tell everyone to keep it from me. It killed our friendship and the fact that she wanted to keep it from me made me hold a bit of a grudge, for a very short while. I was not upset about the guy – but more that she felt she couldn't tell me. And that being with him was more important than being my friend. 
I've also had instances where I have gone out of my way to accommodate someone's specific request at an event… only to have them stand me up at said event. Time and time again. That made me hold a grudge. 
Sorry for all the super childish examples. They unfortunately make me sound even more immature, but like I said, I can't really write about my few examples from adult-life, ha ha. 
What they say about holding grudges is true – it only hurts you (and I particularly liked this quote – "holding a grudge is like drinking poison and waiting for the other person to die")! I didn't even realize how deep of a grudge I was holding against someone until I let it go a few years ago, and all of a sudden, my relationship with that person was no longer tense. They probably just thought I was being a biznatch all those years. They probably didn't even realize why I was upset. And that is the problem with grudges – they seem to be so one-sided! They usually only harm one person. 
Anyway. I am getting a lot better at letting things go. Because I have learned my lesson on how toxic grudges are when you hold on to them. But I obviously have not completely cured myself, because a conversation happened this weekend that made me think of how annoyed I still was at someone for something they did almost a YEAR ago! And it was something really stupid! All of a sudden a little feeling of a grudge snuck up on me… ahh! Go away!!!
Are you a bad grudge holder like me? Or are you able to let things go?
I found a article with guides on how to forgive people. And I also found one on when you SHOULD hold a grudge. Ha!
Oh! And I don't think I am perfect. I do wonder if anyone is holding a grudge against me for something I am clueless on. That seems to be how these things work!
By
45 Responses to "Warning: grudge holder"