Warning: this post has a picture of bloody scratches in it.
I was super psyched to finally get to run along the West Side Highway in NYC on Monday morning. I've wanted to ever since I noticed its existence in February of 2011! Anyway. It was awesome. 

Not so awesome? Coming back to take a shower and finding bloody spots on the inside thigh above my knee.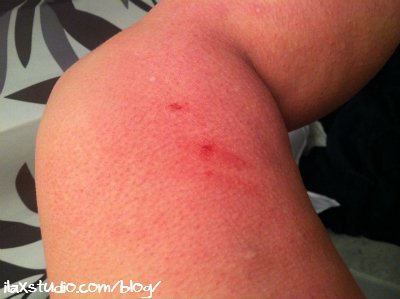 And it wasn't just on one leg – it was on both. OWIE. I wore jeans all day and it rubbed in to the spots. Fabulous. In the evening, it spread in to a lovely rash. On both legs.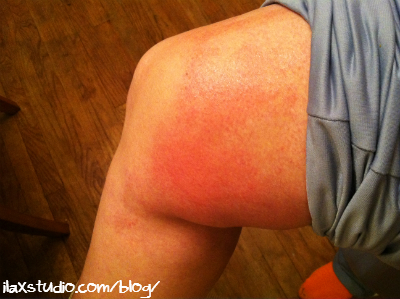 Luckily I was staying with Super Mom Gina and she hooked me up with some cream. The rash mostly went down Monday night and I was able to run Tuesday without any issue.* 
This really left me wondering "WTF was that?!" though. Seriously. I was wearing tights I had worn many times before for the run. It was 20° with 16 mph winds. I didn't really do anything out of the ordinary**. Was this wind burn? Is that possible through tights? Was it some freak thing due to dry skin? Ugh. Who knows. 
All I know is that this may be my strangest running reaction… maybe even stranger than the weird windburn mark I got from wearing sunglasses early this year.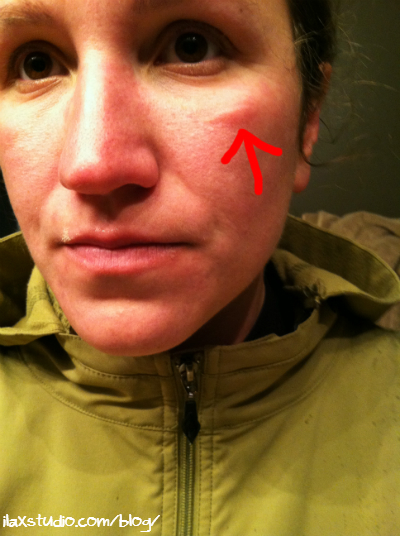 What is the weirdest running (or exercising) reaction you've had?
I have one more run in NYC today! I've been lucky to run a lot while I've been here, and all over – Brooklyn, Manhattan, Roosevelt Island, and Queens (and maybe in to The Bronx) today!
*The worst part of all of this was that of the bystanders (Steven, Andrew, Gina & Steve) would had to listen to me talk about it, how much it itched, show them what it looked like…
**Except run all over lower Manhattan trying to buy a hat for Steven… FAIL. Maybe it was all the stopping and going? 
By
31 Responses to "Weirdest running… reaction?"