What safety precautions do you take so you'll feel safe when you are out (exercising or whatever) by yourself in the dark?
Hey! This is my first ever reader-submitted Friday Question! Do you think I should ask for some reader suggested Friday Questions?
Jess from Three Men and a Mommy just had her second son and is already training for a half marathon – the Chicago Women's Half Marathon on June 23 – the same one I am running with Anne – woot woot, blogger meetup!
Oops. Got a bit off track there. 
Jess emailed me saying that with a new schedule with two kids, she finds herself running very late or very early, in the dark. And she doesn't feel 100% safe despite telling her husband her exact route, and when she'll be back. So! She asked what I do to feel feel safe running in the dark (which I have actually come to strangely prefer). What about you?
What I do to feel safe running in the dark
Always run with my cell phone
Use a tracking app on my phone so my husband knows where I am at any exact moment. I use Glympse, which Erin recommended to me last year. 
Wear a form of ID – I wear a ROAD ID
Be as reflective as hell – reflective hat, vest, tights, bracelets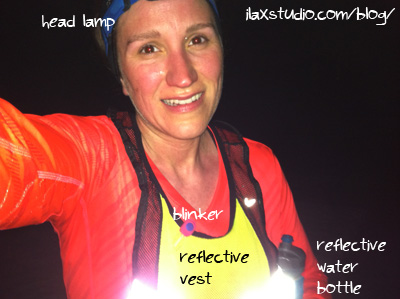 Wear a headlamp and other lights
Stick with well-lit courses
Run by homes – not on trails
Run on the sidewalk if possible
Don't wear headphones
Run with someone (if possible)!
Have ninja skills
Things I don't do but know other people do to feel safe running in the dark
Carry pepper spray
Know self defense
Run loops that keep you close to home (if it won't make you crazy)
By
34 Responses to "Friday Question #232"